For
e-cigarette
newcomers, how much power should be matched with different resistance for good taste? Or for the old users, using different atomizers for smoking different
e-juice
requires frequent adjustments of power, which is quite tedious, sometimes we forget to adjust the power, the savory taste of the barbecue comes, makes us awful. If it is a finished coil, it may be scrapped, and it will also result in cost loss. Is there a box mod that can learn and silently record user's parameters according to the user's habits, and when they are replaced with different atomizer, they can adjust themselves intelligently to prevent these situations from happening? The answer is yes! Although the smart matching function is already equipped on many mods, the smart learning function is still relatively rare. Today's
Asvape Gabriel Choice Box Mod
solves this problem with the exclusive research and development of smart chips. So today we will talk about the Asvape Gabriel Choice Mod.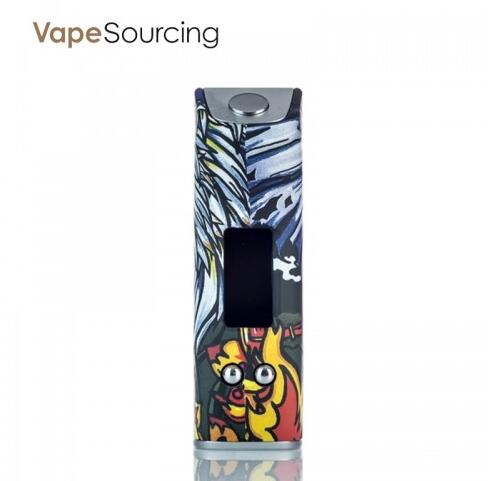 Gabriel Choice mod looks positively like a clothing display stand, The profiled appearance is impressive. The surface is exquisite with hand-painted wind pattern, the color is very beautiful, the angel wings pattern on the main figure brings a very strong visual impact, and the front convex and backward heave design also brings a very good grip, brought the five fingers a very fitting support, and the index finger cigarettes were quite smoothly. Ignition with the index finger is quite easy. The surface material is treated with imitation rubber, and the touch is very good. Touch the painting with your hand, and the unevenness of imitation oil painting, the overall feeling is very good. Let's see the most important function of this
mod
: Intelligent learning. Here I have prepared 3 atomizers, all of which are DIY-type, which are 1.24Ω five-in-a-row, 0.85Ω cyclone, 0.18Ω veil, to test. Install on Gabriel Choice, it instantly recognizes the resistance quickly and intelligently matches the mod's recommended power values in the moment: 1.24Ω for 16.8W, 0.87Ω for 18.5W, 0.18Ω for 60W, and no manual intervention is required. An experience is quite good. And as far as its matching power is concerned, it is basically similar to the power value I usually use. In simple terms, the Gabriel Choice mod uses an internal computing and memory system to record the user's normal smoking power for the most number of times, matching the resistance during use, in order to maximize the recording and restoration of the user's operating habits.
The
ASVAPE Gabriel Choice mod
has a beautiful appearance, fine craftsmanship, ergonomics design, lightweight and portable, and it has a gorgeous external perception. At the same time, it autonomously learns user operating habits and intelligently matches multiple users' atomizers and gives customary power values, so that the worry-free features also demonstrate its strong inner core. Such a powerful host, both external and internal, is highly recommended for e-cigarette enthusiasts. This unworried function also demonstrates its strong inner core. Such a powerful box mod, both external and internal, is highly recommended for e-cigarette enthusiasts.