The
Vapeccino Mate1
is a refillable pod vape shaped similarly to a beefed-up SMOK FIT KIT. With two available 1.5 mL pods for the device, the Mate1 tries catering to different vaping styles. One for a cigarette-type draw and one for producing more vapor with a loose and airy draw. Making things more intriguing, Vapeccino uses a "nano tech" plating process that makes the pods' coils appear golden, which is supposed to be resistant to coil build-up. According to Vapeccino, this GCT (Golden Core Technology) will last several times longer than Kanthal and provide a "purer taste."Today we will be reviewing the Mate1 kit by Vapeccino. Firstly let's take a look at its appearance. This is a sturdy little mod. I received the black version for review. The body is a black plastic feel but is made from brass. There are slots cut out for viewing the E-liquid level and these are really clear. There is a plastic mouthpiece which feels great in the mouth. An LED indicator is at the base of the mod which will illuminate when vaping or if you tap or shake the mod.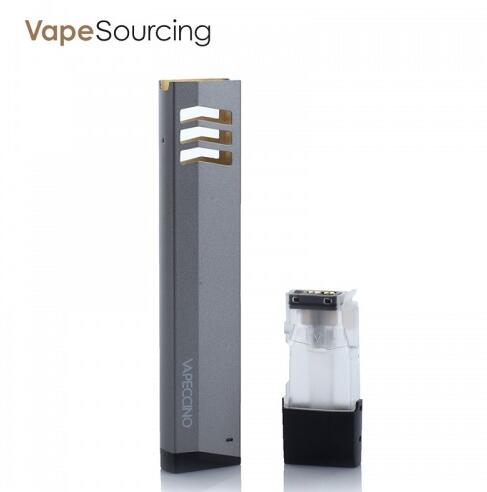 Then how does it perform? From the introduction we know that the Mate1 is apparently designed for MTL and DTL (Mouth to Lung and Direct to Lung) vapers – there are different pods for both. The DTL pod has two air intakes to increase the flow of liquid through the coil. The MTL pod has one air intake. Included with my review sample, I got both types of pods for the device. MTL pods and a DL pods. Apparently, they're of different resistances, but it's undisclosed. Whatever your pod of choice, the Mate1 battery automatically adjusts the power depending on the resistance of the one inserted. The 1.5 mL pods fit into the battery housing with perfect tolerances and a satisfying snap. No lose or wiggly pods here! And the
e-liquid
window is easy to see through due to the angular window slots. In general, these pods are designed quite well.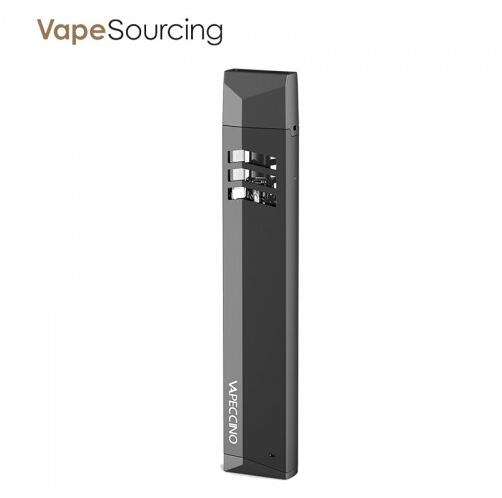 To use the pods, just pull out the fill plug (blue for MTL and white for DL), and fill with any dropper you have - though I've found it's best filled with a unicorn bottle or needle tip if using a thicker juice. And it is different from the devices like the 
Suorin Drop
 or the Smoking Vapor Mi-Pod, the plugs can be easily lost since they're not anchored to the pod. Luckily, the stoppers are much easier to handle than the ones in the Kandypens Rubi. Each fill plug little has a little protruding tab that makes them easy to hold. In general, the Mate1 is super simple to use and looks and feels great, but I find the motion sensor and vibrate motor slightly unnecessary, the LED indicator light which just lights up when you inhale would do the same job perfectly. Another great aspect of this
pod system kit
is that you can vape mouth-to-lung or direct-to-lung, and it does both very well. Best sell Pod System Kits like:
cheap smok infinix
cheap smok fit
Related Review:
For Businessmen - SMOK NOVO Pod System Kit