Firstly thanks vapesourcing: The best online vape shop for sending me this device for review. OK let's check out the detailed information about Vaporesso Luxe Kit.
The Vaporesso Luxe mod looks like a combination between the Polar and the Revenger and is one hell of a fingerprint magnet. The device has the usual main center section with mirrored finish panels front and back. The front of the device has a 2.0"color screen and underneath we have virtual touch keys, the center one being the select key and also the Vaporesso logo, we also have the micro USB port on the front center bottom. One side of the device is featureless, the other has a very large pill shaped fire button towards the top, the back of the device has a fixed mirrored finish panel. The base has generous venting, safety stamps, and branding, moving to the top we have a center 510 plate with Gold plated, spring loaded 510. The Luxe is the usual exceptional build quality I have come to expect from Vaporesso.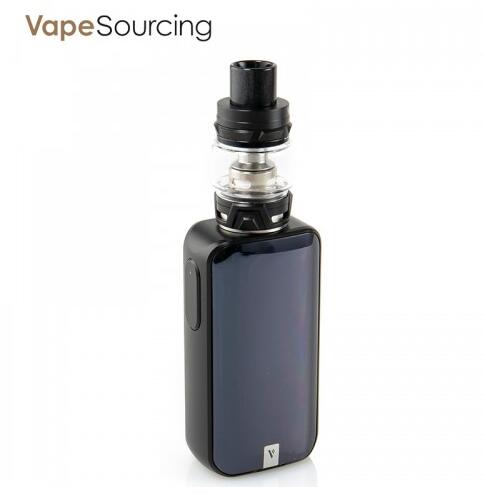 About the included Vaporesso Skrr Tank, here is the highlight: the QF air distribution system. The QF strip coil is pre-installed, it's 0.18ohm and has a rating between 60w and 90w, I switched the strip coil for the other supplied coil which is the QF mesh coil, also 0.18ohm with a rating of between 55w and 85w. The coils have a hollow cone fitted centrally inside them which is sealed around the bottom essentially creating a juice well. The QF comes from the QF coils, which are mesh coils by the way. Of course, we do love us some mesh coil vaping. The difference in the airflow is that the airflow changes direction twice as you are vaping. The air comes in through the base where the adjustable airflow slots are located. Then the air is drawn up through the center of the coil where it is redirected horizontally directly into the mesh coil. A cap on the top of the coil redirects the air while at the same time blocking.
As for its performance. I found the flavor of the mesh coil at 65w was better than the flavor I got from the freemax so I wanted to also test the longevity of the coil, and in my opinion, it is the best device I have used in 2018.
Other vape kits recommended:
Another review about Vaporesso kit