Geekvape Frenzy
Kit is new pod system features an exquisite design, resin coated options, 950mAh integrated battery, micro USB charging, firmware upgrade, 3ml capacity refillable pod, variable voltage mesh coil, SS temperature control coil and intelligent output (temperature control or variable voltage depending on the coil).
Deliciously Designed
The deliciously designed Frenzy kit includes carbon fiber and resin finishes options. Carbon fiber finishes are available in black, blue, gold or silver, while resin options include black magma, black on agate, black ghost and black sky blue.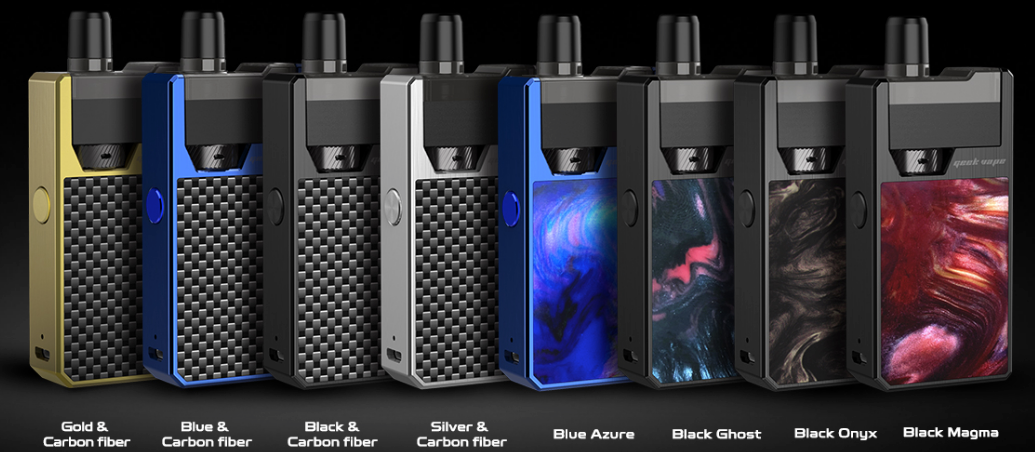 950mAh Integrated Battery
This
Geekvape
pod powered by the powerful 950 mAh integrated battery, the voltage level of the battery is monitored by side LED lights. By pressing the fire button twice, the indicator lights up green when the battery is more than 70% full, blue when 30% to 69%, and red when it needs to be recharged. The battery part is manufactured with advanced AS Micro chipset. This allows for TC boost mode, with LED monitoring of the battery and accurate temperature control to prevent dry out. The chipset has an automatic output matching function. This means that when 0.7ohm coil is used, the output will be adjusted to power mode, which can be set to 2.5v, 2.7v or 2.9v. When the 1.2ohm coil is inserted, the output will automatically enter the temperature control mode.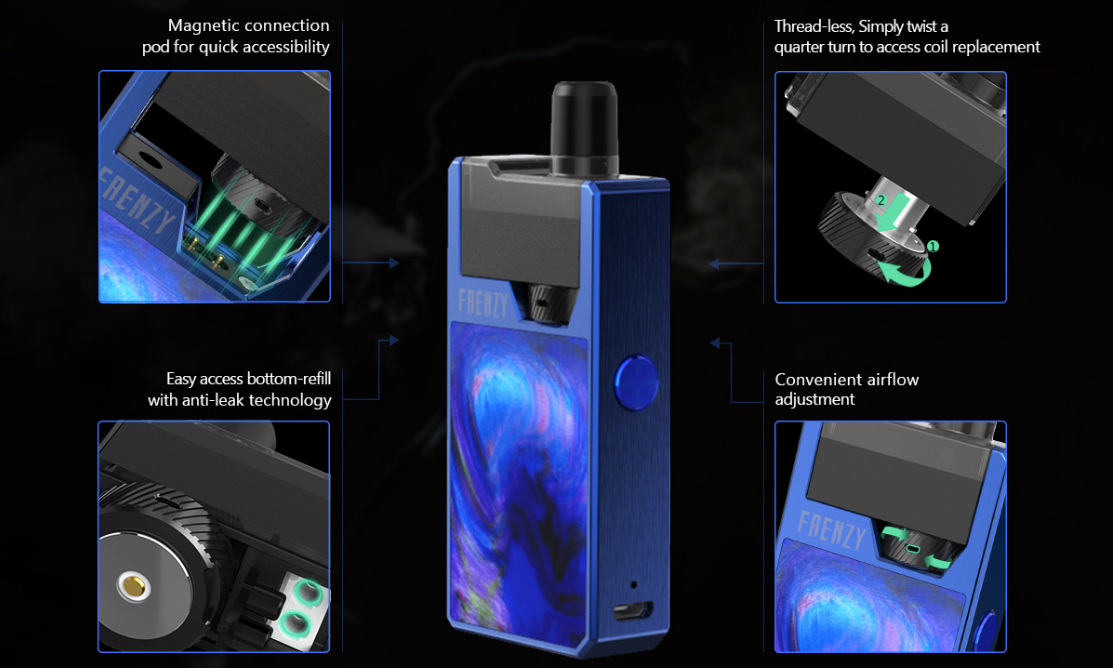 Two NS Coils
In the package, you will receive a 0.7 ohm NS mesh coil, pre-installed in the pod. You'll also get a 1.2 ohm NS coil that is said to produce maximum flavor.
Compared with SMOK Trinity Alpha
Trinity Alpha
Pod system is an internal 1,000 mAh battery. Trinity is capable of delivering power between 10W and 25W, creating a triple threat in terms of rendering quality. Surprisingly, the Alpha Pod system suite offers multiple modulation options. The output voltage range is 2.4v to 6.0v and the input voltage range is 3.3v to 4.2v. The resistance of the supplied Smok Nord Mesh nebulizer coil can be adjusted from 0.4 ohms to 1.4 ohms, depending on your preference for tensile tightness.

Smok integrates a great deal of end-user convenience into the Smok Trinity Alpha Pod starter suite. From the comfortable tip of wide-bore drip irrigation to its carefully positioned atomization pattern indicator, Trinity can convey core information about your device. >>Get more details about Geekvape Frenzy Kit and SMOK Trinity Alpha just choose Vapesourcing.com.