The VOOPOO has released many products recently, today we'll take a look at the
VOOPOO Drag Baby Trio
and VOOPOO ALPHA Zip Mini Kit. We know that the VOOPOO has many popular products before, but its great collection is definitely the Drag Series. The VOOPOO Drag Baby Trio is the latest member in the Drag series. I think it's popular because of its modern appearance and forward-looking features. In addition, the Alpha Zip Kit also continues this tradition.

>>VOOPOO Drag Baby Trio Review
Drag Baby Mod size is 58.5mm*35mm*21.5mm, aluminum alloy, and stainless steel chassis. Inside, there's a 1500mAh integrated battery that allows for up to 25 watts of power with atomizers down to a resistance of 0.5ohm. The tank measures 18.5mm x 43mm have a 1.8mL juice capacity and are constructed from stainless steel. A chain necklace is included with purchase so you may easily transport the device whenever you leave the house. Because of its small size, you can also Drag Baby into your pocket or purse. The integrated battery inside the
box mod
has a capacity of 1500mAh. This will pump nearly 500 times while fully charged, which means you can use vape throughout the day. Moreover, the entire charging process only takes about 1.5 hours. The VOOPOO Drag Baby Trio features a Gene. trio chipset, specifically designed to provide an amazing flavor experience.
The tank in this kit utilizes creative PnP coils that reinstall in a breeze. PnP is a branch of the patented Voopoo Maat technology that has simplified coil installation so much that it takes about one second. Also, the Voopoo Drag Baby has three coil options.
>>VOOPOO ALPHA Zip Mini Kit Review
VOOPOO ALPHA Zip Mini
is an excellent small dual 18650 cartridge size of 80mm*48.5mm*24mm. It can deliver a respectable 5 to 120 watts in 0.01 second. This can be done with an upgraded GENE Fit chip. It also comes with eight different safety features to solve overcharge, short circuit, and possible balance problems. The Alpha Zip mini body is made of zinc alloy, stainless steel, and plastic. That makes it relatively light, at 166.5 grams. The box body feels comfortable and familiar. Incorporating modern engraving throughout the design helps distinguish Alpha Zip mini from similar devices on the market.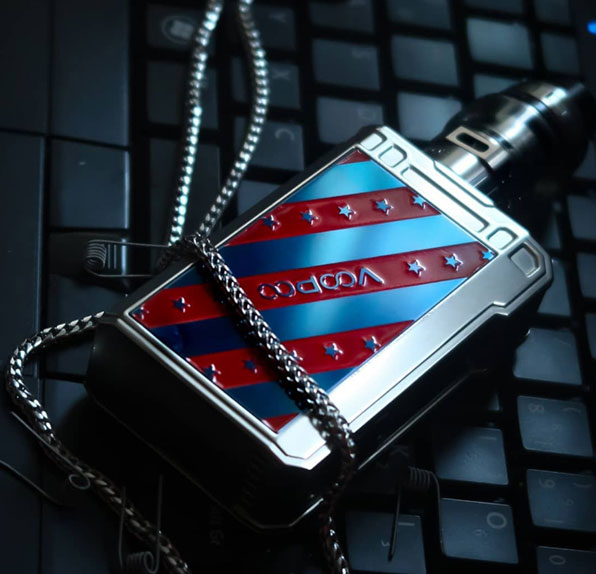 The accompanying MAAT sub-ohm Tank has a reinvented plug-and-play coil system and adjustable airflow in the middle. It measures 24.5 mm*55.75mm and weighs 76 grams. The MAAT can hold up to 4ml of liquid contained in a sturdy glass tube. Current options include mt-m1 0.13ohm single network and mt-m2 0.2-ohm dual network. If you are a
VOOPOO
fan like me, please don't miss the VOOPOO Drag Baby Trio and VOOPOO ALPHA Zip Mini Kit!