The
SMOK PRIV N19 Kit
continues the portability and exquisite design of other Smok Priv products. Built-in 1200mAh integrated battery for Nord Mesh coils with large steam and flavor, four variable power modes up to 30 watts, precise battery LED, ergonomically designed fire button, adjustable airflow control, and effortless refills.
Appearance:
The kit includes the Nord N19 Mod and Vape Pen Nord 19 Tank. Available in six colors: 7 colors/black, black/red, prism blue/black, prism chrome/black, gold/black and green/black. With a curved design and black finish, the Priv N19 looks elegant and stylish. Compared to other Priv devices, this setup looks completely different due to its sophisticated fire-resistant buttons and beautiful streamlined features.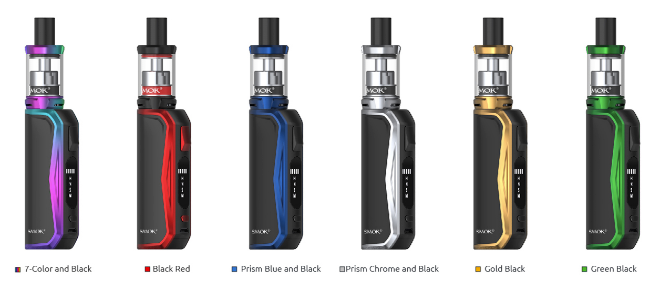 Priv N19 Mod:
The top of the control surface of the 
Smoktech
Priv N19 mod features an ergonomic fire button with battery status and wattage control LED strips in the middle, two adjustment buttons near the bottom, and a micro USB charging port on the bottom. The canister assembly includes a drip tip on the top cover and the glass tube has a 2 ml chamber containing a mesh coil and a base with two adjustable air inlets. Powered by a 1200mAh integrated battery, the Priv N19 mod provides extended vape time without charging at maximum settings.
How To Charge:
The charging settings are easy. Simply connect it to any micro USB wall charger or USB port on your computer using the included cable. After the charging process is completed, the LED on the control surface will go out. A detailed LED bar indicates if charging is required. When light is on, the battery level drops below 20% and you should plug the N19 into any micro USB port.

SMOK PRIV N19 VS SMOK Priv V8
The
SMOK Priv V8 Kit
consists of the Priv V8 Mod and the TFV8 Baby tank. It is a very slimline design and very beautiful. The Priv V8 uses a removable 18650 rechargeable battery. It runs on a single battery and can reach 60W, so battery life may be better, but at least it will keep you in one business day. The Priv V8 comes with a TFV8 Baby tank. It fits 3ml, which for a 60W device is fine.
What they have in common is that they have a good weight because they are barely noticeable in your pocket. I think they are a great device, with color choices, small size, and lightweight, especially perfect for girls and women.