Welcome to the new
Smok Novo 2
! Smok finally decided to upgrade their most popular pod system kit! But what's the new things are waiting for us? What is the difference between SMOK NOVO and Smok Novo 2? Let's take a look!
New color
The Smok Novo 2 has a new design and a resin color scheme. Compared to the carbon fiber style of SMOK NOVO, NOVO 2 will definitely make people shine. Its size is basically the same as the Smok Novo Pod Kit, no different. Just a little wider!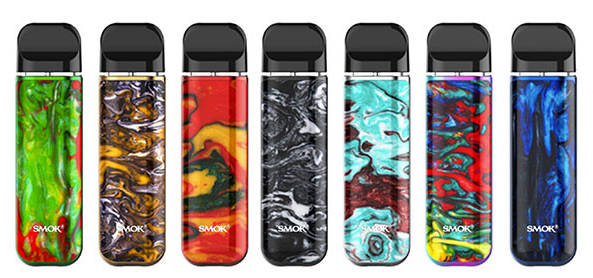 Double the battery capacity
But its battery capacity has increased, almost twice the size of the
SMOK NOVO Kit 450mAh
. Keep the same size and increase battery capacity! Excellent! The Smok Novo 2 also features a larger 800mAh (relative to the previous 450mAh) battery capacity for longer atomization times without charging.
2ml Refillable Pods
The Smok Novo 2 is also equipped with a new pod. The pod features a double coil inside, similar to the twin-wire coil in a sub-ohm tank, to ensure that the e-liquid you fill fills more evenly and restores the flavor. The Novo 2 uses a refillable pod or can be used as a mouthpiece. This tip is in the shape of a whistle to make sure it fits perfectly into the mouth. The
SMOK NOVO Pod Cartridge
can hold 2ml of e-liquid, just the same as SMOK NOVO 2!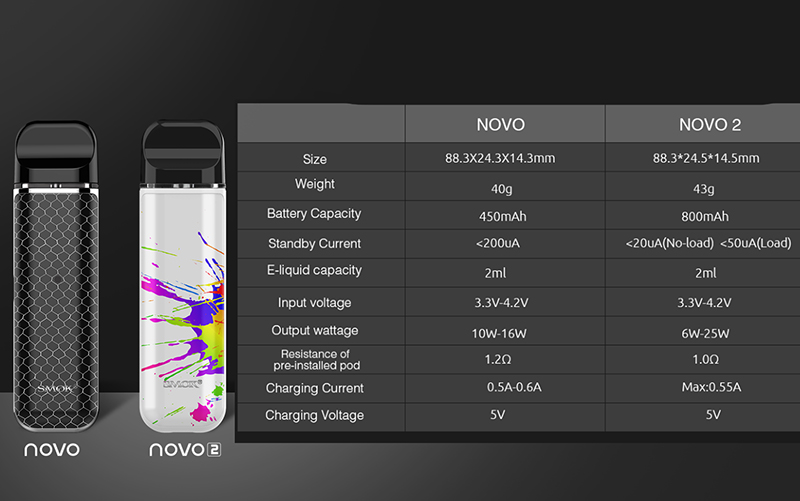 Draw-Activated Firing
For convenience, the air-activated design is retained! There is no need to use a fire button when operating this pod system. All you have to do is pump it. Two air slots on each side ensure adequate air replenishment, which is also different from the vent design of the Smok Novo. In short, this Smok Novo 2 will attract more airflow.
Condensation prevention
The Smok Novo 2 also solves the problem of e-juice condensation around the electrodes on the battery module electrodes. This is achieved by new grooves around the contacts that temporarily store excess e-juice to prevent leakage and clutter.
12-month warranty
The last improvement that must be mentioned is the 12-month warranty from Smoktech. The
SMOK
confirmed that they were able to extend the warranty period because of the durable materials and excellent design of the Novo 2. This way, you can enjoy the device for at least a year without any worries! So do you like the new
SMOK NOVO 2
? If you do just pre-order it on our Vapesourcing now!