Joyetech eVic Supreme VV/VW MOD Kit
Brand: Joyetech
Unit: set
Net Weight: 500(g)
Combined shipping cost will be calculated automatically by the system after you choose shipping destination in the checkout step! Register and sign in your account to get bulk discounts!
Product introduction
The eVic Supreme builds on the considerable success of the original eVic and adds notable new features along with its eye catching unique design and finish. The feature rich OLED screen incorporates the ability to upload both images and a screen saver whilst the stainless steel body boasts not only a more angular style but also a changeable atomizer connecting ring and stainless battery base with a super conductive connecting spring.
Parameters
Output wattage: 30W max
Output voltage: 6V max.
Supported atomizer resistance value: 0.5Ω~5Ω
Battery Capacity: 2100mAh
Length(battery and cartomizer) x Diameter : 139mm x 23mm
OLED screen size and pixels:0.96 –inch,64 x 128 pixels
Colors: Black and Silver
Joyetech eVic supreme kit comes with
1× eVic supreme control head
1× eVic supreme power supply tube
1× Rechargeable 2100mAh power supply
1× USB cable
1× Wall Adaptor
1× eVic supreme manual
1× MVR manual card
Simple packing. Customary Packing from the factory, the packing is subject to change without notice.
Features
1. Stronger output wattage
2. Upload the pictures
3. myVapors software
4. Brand-new structure design
5. eVic supreme operating system
6. Screen saver
7. 2100mAh high-safety SAMSUNG INR 18650-25R
Power on/off
Click the enter button 5 times within 1.5s to enter the main menu, use the direction key to select menu option, once you have selected your option, use the enter button to access the submenu
Under the "power on" mode, select "power off" and push the enter button. The screen will display the shut off animation
Main menu list
Sleep, Vapor set, Configure, Display, Device, Stealth, Reset, Password, Power off, Exit
Output mode selection: select "Vapor Set" and click enter button to enter the secondary menu. And enter sub-menu "Switch" to select modes: VV, VW, RVV or RVW1.
Alarm set: in the alarm settings, a warning screen will show if the maximum time or puff values are reached.
Vapor set: Select "Vapor set" and click the enter button to access the secondary menu. While in navigating the menu, the direction key is to select the highlighted option, the enter button is to confirm your selection.
Upload the pictures
More clearly and delicate OLED display screen (adopts 0.96 -inch, 64 x 128 pixels) and 16 grade gray
function which can show the photos clearly on the device. You can upload the pictures as you like through
myVapors. Then the picture will be showed on eVic supreme. More details, please kindly check the user manual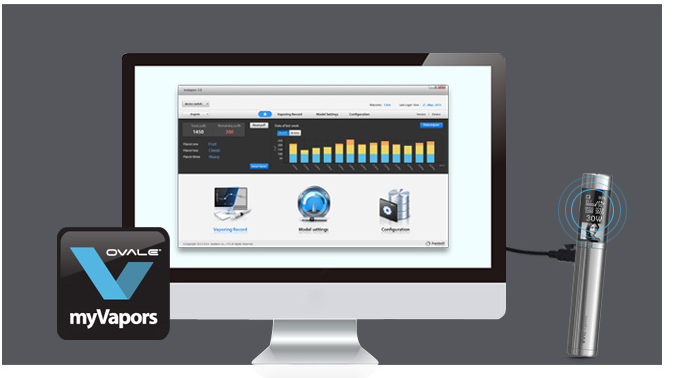 Guarantee including : Joyetech eVic supreme
Guarantee period :3 months
Package
Simple paper box. Customary Packing from the factory, the packing is subject to change without notice.