SMOK TFV4 Mini Tank
Brand: SMOK

Unit: set

Net Weight: 85(g)
Register and sign in your account to get bulk discounts!

Product introduction
The TFV4 Mini is a compact tank from SMOK. With 22 mm in diameter, this mini tank matches a wide range of mods. Featuring eight brand new cores: TF-CLP2, TF-S6, TF-RCA, TF-Ti, TF-N2, TF-N2 Air Core, TF-T2, and TF-T2 Air Core, it's designed to bring you unexpected vaping experience. The top refill design makes filling as easy as it gets. The double-layered drip tip has also been improved on the inner layer of glass to avoid scalding. TFV4 mini is truly one of a kind!
Parameters
Size (height x diameter): 73.5mm x 22mm
Capacity: 3.5ml
Material: Stainless steel
Thread: 510
SMOK TFV4 Mini comes with
TFV 4 Mini Kit :
TFV 4 Mini Simple Kit :
1× TFV4 MINI Tank

1× Silicone Ring

1× User Manual


Features
1. 100% PURE ORGANIC COTTON
EXPLORE FRESH AND NEW FLAVORS WITH EIGHT NEW PATENTED COIL HEADS.
All coils have been used organic cotton as wicking material, which can produce a purer taste.
2. SPECIAL CLAPTON CORE
More advanced TF-CLP2, Clapton Dual Coil Head has more surface area in contact with the wick to give off more vapor.
3. TEMP SENSING COILS
New patented TF-N2 Coil & TF-Ti Coil are using Nickel 200 and Titanium temperature sensing wire respectively, and perfectly for work with the SMOK X CUBE II temperature-control mod.
4.SEPARATE CHAMBER DESIGN
All coil heads use the Separate Chamber Design, which can significantly improve the stability and reduce the interference with each other coil.
5. DRIP TIP DEFAULT: DOUBLE-LAYERED STRUCTURE
The default drip tip with double-layered structure has been improved on the inner layer of glass to avoid scalding.
6.TFV4 MINI DRIP TIP: ANOTHER CHOICE: PYREX TUBE INSIDE
The another choice drip tip, which the inner tube is made of Pyrex Glass and the outer tube is Stainless Steel, is also with double-layered structure. It's a perfect combination of durability and scald-proof protection.


How to fill e-liquid
1、Hold the tank with one hand, and use another one to press top cap and move it counterclockwise.

2、Add e-liquid through the slot, and pay attention not to drip it into the central airflow tube.

3、Close the cap carefully and firmly. Then let it stand for several minutes to get the organic cotton completely saturated.
How to build the RBA
before, please make sure your hands are clean;
take RBA apart;


install and position the pre-wrapped coil: place the coil between the posts and wrap the ends around the screws and tighten up, make sure the coil is fined in the center and lined up with the air hole and also make sure the coil is not touching the base;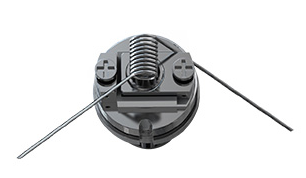 cutting the ends of wire off;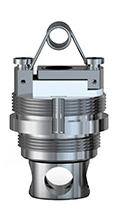 cut a strip of cotton and make sure it's not too much or too less;
insert the cotton, and placing it in the middle;
cutting the cotton at an angle and make sure it's not too short or too long.
wet the coil with your liquid and adjust the cotton.

Package
Simple paper box. Customary Packing from the factory, the packing is subject to change without notice.