Joyetech Cuboid Kit
Brand: Joyetech

Unit: set

Net Weight: 250(g)
Register and sign in your account to get bulk discounts!

Product introduction
Joyetech Cuboid Box, applies Variable Temperature Control system with firmware V3.0 and 150W output, having Temp-SS316 and customized TCR available now. It is powered by two replaceable 18650 cells with the new slip-open cover.
Multiple colors, 0.96-inch OLED screen and the new dual-battery bar display make it more practical and attractive catering to your preference.
Upgradeable firmware enables it always up-to-date. Now you can upgrade your Cuboid to 200W via VT Software.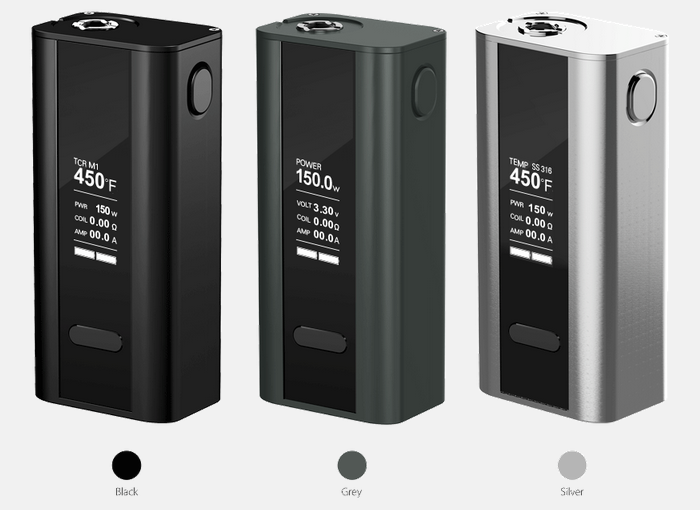 Parameters
Parameters Size: 42mm* 28mm* 91.5mm
Wattage: 1-150W
Modes Available: VW/ VT-Ti/ VT-SS316/ TCR Mode
Resistance:0.05 - 1.5ohm for VT Mode0.1 - 3.5ohm for VW Mode
Color: Black, Silver, Grey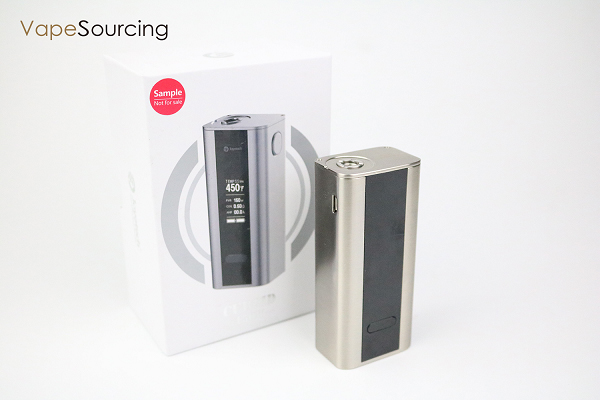 Joyetech Cuboid Kit comes with
Simple packing. Customary Packing from the factory, the packing is subject to change without notice.

Features
1. 150W Output and Dual Battery Bar
Cuboid uses two replaceable batteries with the new dual battery bar.The maximum output can be reached to 150W, making it powerful and convenient.We kindly recommend high-rate 18650 cells with rated discharge current≥25A.
2. New Slip-open Cover and Battery Reverse Polarity Protection
The new slip-open cover on the bottom enables you change your battery swiftly by pulling the slider over.


With the Onboard Reverse Polarity Protection, it will protect the device from damage in the event of reverse battery installation.
Notice: Please pay attention to the positive and negative terminal signs when installing new batteries.
3.

Firmware Upgradeable
Cuboid comes with the upgradeable firmware.
Having Version 3.00 for Cuboid, Temp-SS316 and TCR are available now.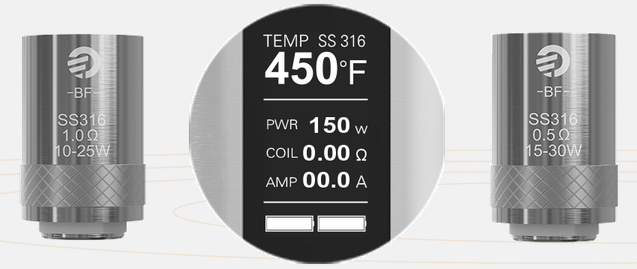 5. Customized TCR Available
Cuboid enables you to adjust TCR values for different materials, thus further improving the accuracy of temperature control and bringing you the great taste.


There are three options (M1, M2, M3) for you to customize the TCR regarding to the material.
In power-off condition, press the fire button and the right regulator simultaneously for around 5 seconds, then you enter into the TCR set menu.

6.Exquisite 510 Stainless Steel Thread


Applied with 510 stainless steel thread and wide border fitting for large capacity atomizers.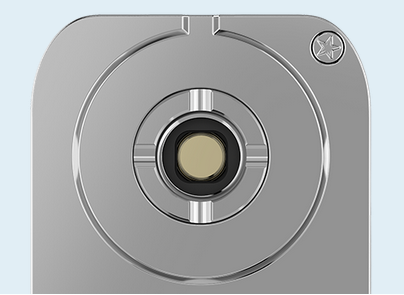 Power On/Off: put in two 18650 batteries then press fire button 5 times in quick succession to turn on/off the device.
Switch the Display: press two regulatory buttons simultaneously when device is off to rotate display of the device.ShiftBetween VW/ VT-Ni/ VT-Ti/ VTSS316/ TCR Mode:
1. Press fire button 3 times to enter the menu, first row of 6 in the menu will flash to indicate you entering the menu.
2. Press regulatory button to switch among available modes. Press fire button or leave the display to flash 10 time confirm the mode you choose and exit the menu.
3. Temp-SS316: Joyetech BF-SS316 atomizer head (0.5ohm/1.0ohm) is recommended under this mode.
4. TCR (M1, M2, M3): temperature coefficient of resistance, is a new vaping mode that ever applied with Joyetech Product. When mode indication is still flashing, press the left button to activate sub-menu items, which will flash when activated.Press the right button when flashing to choose modes among M1, M2 and M3. hen press fire button to confirm
How to Set TCRIn power off condition, press the fire button and the right regulator simultaneously for another 5s to enter TCR set menu:
(1) Press right or left regulator to choose between TCR M1, M2, or M3. Then press fire button to confirm what you choose.
(2) Press regulator to increase or decrease the parameter to your preference.
(3) Long press the fire button or leave it about 10s to confirm the setting.TCR Value Range of Cuboid MaterialTCR Value RangeNickel600- 700NiFe300 - 400Titanium300 - 400SS (303, 304, 316, 317)80 - 200
(4) Under VT mode, coil temperature can be adjusted by press right or left regulatory button. A momentary press f the regulatory button will increase/ decrease the temperature by increments of 5℃ or 10℉.

Package
Simple paper box. Customary Packing from the factory, the packing is subject to change without notice.

Guarantee
Guaeantee period:3 months
VT Software to Upgrade Cuboid