WARNING: This product contains nicotine. Nicotine is an addictive chemical.
ARE YOU OF LEGAL SMOKING AGE?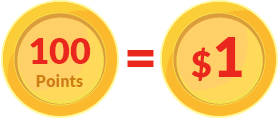 What are VapeSourcing points?
1.Points can be used as cash on orders. 100 points=$1.00. Customers can earn points through various activities such as registering, purchasing items, posting reviews, and Signing up for our newsletter.
2.All points must be obtained in accordance with the rules and Customer Conduct Code of our Terms & Conditions. Violators will have their points reset to zero and/or their account suspended.
How to Use VapeSourcing Points?
1.100 points=$1.00.
2.The maximum of the points you redeemed each purchase is 1000.
How to Get VapeSourcing Points?
About your points:
1.When a customer requests a refund, the points earned from the corresponding order will be deducted from the account. Points can be deducted to a negative value. In this case, future points earned will offset the negative value first until the customer has a positive number of points.
2.Each time you earn VapeSourcing points, there is a corresponding validity period. All points received are valid for 365 days, we will revise your points balance regularly.