Nowadays, all-screen-design
vape device
has become a trend, and a variety of different all-screen kits are emerging continuously. Today we will share a pioneer of all-screen-design vape device:
SMOK X-PRIV Kit
. The whole mod adopts the all-metal design, and the whole body is covered with a highly reflective paint process, which has a smooth feel and a comfortable grip.
SMOK X-PRIV
also uses a side-pressed ignition design, pressing from the bottom to the top 1/3, the electric fire button can still ignite. This kind of ignition method using palm or thumb is very comfortable and convenient in use. The pressing has a layered feeling, the rebound of the button is powerful, and the sound of the ignition is clear. The full screen of 2.0 on one side covers the entire mod, the curvature of the screen is reasonable, the display of the display is clear, and various data are rich and clear. The entire curved surface is made of transparent hard plastic. In the period of up to one month, there is no trace of scratching. This may be related to my habits. Generally, a few hard objects will hit the host, but this also does not mean that there will be no scratches in the future.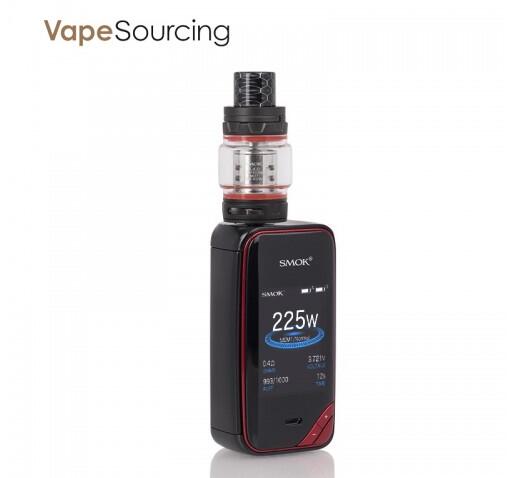 The other side is a one-piece battery cover with a honeycomb-like base pearlescent paint that is the same curvature as the display, and the whole battery cover is made up of four permanent magnets on the upper and lower sides and the main unit, and two 18650 batteries are installed. The bottom end of the cover has a protruding portion that fits into the mod and also facilitates opening the battery compartment cover. As for the included
SMOK TFV12 Prince Tank
, we have reviewed many times. It is not only a powerful one but also an all-around sub ohm tank for daily use. TFV12 Prince Tank uses convex glass tube with 8ml large e-juice capacity. And the kit includes three newest & carefully modulated coils: the Prince Q4, X6, and T10, all of which have huge cloud and extremely dense flavor. It also has newly designed crown-style body and colorful Cobra resin drip tip. The last but not the least, its performance. The
SMOK
X-PRIV kit is very handy to use. The control software follows the control system of the SMOK color screen series, and the entire control and settings are exactly the same. The ignition key responds quickly. The output of the whole mod is very stable regardless of the power mode or the temperature control mode. The maximum output of 225W is achieved. The response of the 0.17-ohm coil is also very fast, and there is no feeling of dragging. If the air intake of the atomizer is fully open, it will feel a little hollow. Until it is less than 1/2, maybe because there is a certain resistance so that I can feel the meaning of the e-juice. Related review about smok vape kit:
Review of SMOK T-PRIV 3 Kit 300W, High Quality Worth To Buy