Do you look a true MTL vape experience? Today I recommend a new MTL Vape Atomizer which you may like-
Vandy Vape Berserker V2 MTL RDA
. This is a new RDA from the Vandy Vape. It has a variety of airflow configurations and leak-proof designs for better temperature control and isolation. Would you like to see what surprises he has brought? Here we go! Vandy Vape Berserker V2 MTL RDA has the same style and appearance as the Vandy Vape Berserker Atomizer series, smaller in size, matt black, bronze, stainless steel or iridescent. The materials and design look very high, but the dripper is still economical. The Berserker V2 RDA measures 24mm x 22mm and weighs 145 grams and has a capacity of 1.5ml. He has the following characteristics:

Four Airflow Options
The
Vandy Vape
Berserker V2 MTL is pre-loaded with a 1.0mm air hole, but it can be swapped out to achieve your favorite airflow setting. Inside the package, you will find a 1.4mm, 1.6mm, and 2.0mm air hole, all of which are easy to remove and install. All airflow options provide a mouth-to-mouth vape experience.

Leak-Proof Design
The large e-juice below the deck is completely leak-proof, so you never have to worry about spilling e-juice in your pocket, wallet or your mod.
Double Shell Design
To ensure better temperature control operation and juice/deck isolation, the V2 is designed with dual chambers. This prevents condensation and produces better steam.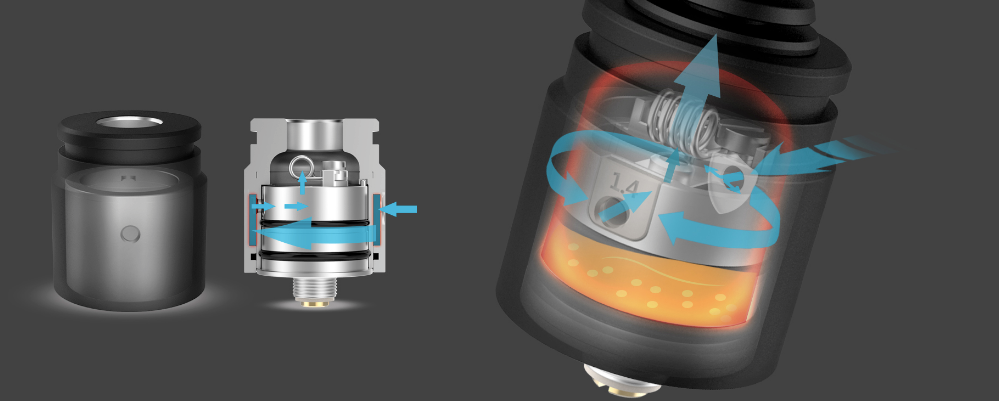 Easy To Install Coil
A single-coil compatible build platform is said to be easy to use. The installed coil is very easy to wick and the coil is held in place by the top grub screw.
Detachable Structure
To ensure that the equipment is clean and easy to maintain, it can be completely removed into the drip tip, drip cap, airflow cover, and base with built-in deck. Also, recommend an excellent Squonk mod-
Dovpo Topside Dual Mod
, very perfect match with Vandy Vape Berserker V2 MTL RDA and will give you a true MTL vape experience!
The Dovpo Topside Dual Mod has a 10ml oversized squonk bottle that will give you a satisfying vaping experience. The Dovpo Topside Dual has a maximum wattage output of 200W and a minimum refractory resistance of 0.1 ohms. The Topside Dual Squonk Mod has the same top-filling design as the original Topside Squonk mod, making this squonk vaping fast and easy to fill! Also, we have other
best squonk mod
they are all great too, and think vaping them by Vandy Vape Berserker V2 MTL RDA will get a true vaping!