Today, let's take a look at Snowwolf new vape pod kit-Snowwolf Afeng Kit. Snowwolf has designed a new ergonomic curved body for their Afeng, they are not only stylish but also bring a great feel!
First, let's take a look at the Snowwolf Afeng Mod Pod System kit 22W
The Snowwolf Afeng Pod Kit is a
new pod mod
with a replaceable battery. The device is powered by a single 18650 battery. The battery is not included in the kit. The device will output 16 to 22W. According to Snowwolf, the IFV smart chip will automatically control the output. It seems that the power will be adjusted according to the length of time the button is pressed. Outputs higher and then fall in the first few seconds. There is also a C-type USB charging port and LED battery indicator.Equipped with a 3ml refillable pod and a replaceable coil, the pod is an e-liquid container, where the coil is located, and you will be glad to hear that you can replace the coil on this unit. There is currently only one coil to choose from, and there are currently 0.6-ohm organic cotton coils. However, it is also possible to use the WOCKET Xgrid coil in a plug-and-play manner.Snowwolf Afeng is available in five colors: black, champagne gold, indigo, rose red and space gray.
>> There is also an upgraded version of Snowwolf Afeng, it is Snowwolf Afeng30 Mod Pod System kit
Snowwolf Afeng30 Kit
also features Snowwolf's revolutionary IFV smart chip with three adjustable powers. The output is controlled by Snowwolf's revolutionary IFV smart chip, with 3 adjustable power modes, press the power button 3 times to adjust the wattage, customize your cloud and nicotine hits to meet your daily needs. As for the pod, you can choose 3ml capacity. It will meet your daily vaping needs. Afeng also supports 2A fast charging, which can speed up charging time faster and more efficiently than Afeng Kit.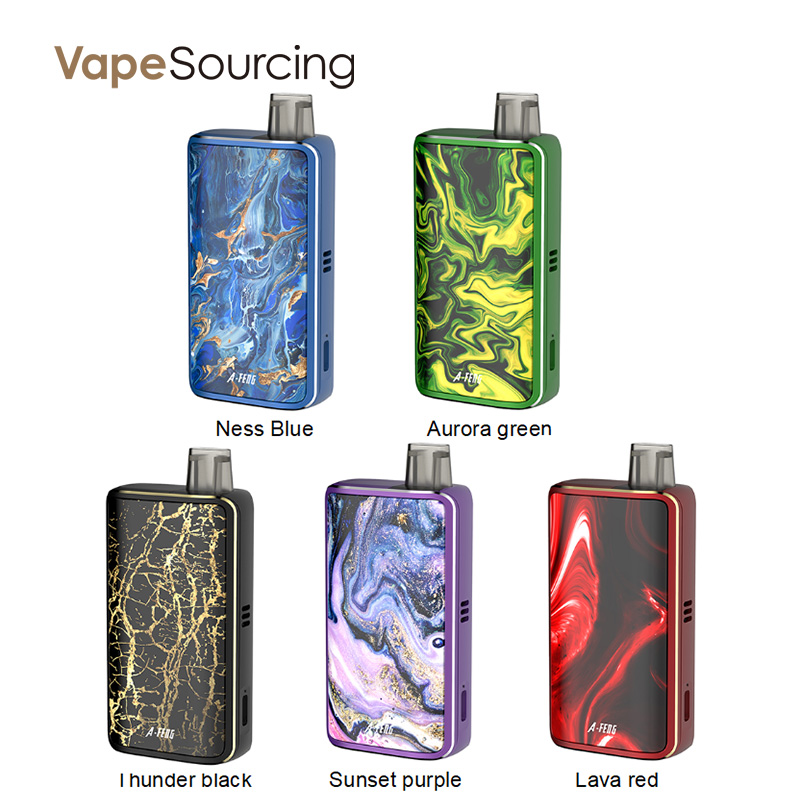 Another difference from the Afeng kit is that the Afeng30 kit uses a more durable resin battery back cover. SnowWolf's large logo uses 3D engraving technology to make the entire body look smooth and smooth. In addition, Afeng has installed smart chips on the side, which gives a better combination of coils, airflow, and e=juice.Do you expect a smoother vaping? Snowwolf Afeng two vape pods will bring you!
---