Vaping is quickly growing its user base with a ton of innovation happening at a rapid speed. Better battery capabilities, premium quality, and wide flavoring options of e-liquids, and of course, the elimination of freebase nicotine liquids, that caused harshness in the throat, rendered vaping as an affordable and efficient alternative to smoking.

The introduction of nicotine salts that quickly gets into the bloodstream not only provides a smoother hit with less e-liquid but is also an inexpensive option.

Today there is an increased demand for lower nicotine disposable vape kits in the industry, especially for novice users. Here is a list we have curated for the best vaporizers from Vaporizerchief which meet the above criteria.

Art X Disposable Vape Pod
is completely different from the traditional disposable vapes on the market and brings a huge change. For a disposable vape, it is important to be easy to carry, and the square box shape better fits the shape of your pocket, so you can carry it with no burden!
In addition, the huge capacity brings you extraordinary experience, 9.3ml capacity can support 5000 puffs, although the battery is only 700mAh, but it adopts the design of rechargeable, it is a very cost-effective disposable vape kit.

With over 20 vibrant flavor selections, including Lush Ice, Caffe Latte, Watermelon, Banana Ice, Strawberry, Puff Bar ranges are invariably among the best disposables on the market that use high medical grade cotton. The brand offers three lines of products, Puff Bar, Puff Bar Plus, and Puff Bar Flow.
The first line or Puff Bar provides two nicotine strength variations at 2.0% and 5.0% concentrations. The vape tank capacity is at 1.3ml, and the internal battery capacity is 280mAh.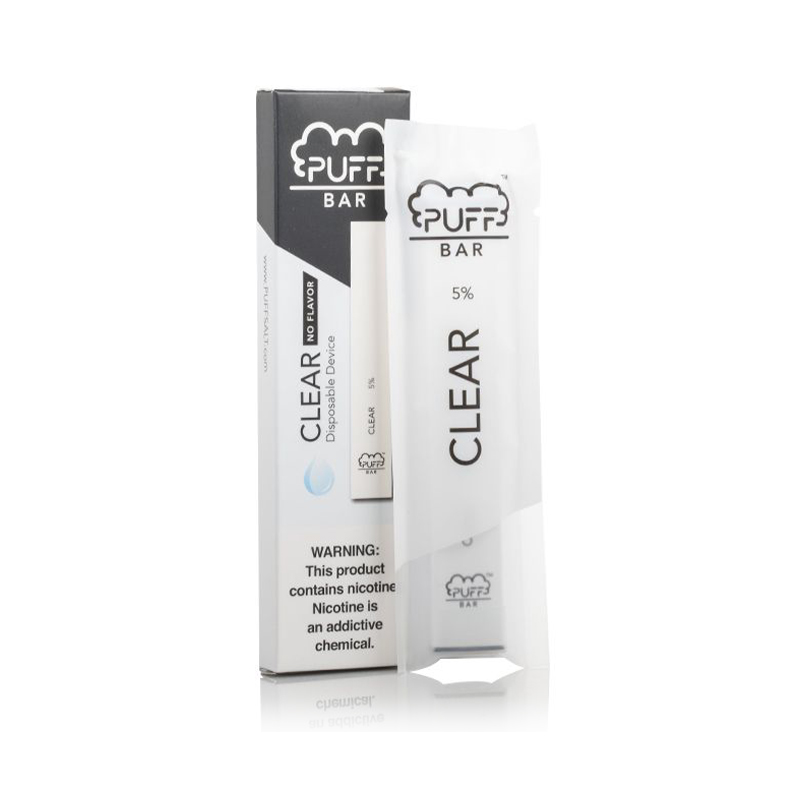 The device typically offers between 200-300 puffs in its base range priced at $8.99 and requires no hassle of charging, refilling, or maintenance.
Puff Plus and Puff Flow offer
lab tested e-liquid online
at 5.0% nicotine concentration with enhanced tank and battery capabilities that offer more puffs.
3. Cali Bars
Cali Bar offers elegant disposable stick style vape devices with amazing performance. The pre-filled and pre-charged vapes come with a 280mAh inbuilt battery and 1.3 ml
vape juice
capacity. The liquids are available in 2.0% and 5.0% nicotine concentration variations for low nicotine users.
The e-liquid contains a balance of 50:50 PG: VG ratio, indicating the most comfortable and enjoyable vaping experience. The device gives a 'hit' to the throat rather than a burn, which satisfies many users.
Cali Bars offer diverse flavoring options with more than nine fruit flavors available. The best part about some of these options is the iced flavors, which are quite refreshing. Mango Nectar Iced, Peach Iced, Unicorn Milk Iced, Mega Melons Iced, Sweet Mint Iced are among the best choices in this range.
The device offers about 300 puffs and comes at $7.99.
4. MOJO
MOJO offers an ultra-compact lightweight vape design that holds about 1.2ml of vape juice. The 50:50 VG: PG ratio produces high-quality liquid that makes the vaping experience pleasurable. There are two nicotine variations at 2.0% and 5.0% concentrations, and the device typically allows 250 puffs.
There are eight vibrant flavors available in the range, including Dessert Lemon and Cubano, with a unique flavor palette. The vapes come at $9.99.
Available in regular bars and plus variations, SWFT 3k is yet another popular disposable vape range. The premium vape juice quality combined with the draw to activate the firing mechanism makes the mouth to lung draw smooth and enjoyable.
It also enables the device to last longer and offers about 400 puffs, higher than most disposables in this range. In the case of the plus range, the capacity may go up to 600 puffs.
The vape comes in 5.0% nicotine concentrations with a
tank
capacity of 1.3ml, which is pretty much the standard in the market. SWFT delivers a huge variety of flavors that is loved by all for the extraordinary quality. Some of the best flavors in the range include Honey Dew and Cool Mint. They also offer a variety of iced flavors that do not contain methanol but offer a refreshing experience such as Grape Ice, Apple Ice, and Watermelon Ice.
The benefit of the plus range is the increased airflow, which some people like as they don't have to stress their lungs to enjoy vaping. The range also offers slightly larger devices with the same nicotine concentration.
6. Twist Disposable Vapes
One of the most popular nicotine e-liquids available on the market, Twist has adapted expertly with changing trends by adding nicotine salts and disposable vape pens in their line up.
Twist sells disposable mini vape with a capacity of about 1 ml of premium e-liquid with about 5% nicotine salt concentration allowing for one-time use. The powerful and petite mods can offer the best performance combined with these VG based e-liquids.
The implemented design for these vapes reduces the size of the device compared to typical stick style vapes and allows for a dedicated mouthpiece. Their 13 exotic flavor range is a huge selling point with Berry Medley Lemonade, Fruit Punch, Iced Madness, Artic Cool Mint, Cherry Bomb, and Pomberry.
Single disposable vapes come at $6.99. The hot one is
pod twist 2500
.
7. Fyre Disposables
Offering probably the thinnest disposable vape available on the market, Fyre has genuinely created a fan following. The petite and elegant design fits right into the pocket.
This
SMOK
developed premium disposable vape offers an automatic draw and a smooth flavor, making it a remarkable experience. Fyre offers nicotine liquids in 12 flavors, out of which - Sour Apple, Lychee Ice, and Blue Raz are the latest.
The use of premium flavorings and diluting agents is responsible for the elegant flavors and aroma. The tank capacity is about 1.3 ml and contains 5.0% nicotine concentrations. The vape is priced at $8.25 and offers a worthy experience for the price.
Explore these lower nicotine disposable vape options to relish an excellent and fun vaping experience.