Nowadays, seems vape pods or small box mods kits are becoming more and more popular in the vaping market. So the Wismec released their new member of Luxotic family-
Wismec Luxotic Surface
. The look of the kit comes in gorgeous colors and four pattern options. Each side cover is replaceable, so you can change the appearance of the device at any time. Supported by the latest high-quality Avatar chipset, box mod provides stable performance and can provide up to 80 watts of power. Luxotic Surface uses multiple security precautions to ensure a secure vape experience. These include overcharge protection, over discharge protection, over voltage protection, short circuit protection, over current protection, reverse battery protection, and temperature protection. The size of
Wismec
Luxotic Surface is 25.5mm x 43.5mm x 78mm. So it is the smallest single-battery squonk mod on the vape market, with a 0.49-inch display.
Wismec Luxotic Surface Appearance
Kestrel RDTA is included in the full kit. It has a wireless coil design and a mesh heater made by kanthal. This heater is installed horizontally, has a larger surface area, and can be heated more evenly to achieve superior steam and flavor. Most importantly, the heater has a 3-month service life and can be easily cleaned with a cloth for reuse. This RDTA can accommodate 2ml of e-liquid and is designed with a side-filling system.
>>Wismec Luxotic Surface VS WISMEC Luxotic DF Kit
WISMEC Luxotic DF
is a dual 18650 battery 200W squonk mod launched by WISMEC on the last year. It is not only beautiful in appearance but also comfortable in hand. Equipped with Guillotine V2 RDA, it comes in four colors: black, blue, green and white. On the back of the device, you will find the incision in the squonk bottle and the 7ml bottle inside. Wismec Luxotic DF adopts common Avatar chipset, which can output 200W in double 18650 design. Luxotic has all typical options for wt mode, TC and TCR mode. It supports Ni200, SS and Titanium as TC materials. It also has a mini USB for firmware upgrades and charging. The Guillotine V2 RDA comes with two Ultem 810 drops (one short, one wide) made of stainless steel.
WISMEC Luxotic DF Contains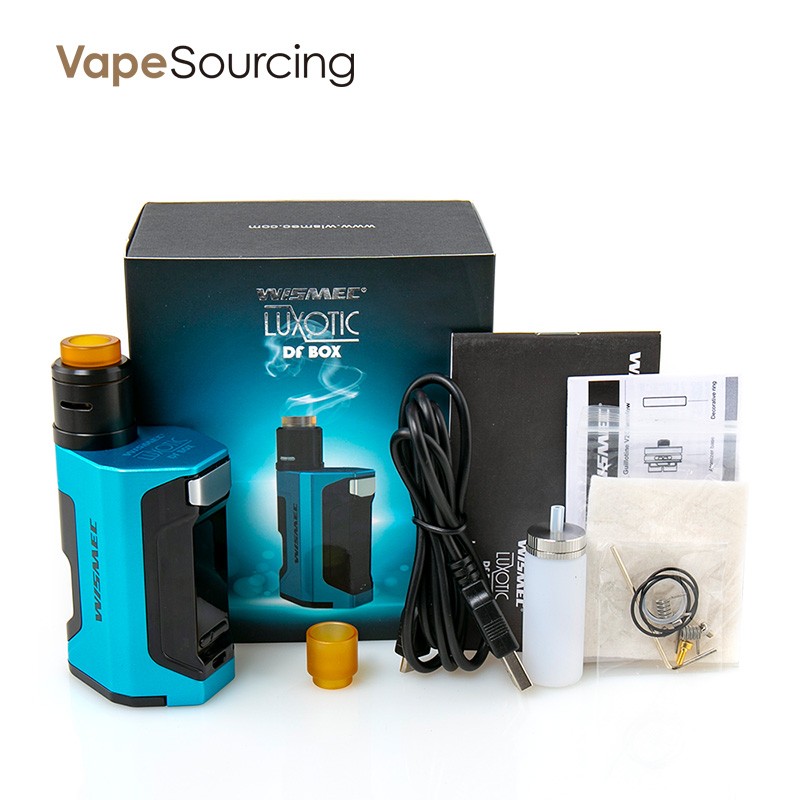 To Summarize
Both the two Wismec Luxotic squonks are sturdy in construction, beautiful in appearance, and compact in design. They are worth to have a try, and hope you'll enjoy them!