Joyetech Exceed Box with Exceed D22C Kit
Brand: Joyetech
Unit: set
Net Weight: 390(g)
Combined shipping cost will be calculated automatically by the system after you choose shipping destination in the checkout step.
Product introduction
Joyetech Exceed Box Kit comes with Exceed 50W Box Mod and Exceed D22C Atomizer. Exceed 50W Box Mod features top OLED display. The brand-new EXCEED D22C atomizer came with childproof system and adopts an easy way of e-liquid filling system and exquisite adjustable airflow control. New ex series heads with novel designs are meant to provide pure flavor with great vaping experience. EXCEED BOX which is equipped with 3000 mAh built-in battery. The box presents you with two optional modes: direct output and constant voltage output together with advanced dual circuit protection, making it perfectly pair with EXCEED D22C in terms of appearance and performance.
Parameters
Size: 25mm(W)*41mm(L)*115mm(H)
Battery capacity: 3000mAh
Maxmum Output Wattage:50W
Input Voltage:Dc 5v
Connector: 510
E-liquid capacity: 2ml (can be changed into 3.5ml with a spare glass tube)
Max charging current: 1A
Output mode: direct output / constant voltage output
Colors: silver, black, white, dark orange, black&white
Joyetech Exceed Box with Exceed D22C Kit comes with
1x Exceed Box Mod
1x Exceed D22C Atomzier
1x Ex 0.5ohm Dl Head
1x Ex 1.2ohm MTL Head
1x Extended Vent Pipe
1x Spare Glass Tube(3.5ml)
1x Usb Cable
1x Warranty Card
1x Warning Card
Spare Parts
Features
1. Newly added childproof system
Innovating on the basis of the original success of the Joyetech EX series atomizer, the EXCEED D22C atomizer is specially added
childproof system to avoid any unintentional push effectively. Press the top cap and unscrew it.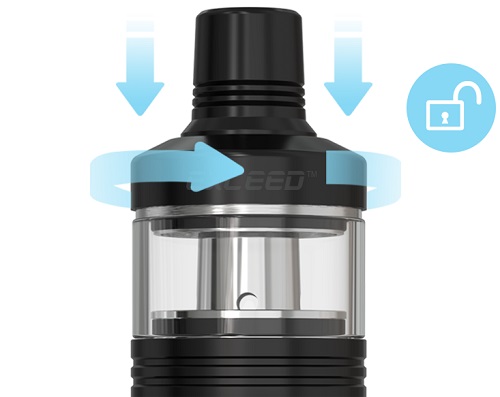 2. EX series heads available for MTL&DL inhales
The EXCEED D22C atomizer is equipped with all-new EX atomizer heads: 1.2ohm head and 0.5 ohm head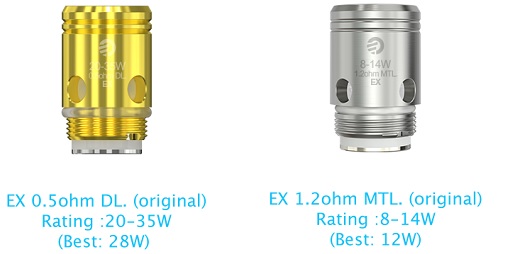 3. Simple top filling and refined airflow control system
After opening up the top cap, inject the e-liquid into the side holes directly, which is rather convenient to operate.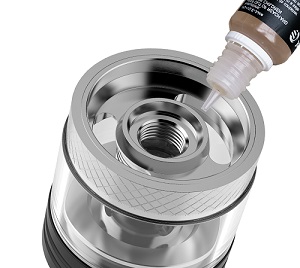 4. In pursuit of the ultimate vaping experience, a precise and exquisite airflow control system is applied to the EXCEED D22C atomizer. Three small holes are for mouth-to-lung inhale while the wide slot is available for direct-lung inhale.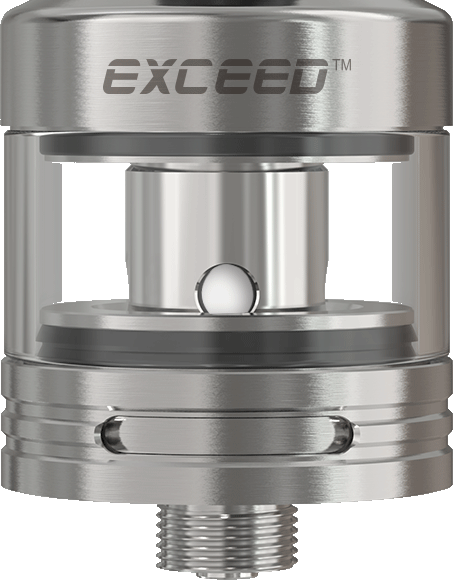 5. Applicable with large capacity
The EXCEED D22C atomizer offers you a 2ml e-liquid capacity. In addition, you can get a large capacity of 3.5ml by putting the extended vent pipe and installing the spare glass tube.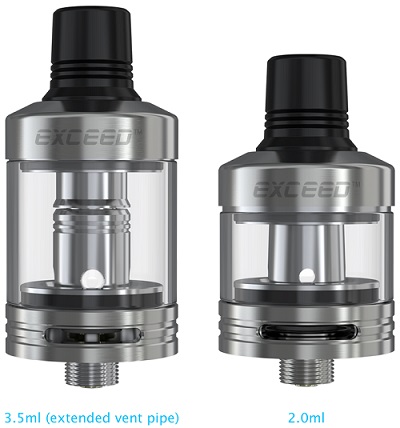 6.Petite yet powerful with 3000 mAh built-in battery
Being petite in appearance, powered by 3000mAh built-in battery, the EXCEED BOX with EXCEED D22C starter kit is bound to bring you huge vapor.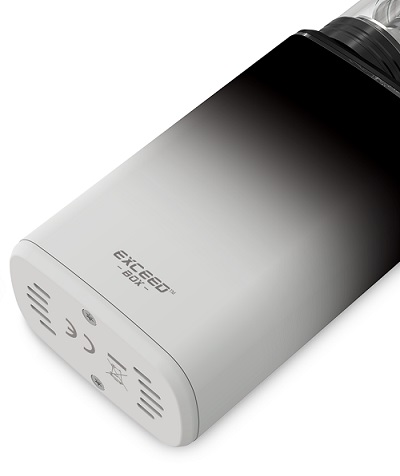 7. Two output modes: direct output & constant voltage output for option
Coming with the two output modes of direct output and constant voltage output, according to your preference, you can switch from direct output to constant voltage output by pressing the fire button three times as quickly as possible with the kit open.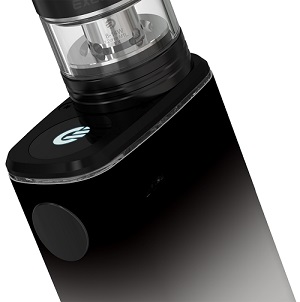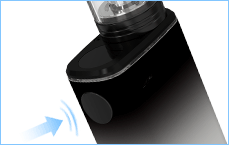 8. Dual circuit protection
Two sets of circuit protection system are adopted, realizing the overall protection of over-charging,
over-current and over-discharging.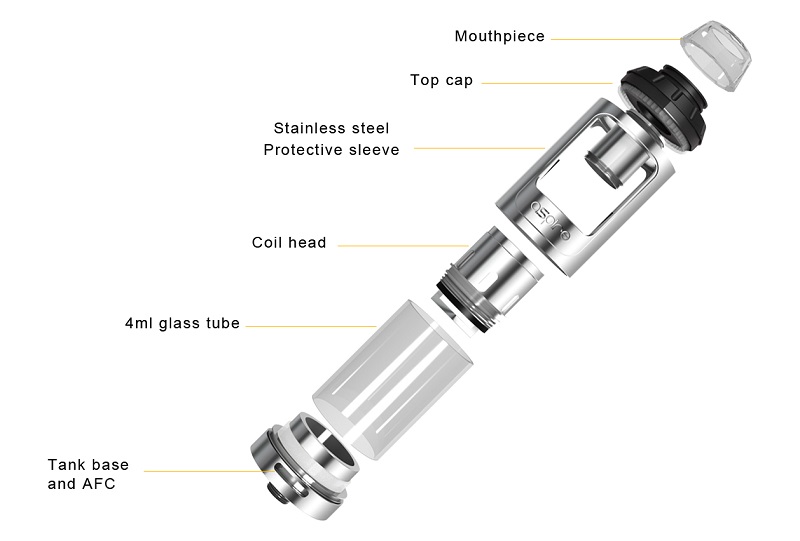 9. Detachable structure for esay cleaning
All the parts of EXCEED D22C can be detached and reassembled, bringing much convenience in cleaning it.
10. Color your vaping life
Being rich in multiple appealing colors, it will undoubtedly enrich your daily vaping.
11. Battery life indication
The indicator lights will show the battery life by displaying the number of bars of with the Joyetech logo on it.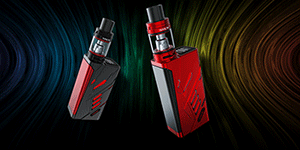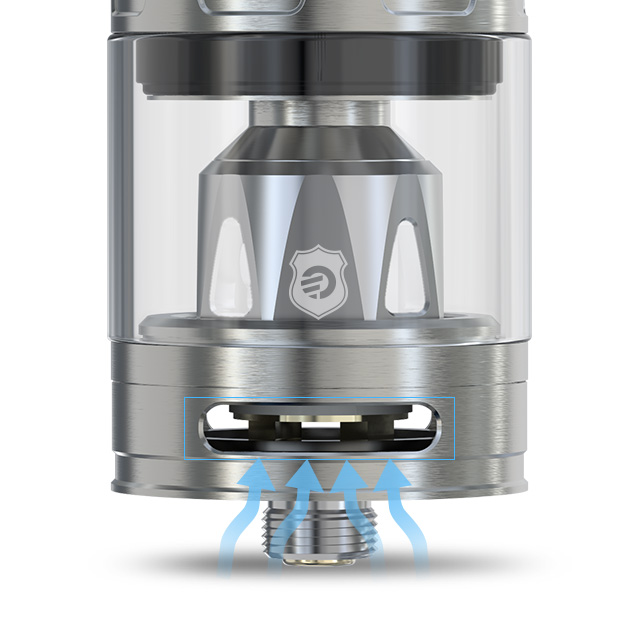 Charging
Simply charge the EXCCED BOX battery by connecting it with a computer or a wall adapter via USB cable. When it's fully charged, the indicator lights will stay lit for about 1 minute and then go out.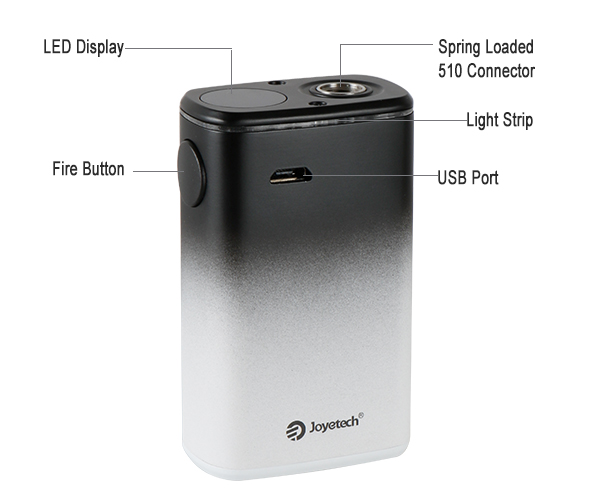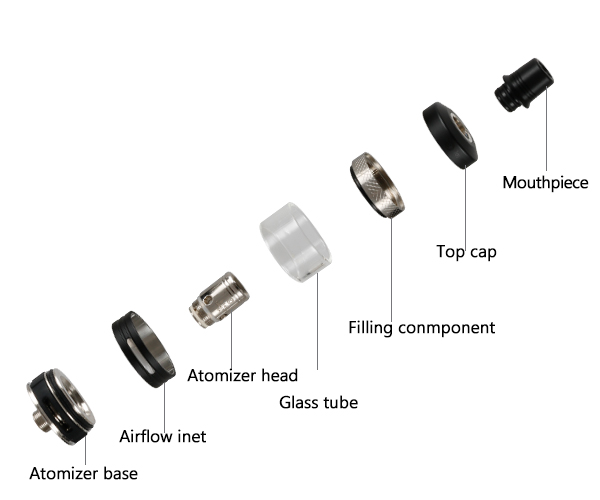 Package
Simple paper box. Customary Packing from the factory, the packing is subject to change without notice.