The combined shipping cost will be calculated automatically by the system after you choose the shipping destination in the checkout step.
INTRODUCTION
Joyetech VAAL 1500 Disposable features pocket-friendly portability, exceptional flavor satisfaction, and intense enjoyment. VAAL 1500 Disposable Pod is an ideal option either in the role of your trip vaping or as a reliable backup to a bigger or higher performance system! Each Joyetech VAAL 1500 Disposable has an integrated 950mAh battery and lasts up to 1500 puffs, designed to work for about 1-2 weeks. Each pre-filled VAAL 1500 Disposable device contains 5.0mL of vape juice and comes in a vast array of different flavors. Each device comes pre-filled with 5% or 3% salt-based nicotine e-liquid and is ready to vape right out of the package. Joyetech VAAL 1500 Disposable adopts a draw-activated firing mechanism, you only need to align the cylindrical mouthpiece and inhale to feel the real and smooth taste. Without all the hassles of pods and coils. Once you take a Puff off of the VAAL 1500, its flavor and ultra-compact design will leave you wanting more. This compact vape pen is perfect for both beginners and long time vapers who enjoy quick and easy on-the-go vaping.
Features
• 1500 Vaping Puffs Disposable Pod
• Integrated 950mAh Battery
• Pre-Charged – Simply Puff on the Device to Activate
• Various Tasty Flavors
• 5.0ml Large E-liquid Capacity
• Stealth and easy to use
SPECIFICATION
Nic. strength:
5%, 3%, 1.7%(TPD)
Colors:
Black, Blue, Red, Purple, Orange, Pink, Yellow, Green, Red Orange
Flavors:
Tobacco, Mint, Lush Ice, Blueberry Ice, Mango Ice, Peach Ice, Banana Ice, Pineapple Ice, Orange Ice
PACKAGE LIST
1 × Joyetech VAAL 1500 Disposable Pod Kit 1500 Puffs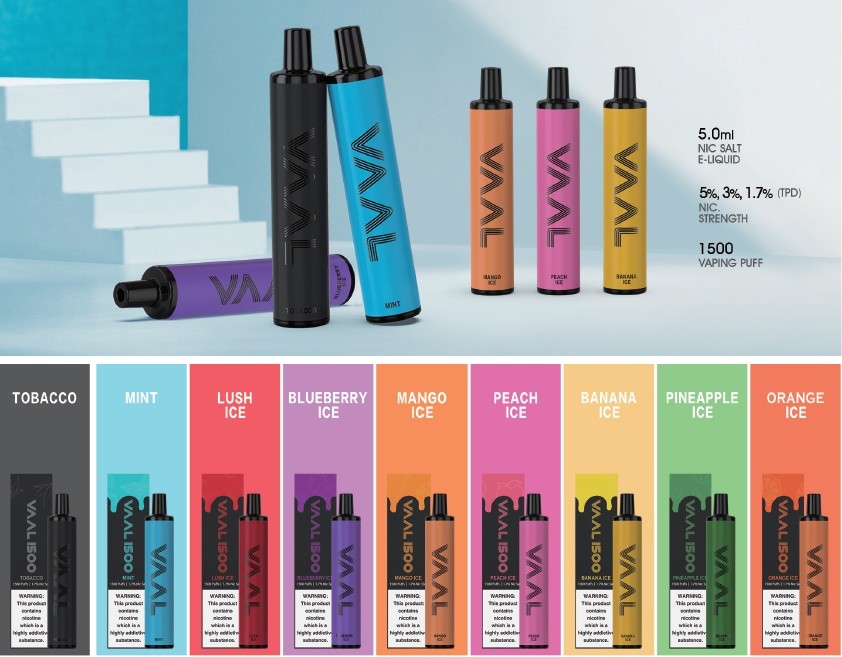 ORDERING TIPS
Attention: As the manufacturer needs the serial number to provide a replacement, we highly recommend you keep the original packing box or take picture of the code before discarding it. Thank you!