Geekvape E100i (or Aegis Eteno I) is the latest pod mod by Geekvape. As with many of those products, this one is inspired by the original Aegis and its rugged design.
The E100i is an AIO in a medium-sized package. It comes with a fully featured chipset that offers a variety of modes and functions, and it is paired with a pod tank that boasts a generous 4.5 mL capacity and uses the P series of coils. The device is powered by an internal battery rated at 3000mAh and fires up to 100 watts.
The E100i is part of the Aegis line, so it has a lot of similarities to a few other Geekvape devices. It has a tactical look, it's IP68 rated, and it comes in a similar shape. It is released alongside the E100 (called "Aegis Eteno"), which takes a 18650. So, it's likely that the "I" in the name is for "internal".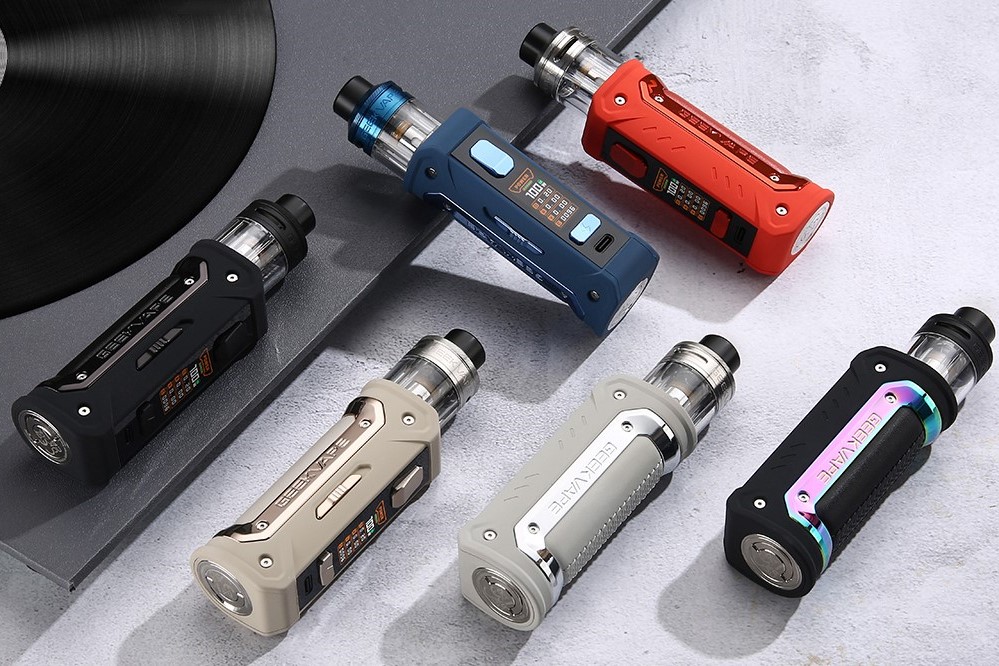 Build Quality & Design
Geekvape E100i is a medium-sized AIO/pod that's about the size of a single 18650 mod and tank. Not the smallest or most portable AIO, but small enough to be carried around—and smaller than multiple battery setups. It is IP68 rated, and like all their rugged mods, it won't be the most compact because it takes a little extra space to have it be durable and water-resistant.
As with the rest of the Aegis and Aegis-inspired products, it's a great-looking device that has a tactical look to it, and it feels great in the hand. It's definitely a device you can take everywhere and can take a beating.
There are three colored areas on the device: there is the coating which takes up most of the mod, the leather backing, and the frame that surrounds the leather. From the pictures, most of them are a full solid color (black, blue, red, and volcanic gray), while the rainbow is just all black with a rainbow frame around the leather. The beige stands out to me, though, because of the rose gold frame.
In the past, many of these Aegis devices were mostly the same color, with the differences being the frame and leather. On these ones (at least from what I can see), the entire device seems colored, making the options stand out more. However, the pod tank is only available in black, silver, and blue, so blue and black are the only two device options that completely match with their tanks.
There are three buttons on the device: a fire button on the top front above the screen and the up and down buttons below the screen. There is also a slider on the left side that locks the device, which I love. The bottom is soft and grippy, so it won't scratch surfaces it's put on and won't tip over easily. The front features a 1.08-inch rectangular color screen that's bright and easy to see and features a battery meter, a puff counter, settings, etc. Same layout as most of the recent Aegis mods I've tried.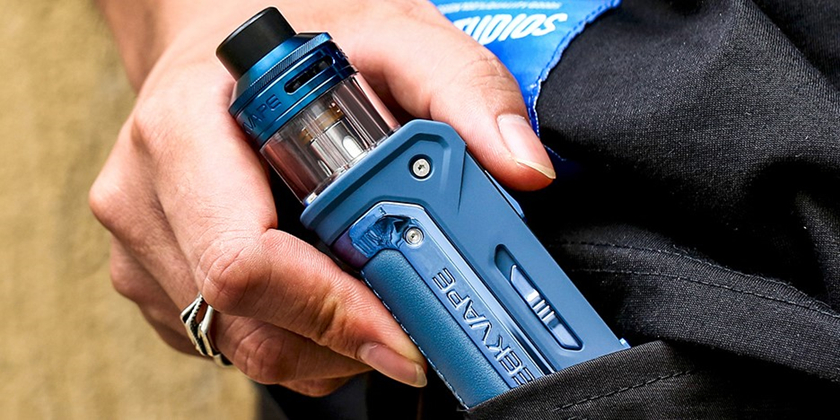 Performance
The device is made for DL vaping and offers from a solid DL to a restricted DL vape depending on how open the air is set. It has top airflow to reduce leaking and routes the air under the coil to boost flavor.
Geekvape has been doing well with coils as of late, and this uses the P series of coils which we've seen in devices like the Boost Pro and B100. Due to that, the coils should be easy to find
There are three coil options in total:
A 0.2-ohm coil rated for 60-70 watts.
A 0.4-ohm coil rated for 50-60 watts.
A 0.5-ohm coil rated for 40-50 watts.
The first two coils are included in the kit, while the third one is available as a separate purchase.
I started with the 0.2-ohm coil, and I found it best around 65-70 watts. The flavor was solid for a top-airflow device, but devices like this aren't made for flavor chasing, so it's understandable that the flavor isn't great. You buy top airflow devices for leak resistance, not for top-notch flavor. Then I tested the 0.4-ohm coil and found it best around 55-60 watts. The flavor was just ok—a little less pronounced than on the 0.2-ohm coil, but not a major difference. Both had above-average coil life (around 70-80 mL), so nothing wrong there. Overall, as far as top airflow atomizers go, it's a solid vape.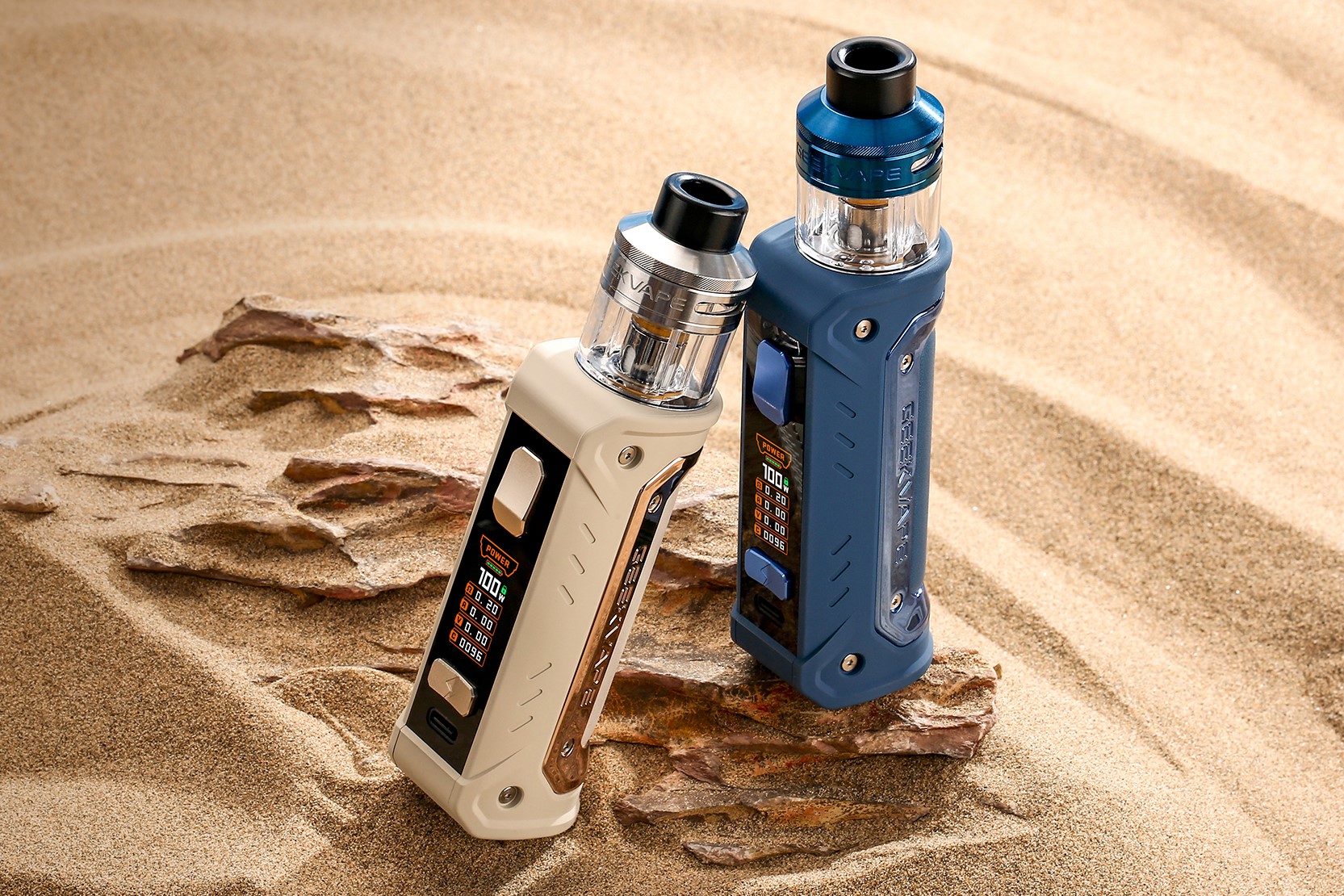 Battery Life & Charging
The E100i comes with an internal battery listed at 3000 mAh, but I couldn't find a charge rate in the manual, and it's not listed on their site yet. The port is Type-C, and it's located at the bottom of the front of the device.
In my test for the charge rate, I got a max of 1.66A, so it should be rated at 1.8A and is right up there with the faster-charging devices. Testing battery capacity, I got a little over 2300 mAh, so I consider it a bit overrated. However, to be fair across the board, most devices are overrated by about 20%. This one is not far from it, so while overrated by my standards, it falls in line with most devices like this.
Finally, I timed a full charge at approximately 45 minutes, which is excellent considering the battery size. It does have passthrough vaping as well, so you can use it while it's plugged in.
IP68 Testing
As far as the IP68 rating goes, I did throw it around quite a bit for the fun of it, and the device holds up well. I put more abuse on it than you'd normally put on a device in everyday usage. The same goes with the water test; no issues there either, so it works as well as the rest of the Aegis line. Just note that the tank itself is not rugged, and the glass can easily break and water in it will ruin the coil. There's no spare glass included in the package, so if you break it, the tank is not usable until you replace it.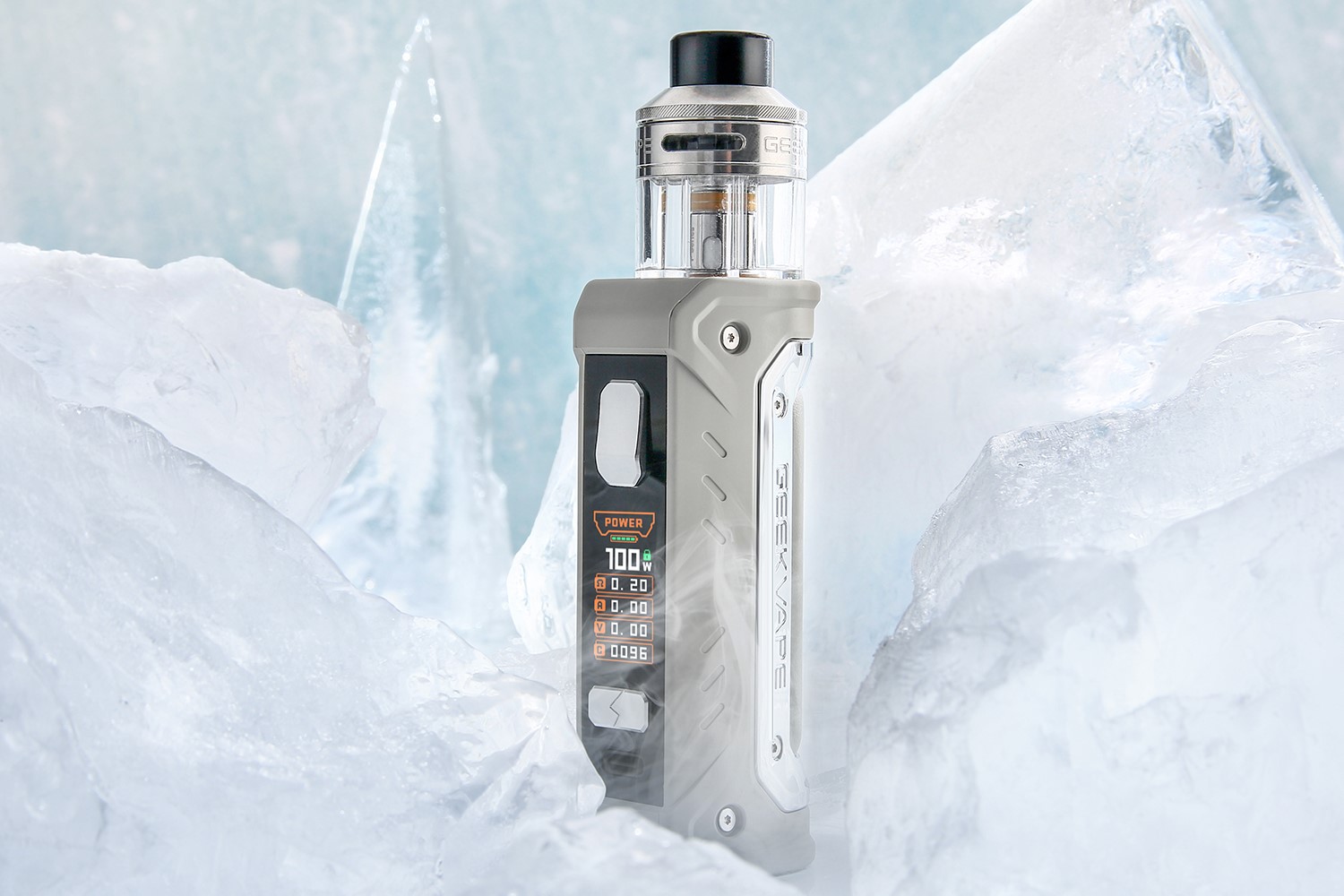 Verdict
Overall, Geekvape did a solid job with this device. It has a lot of ups and only a few downs, but you just have to be the right audience for it. It's a great option for someone who wants something they can vape DL with and is looking for a device that can take a beating. The E100i can easily survive everyday life and even some rough usage but is still pocketable. I wouldn't recommend it to new vapers though, as it may get a bit too complicated.
Source: https://vaping360.com/