Uwell Popreel N1 is a new super simple pod vape kit from the gang at Uwell. It is the best vape for people who want to try something other than disposables.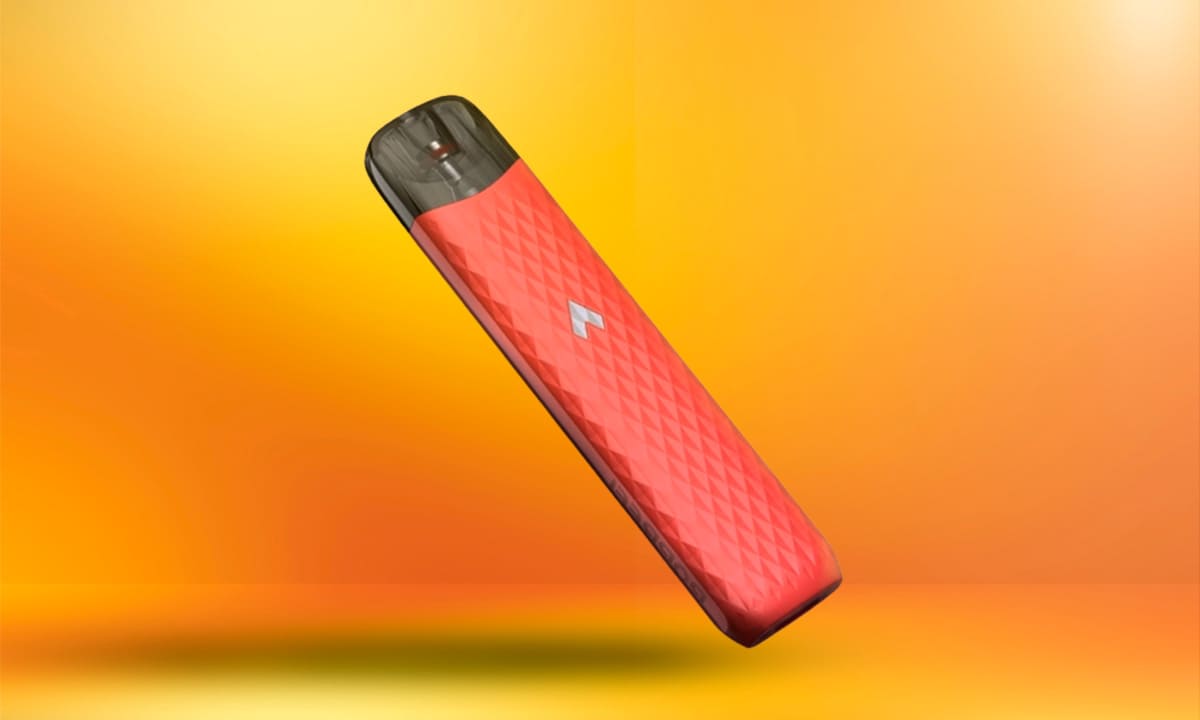 It has a 10-watt output and a refillable 2ml pod that uses a 1.2-ohm coil with pro-focs technology and a rechargeable battery. That means the user can use different flavored salt nicotine liquids and use the battery until it can no longer hold a charge.
The refillable 2ml pod is the number one reason to buy this vape, but there are other reasons to get it. It has excellent flavor, good build quality, a small and ergonomic form factor, a good 520mah battery, and tight airflow.
Design & Build Quality
Popreel N1 is small and ergonomic and has a holographic covering that makes the surface look textured. There is some branding on the side, but Uwell did not overdo it. The airflow intake comes from a small hole in the side.
There are no build quality issues. Everything seems well put together, but there is a low humming sound from the vape. It does not sound like an airflow issue, so it likely has something to do with how the vape operates.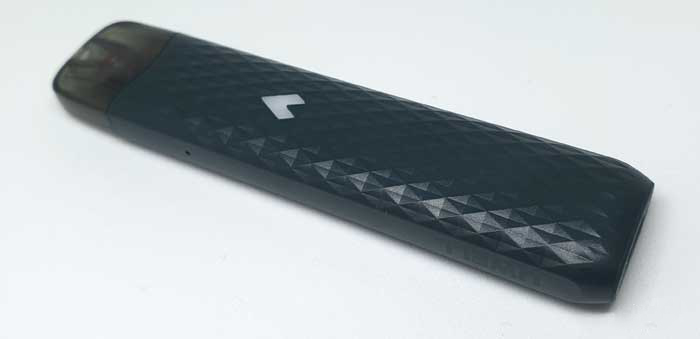 Uwell Popreel N1 Mod
This is super light and the body is made from hard plastic but the addition of the "Diamond" texture pattern does stop it from looking like a dull cheapo device.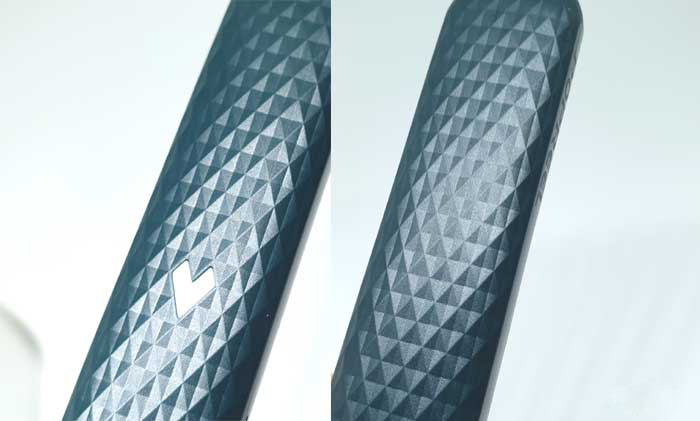 Each side panel has either "Popreel" or "Uwell" laser etched in so it blends in beautifully.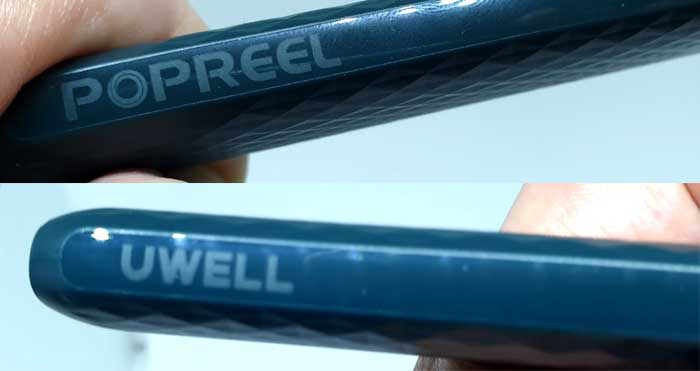 The side with the Uwell logo also houses a teeny tiny airflow intake hole, so be careful not to block it when vaping, or else you might suck your pants up your bum trying to get a vape!

You can tell which is the front as it has the "V" shaped LED which also changes color to inform of fault conditions or battery capacity remaining and it is clear and bright.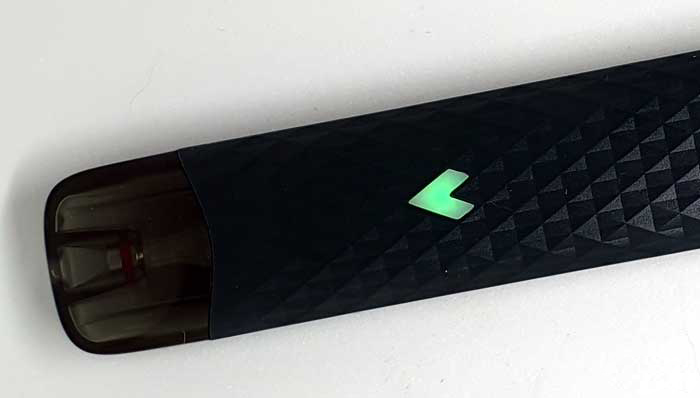 Does the Battery Hold Up?
Yes, it does.
Popreel N1 has an integrated 520mah internal battery that can last a day – give or take a few hours. Battery longevity mostly depends on how often the user vapes.
The battery indicator light is located in the center. It shines green for fully charged, blue for medium and red for low.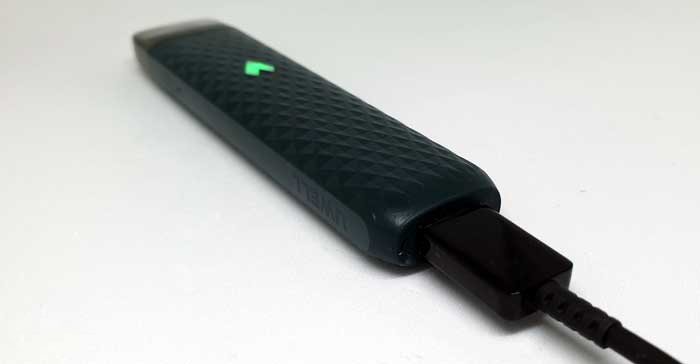 Uwell Popreel N1 Pod
Even though the kit comes with one pod, it is still a decent pod. It has a strong magnet that keeps it secure from the battery. So there should be no issues with the pod coming off by accident.
The fill port is located on the side. A top fill port would have been better, but there was no room for it. Still, putting it on the side is better than on the bottom. There is a fat rubber plug covering the fill port that prevents leaking. Juice bottles with long narrow nozzles fit inside the port perfectly without causing a mess.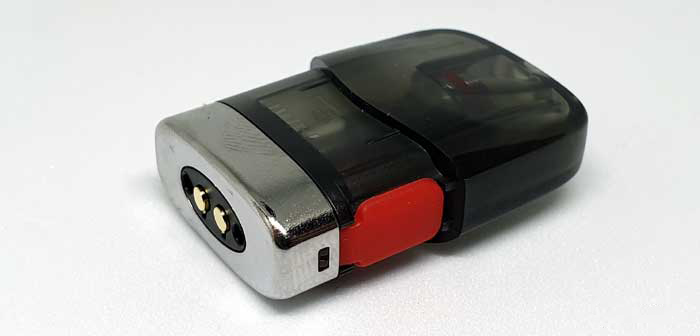 The pod provides a solid draw; not too tight but not too loose either. This pod is somewhere in-between.
The only thing negative about the pod is that the plastic is dark. That makes it hard to view the juice levels when they get low. But that problem is solved by holding the pod against the light.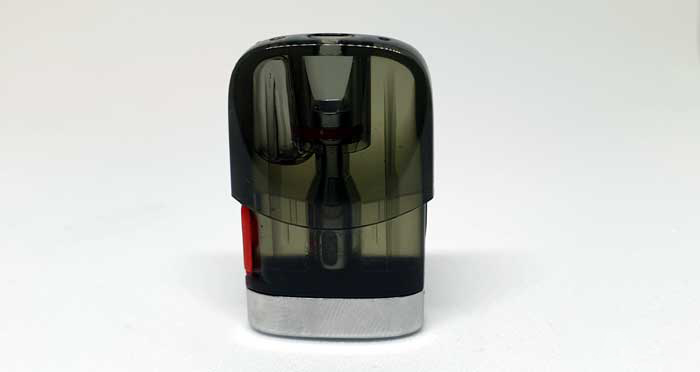 Coils
The first thing to say about the coils is that they produce delicious flavor because they use pro-focs technology.
It is not just the flavor, though.
The vapor is very warm for such a low wattage vape, which was a pleasant surprise. This pod mod is perfect for vapers who like warm mouth-to-lung hits. Salt nicotine tobacco liquids will go great with this coil.
Buyers need to be aware that coils are not replaceable. When the coil dies, the whole pod needs to be thrown away. Non-replaceable coils make the pod easier to use but it can be aggravating having to throw away an entire pod when the coil dies.
How Long Do the Coils Last?
These coils last two to three weeks, depending on how often they are vaped and how well they are primed. Coils that are adequately primed can last well over a week before dying.
Vapor Production
No one buys pods to blow large clouds but this pod mod does a decent job producing vapor. It is not a big cloud, but it should be enough to draw some looks. People who want to blow huge clouds should buy a box mod with high wattage output and sub-ohm coils. Vapes like Popreel N1 are made for tight and flavorful draws.
Quick Start Guide
This pod mod is almost as easy to use as a disposable. Follow these steps to get started:
A. The base of the pod has an isolation sticker to help prevent you from firing up the device when the pod is empty. Remove the sticker from the bottom of the pod.
B. Fill the pod by unplugging the silicone plug from the refilling port and inserting the juicing nozzle.
C. Fill to capacity.
D. Put two drops of salt nicotine liquid into the hole in the hole in the center of the mouthpiece and wait five to ten minutes for the coil to absorb the salt nicotine liquid.
E. Draw on the mouthpiece to turn the vape on after the coil has finished priming.
Priming takes a long time, but the process can be sped up by drawing on the mouthpiece. Just make sure the pod is disconnected from the battery before drawing. If not, the battery will activate and dry hit something awful.
Sucking on the mouthpiece is not worth it. You want to be sure that the coil absorbs all the juice and the only way to do that is to let it soak the juice for five to ten minutes. That is the only way to be sure.
LED Indicator
l Battery indicator = Green LED = more than 60% battery remaining, Blue LED = 30-60% and Red LED = less than 30% left.
l Low battery – Red LED flashes 10 times – get the device on charge!
l Short circuit / too low resistance – LED flashes Red 3 times and won't operate. Check the pod base and port for liquid or contamination. Clean. If this doesn't work try to replace the pod with a new one.
l Overtime Protection – if you vape longer than 8 seconds the LED will flash Green 5 times and cut out.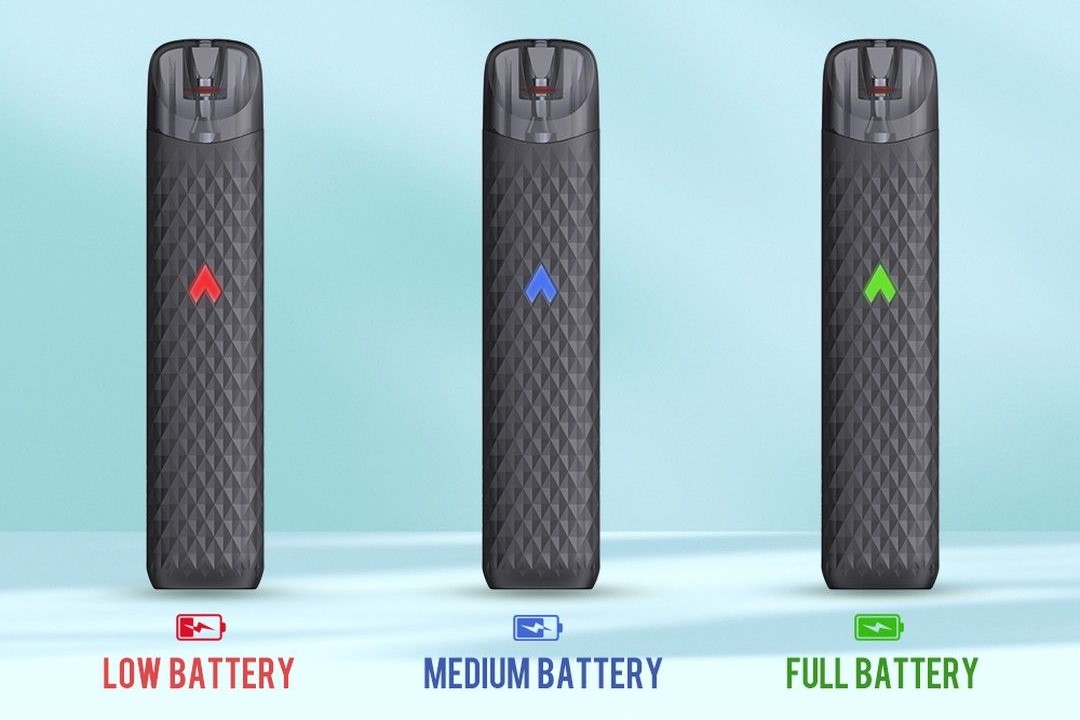 How Does Uwell Popreel N1 Pod Kit Perform?
I used my own e-liquid mix which is 50/50 PG/VG Concentrate at a 20% ratio. This is quite high a flavor ratio as I prefer plenty of flavors, but sadly this means it can be a coil killer sometimes.
1.2ohm Pod Performance
At first, I will say I was not impressed. The flavor was kind of "Soapy" and odd.
This vanished after the first pod was full and from then on the flavor has been really good. So do persevere as the first tank full is not a true impression of the flavor potential of this little kit.
The flavor is clear and strong and as you end up taking long inhales you do exhale a surprising amount of vapor too.
I get a great throat hit too, it is all lovely from such a high resistance pod at low power!
I have had 8 refills so far and the taste is still as good as the second refill!
Uwell Popreel N1 Airflow
This is the tightest airflow I think I have found on a pod kit. It is super tight.
If it was any tighter it would become mega uncomfortable to vape with. It is not quite over that border but it does take quite an effort and I am taking long draws to get a mouth full of vapor.
Ex-smokers will love this airflow – I can cope with it, but it is a lot tighter than I am used to.
If you are a loose MTL or RDTL vaper I would avoid this kit!
Even though it is a tight draw the auto fire kicks in well so no issues there. I am even tempted to drill the airflow hole out slightly!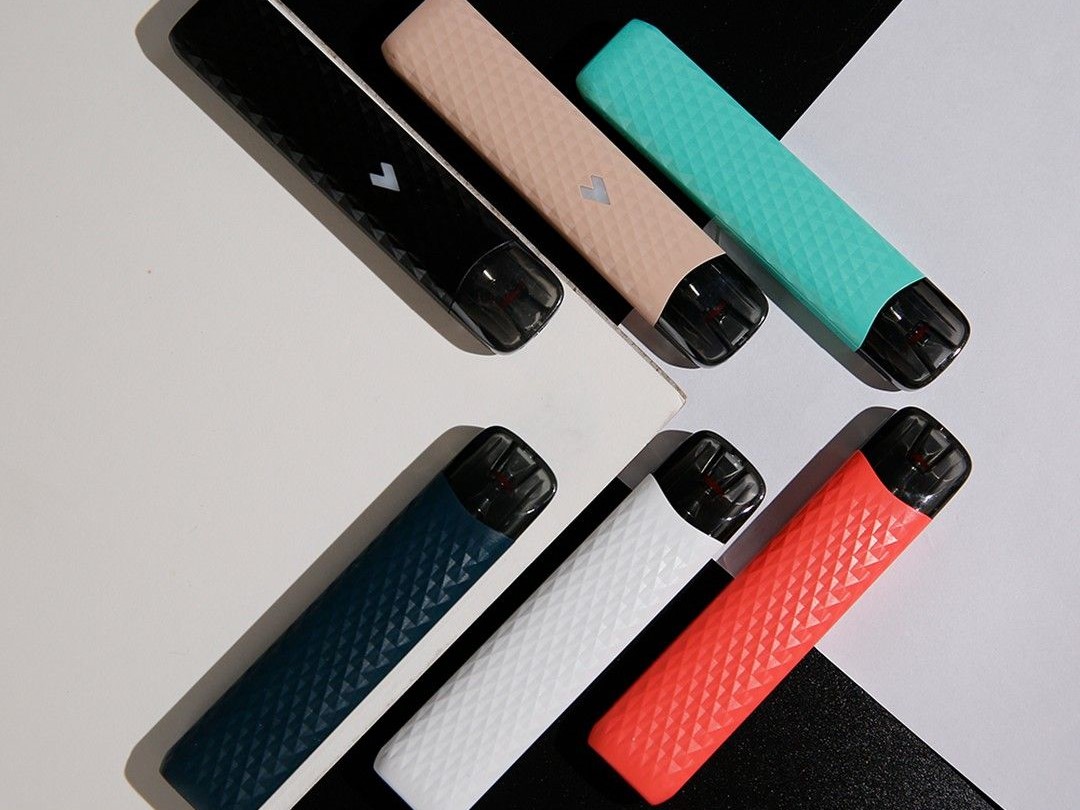 Pros
+ Very very tight airflow and quick auto draw response
+ Excellent flavor on 2nd pod fill onwards
+ Diamond texture and attention to detail
+ One of the best MTL hits out there
+ Not a single leak or malfunction
+ Super lightweight
+ Quick charge time
+ Great battery life
+ Warm vapor
Cons
- Only one pod and no USB cable included. This does keep the cost down though.
- You cannot see the minimum e-liquid level when the pod is installed so keep an eye on it.
- Airflow might be too tight for some
Final Review Verdict
There is nothing to complain about here except for the lack of a cable and only one pod in the kit. A starter kit needs a cable!
While doing things that way may result in a cheaper kit, the money the buyer saved on the kit will be spent getting the extra pod and cable.
But otherwise, the rest of the device looks and performs like something way more expensive. In performance, this is an excellent vape. It is flavorful, and easy to use, and the pod works very well. No connection issues and the battery holds a long charge. Finally, it has one of the best draws out there.
The only thing Uwell needs to improve is the starter kit.