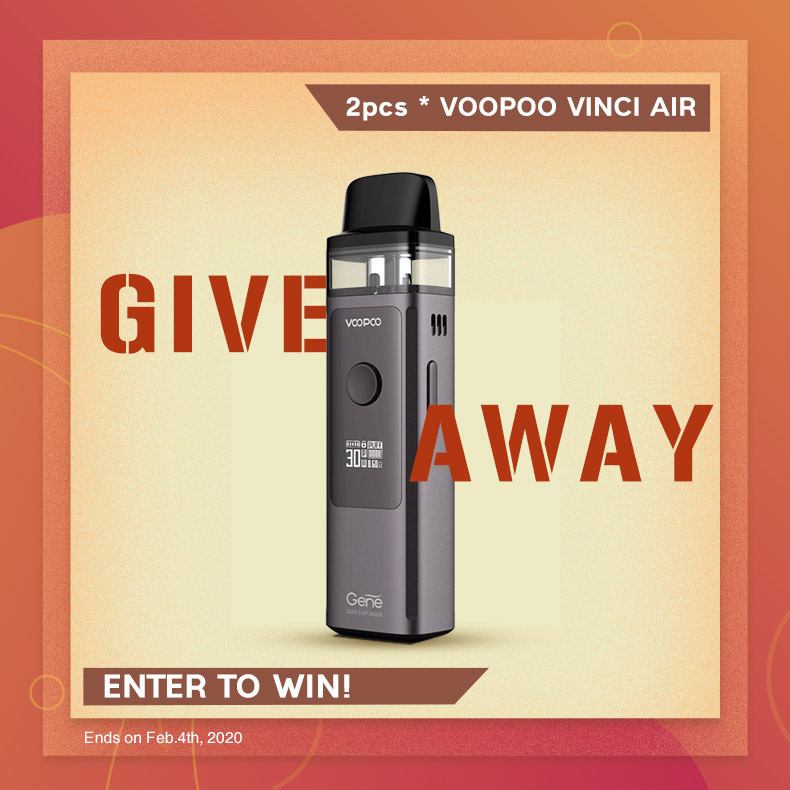 VOOPOO VINCI AIR Pod Kit uses the same matte metal painting process as cars and has a further texture. The overall body of VINCI AIR is thin and light,
20% lighter and 30% thinner than Vinci
. It is comfortable to hold and easier to carry in any place.
Despite its compact size
, VOOPOO VINCI AIR is still
powered by a built-in 900mAh battery
, with
GENE AI Chipset
and utilization of VOOPOO PnP Coil Technology with 0.6ohm PnP-VM4 Mesh coil/1.0ohm PnP-R2 Mesh coil, all within
a visually-striking pod mod design
. VINCI AIR supports two ignition modes (manual mode and automatic mode). Whether it is manual or automatic mode, it can bring turbulent smoke for the first time. In addition, the VINCI AIR kit is also equipped with a beautiful display that shows parameters and the number of suction ports in real-time. As for the VINCI AIR Pods, it comes with
4ml e-juice capacity
and retains the
innovative dual airflow system
. Besides, it specially optimized airway design, bringing unparalleled comfort to
MTL
and
Half-DL
. VINCI AIR is also equipped with two dedicated coils. PnP-VM4 0.6Ω for massive vapor, and PnP-R2 1.0Ω for excellent
MTL
experience. Small VINCI AIR exudes powerful power, worth having!
Contest Time:
Start: 2020-1-12 10:00:00 PM(GMT-6)
Ends: 2020-2-4 11:59:59 PM(GMT-6)
1. Make sure that the email address you use for registration is the one you check often. Some winners never respond to us, so we can't inform them of the announcement in time via emails.
2. If you sign up as a VapeSourcing member, please fill out your shipping address in your profile, this is way easier for us to ship the prize if you are one of the lucky winners.
3. Please check our winner announcements or your email as often as possible, we want to make sure every winner gets their prize in time.
Best wishes,
Vapesourcing
2020/1/13