The combined shipping cost will be calculated automatically by the system after you choose the shipping destination in the checkout step.
INTRODUCTION
Alphaa Sigma Plus displayed a compact and stylish disposable pod kit. The simple and comfortable cylindrical outline has no buttons and unnecessary decorations and is equipped with a flat drip tip made of heat-resistant plastic, and the bottom is decorated with an original indicator. Of course, there is no charging port. A variety of flavors are collected from fifteen choices, each corresponding to a gradual color on the outer surface of the fuselage. Activation is achieved through Draw inhale. The device has a very large built-in battery that can provide 2200 puffs, and its long service life makes it far ahead of similar products in the market. Each Alphaa Sigma Plus Disposable device is pre-filled with an impressive 8.5ml ultra large capacity of 5% salt nic e-juice, contributing to a lasting vaping without being interrupted by lacking liquid. Alphaa Sigma Plus Disposable flavor output is good, the throat hit is amazing. With an integrated, ergonomic mouthpiece, the lips can naturally wrap the mouthpiece which provides a comfortable mouthfeel. Alphaa Sigma Plus has become your best portable disposable device thanks to its super high puffs, large juice capacity, and diversified delicious options.
Features
• Elegant Pre-filled Disposable Device with Compact Body
• 8.5ML of 50MG (5%) Salt Nic Juice
• Up To 2200 Puffs Provides Ultral Lasting Use
• 1400mAh Integrated Battery

• Draw-activated MTL Hit
• 15 Tasty E-juice to Bring Excellent Flavor
SPECIFICATION
Nicotine Strength:
5% Salt Nic
Flavors:(Old)
Watermelon Peachmango, Cherry Lemonade, Strawberry Kiwi Lemonade, Strawberry Milk, Redapple Melon Ice, Cola Ice, Pear Cotton Candy Ice, Russian Cream, Watermelon Lemonade, Mojito, Apple Blue Razz, Energy Drink, Pomegranate Strawberry, Watermelon Ice, Watermelon Peachpear
Flavors:(New)
Frozen Lush, Pink Lemonade, Cool ICE, Farrt Patty, Tropical Blue, Blaze, Black lce, Fairy Floss, Russian King, Summer, Caribbean Mix, Strawnana, R A M, Zesty, Red Heaven, Frozen Lush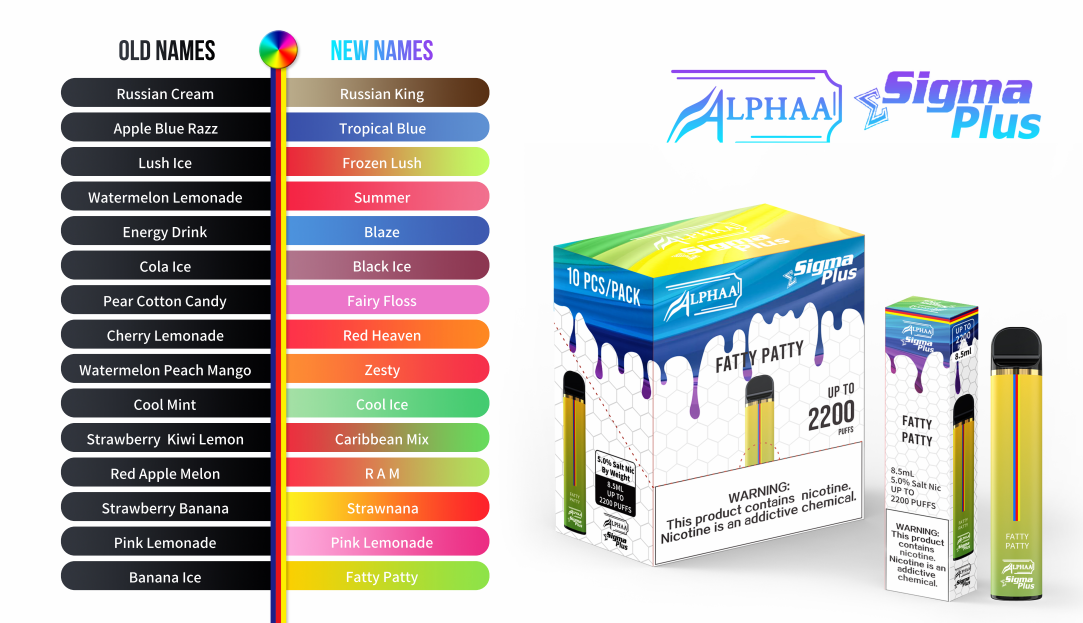 PACKAGE LIST
1 x Alphaa Sigma Plus Disposable Pod Kit
ORDERING TIPS
Attention: As the manufacturer needs the serial number to provide a replacement, we highly recommend you keep the original packing box or take picture of the code before discarding it. Thank you!