So many people always asked me what is the difference between RDA/ RBA/ RDTA/ RTA. If you felt confused about what is RBA / RDA / RDTA / RTA, maybe you can read this page to help you clear the mess.

RBA means: Rebuild-able Atomizer and RBA is a general name and hot RBA tanks, like GEEKVAPE Griffin Aio Atomizer, SMOK TFV8 and so on. Griffin AIO comes with top and bottom airflow design that no matter if you prefer which one, it can deliver a perfect vaping experience to you. RBA vape means a rebuildable vape for vapers who prefer a customed vape experience. One of its biggest features is the changeable build deck so that vapers can build different coils and have different vaping styles with Griffin AIO. On top of that, it has a big 5ml juice capacity that is sure to last long period of time at every refill. Comes with the package is a silicone block, it can make the build deck become a single coil build or dual coil build. Last but not least, Griffin AiO has a large filling hole enabling vapers to refilling the tank conveniently with no trouble!

RDA means: Rebuild-able Dripping Atomizer, there is no tank included to hold e-juice and feed the wick. You can get a perfect hit every time by dripping the e-juice directly to the wick manually, but you don't need to always drip since there are some extra e-juice held . Recommended RDA Tank : GeekVape Tsunami RDA. Owing to its improved velocity style deck, Kennedy style adjustable airflow and PEEK insulator, Geek Vape Tsunami RDA Atomizer is the best choice to enjoy yourself. There are 3 different types of drip tip. The Geek Vape Tsunami RDA Silver Atomizer applys SS316 set screw, of which the hardness at 55-58 HRC by 1200℃ nitrogen surface treatment.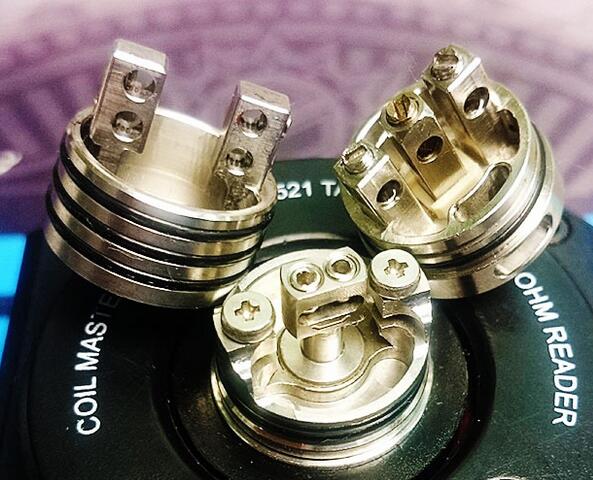 RDTA means: Rebuild-able Dripping Tank Atomizer, it's RDA + RTA, with a tank to hold e-juice, and with a deck to build on, the difference is the function of 'Auto Dripping'. You don't need to pull off the top cap and drip onto the wick constantly, and it also have no channels for the e-juice flowing into the wick. They generally work by dripping onto your wick when you press down on the drip tip. It also named as 'Auto Dripper' Recommended one : Geekvape Medusa RDTA atomizer. Medusa Reborn is now back with Quick Access System and optimized build deck, making refilling and coil building easier than ever. Compatible with 810 and 510 drip tips and comes with a larger juice capacity which can hold up to 3.5 ml.

RTA means: Rebuild-able Tank Atomizer . RTA looks like a tank atomizer (with clear tank or metal tank) but comes with a deck for you to build on. Most of the RTA has three main parts: Deck, Tank, Chimney. Here is a popular RTA for you : Geekvape AMMIT RTA. The Geekvape Ammit is a new, innovative RTA that is specifically made for single coil build. Its unique, three-dimensional airflow, produces brilliant and unrivaled flavor. The enormous build deck and post holes allow for an easy building experience with almost any coil you can imagine!