The development trend of the international e-cigarette market has emerged as a circle of "returning to the truth", the products for the vapor group in this cycle have entered a difficult period. Therefore, before the emergence of products can break the deadlock, the mouth-feeling
RTA
products have once again become popular. Today we will make a comparative evaluation about these two V2 RTA: Vandy Vape Triple V2 RTA and CoilART MAGE V2 RTA.
It's postless style which is one of my personal favorites but not the easiest for new builders since you need to precut your wire leads. Still, I found it to be fun and easy to build on. One thing of note as well is the top o-ring on the class came stuck to the glass and broke when I removed it so I had to use a spare o-ring off the bat. Not a major deal but worth mentioning. I started with a 3 coil build as the intent of the RTA and man does it have a lot of air and can kick out some serious flavor and clouds. Overall was pretty impressed with this from the start. About its taste, I used it as a single, dual, and triple coil RTA. Right off the bat don't bother with a single coil. You'll get a muted flavor. Where this really shines is with large dual and triple coils. It has a ton of air so you need to use a lot of watts and big builds. If you are into lower watts and small builds it'll give muted flavor and isn't suited for you vape style. With that said if you are willing to vape at least 80 watts, the flavor on this is amazing, especially in triple coil mode, but even as a dual coil RTA it's no slacker. Comparable with the best dual coil RTAs on the market. I really find it best at the 100+ watt mark and close down the airflow a little.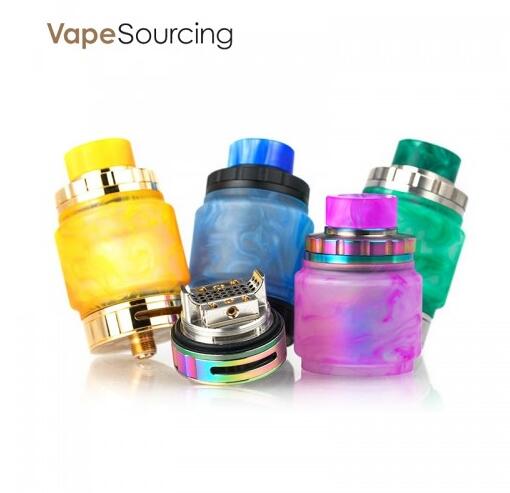 This new RTA is made from stainless steel with glass, has a 24mm diameter and is built with a 3.5ml tank capacity which is expandable to 5.5ml with an included bulb style glass tube. The reservoir is refilled via two fill ports that are exposed by unscrewing the top cap which has been textured for easy gripping. Airflow is adjustable at the bottom via triple external air inlets that have measurements of 10mm x 2mm. These slots direct air to 29 honeycomb air holes that surround the deck for massive vapor with plenty of flavors. The build deck is compatible with dual coils and is made from stainless steel with 24K gold plating to improve electrical conductivity. Four terminals each measure 2.5mm across to work with many wire types and sizes. Installed wire remains in place by tightening side mounted hex screws and to prevent burnt puffs, there are also dual ports that measure 3mm x 10mm. The flue that once disappeared has regained the attention of manufacturers, the most functional barb-type nozzle, and the most important is the distribution of more scientific 29 honeycomb holes.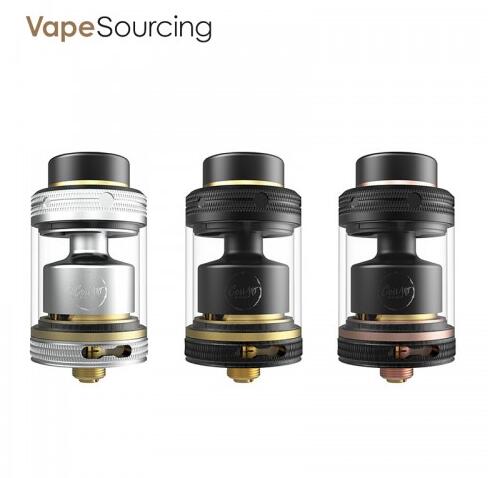 In general,
Vandy Vape Triple V2 RTA
's advantage is it can use 3 different kinds of coils to get different vape experience, while the
CoilART MAGE V2 RTA
's emphasis is the powerful 29 honeycomb air holes, each with its strengths, just choose which you like more.