Have you heard of the
VOOPOO Drag Nano
yet? It's a new pod by VOOPOO. It has the familiar Drag and resin panels and hooks and chains added so you can wear it like a necklace. The Drag Nano Pod has a reduced GENE chip, called a GENE.POD, to control the output and should provide a good shot speed. The chip has a "Cold Boot Mode" which is a fast full power output that apparently increases flavor output. Inside the cell is a 750mAh battery that Voopoo claims can absorb up to 350 puffs. The addition of high-speed charging means it will be charged in less than an hour. You can also get a battery indicator light that changes color according to the remaining battery capacity. The pod is a tank with its own e-liquid and heating elements. The pod will hold 1 ml of liquid and be fitted with 1.8-ohm coils. Therefore, this device is very suitable for high nicotine and nicotine salt e-liquid to provide you with a good throat and nic hit at lower power. Seven kinds of colors to choose from - Klein Blue, Tidal, Ceylon Yellow, Fiesta, Ink, Aurora, and Nebulas Blue.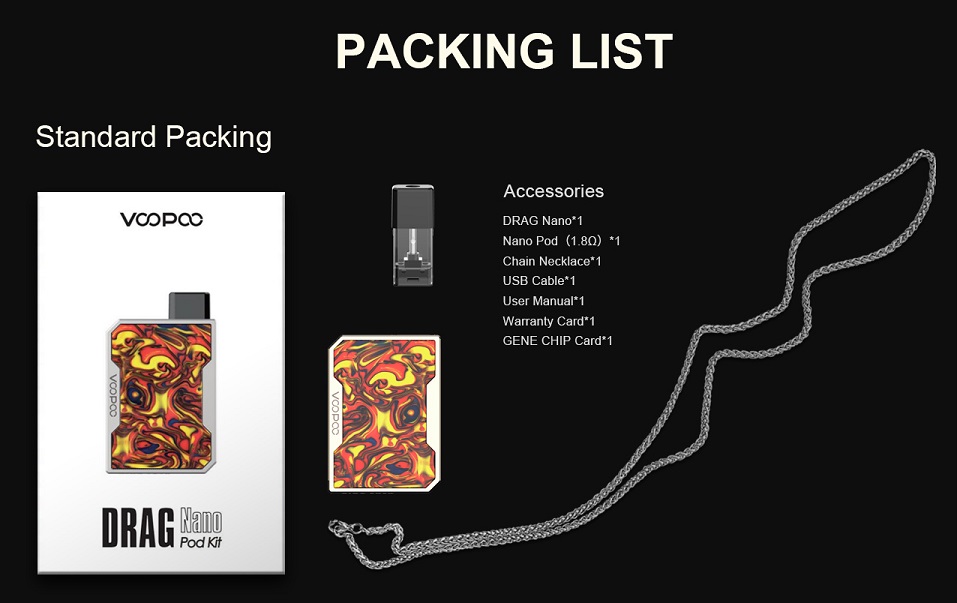 Voopoo Drag Nano Pod set specifications
Size: 54.5 x35x11mm
Output: 3.2 to 4.2 V
Battery: 750mAh (internal)
Material: zinc alloy, aluminum alloy
LED battery indicator light
Coil: 1.8 ohms
E-liquid capacity: 1ml
GENE chip Pod
By the way, do you think the Drag Nano looks like the SMOK Mico? Which you can wear it like a necklace too.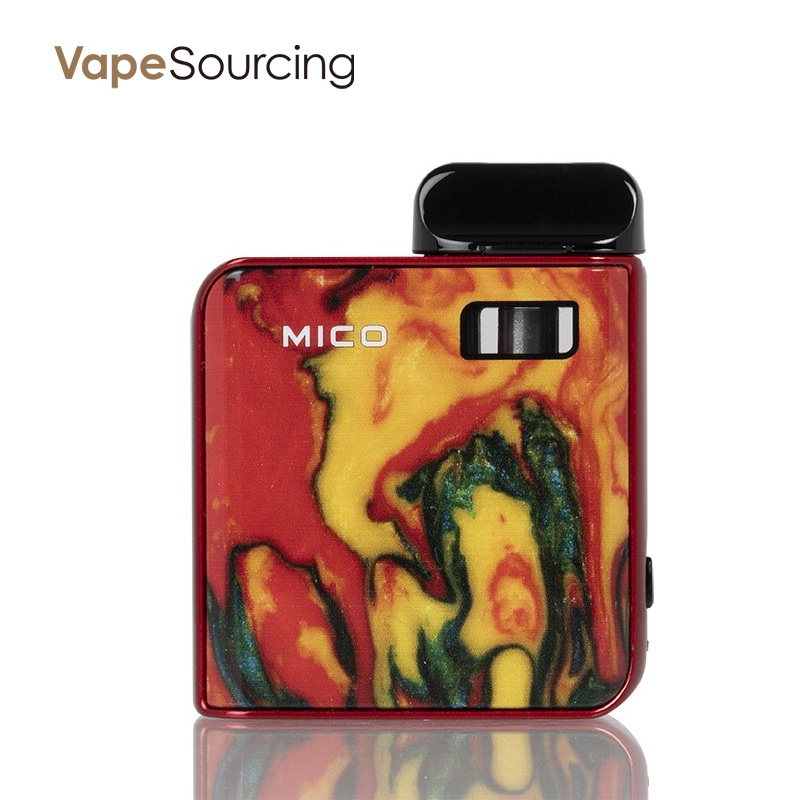 SMOK
MICO kit
has a pretty resin finish, distinctive multicolor fluid lines, and abstract oil painting, and looks similar to Drag Nano. At the same time, SMOK Mico also feels comfortable in your hand, which is also achieved by Drag Nano. SMOK Mico built-in 700 mah battery, two pods, with a 0.8Ω mesh coil pods and 1.0Ω conventional coil with a pod. In a word, SMOK MICO and Drag Nano both can let you enjoy a full day vaping!