The life of the coil determines the cost of using the electronic cigarette. Most of the finished coils' cost about $3(The prices of coils of different brands and models are different. Please refer to the price of the merchant). Normally, the life of the finished coil should be between 7 days and a half month. However, the life of the coil will vary depending on the frequency of each vapor and the amount of
vape juice
used. The coils of RBA, due to the different habits of everyone, the difference in life is relatively large. Some people like to change it once a day, even replace it once a tank of e-juice was used, and some people change it for 3-5 days. Of course, there are also "lazy people" like me, who replaced after half a month or even a month, and it is often "shocking" when replacing the coils. The same
vape tanks
, the same coil, some people may use half a month, and some people can only use three days. So what factors affect the life of the coil?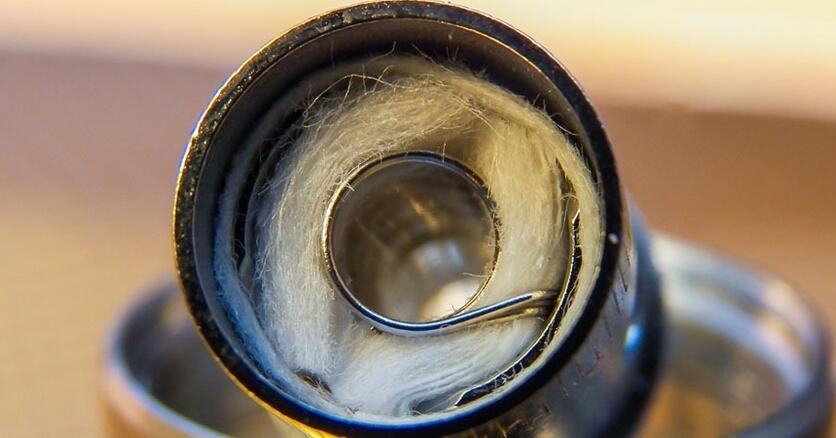 A. Power
The coil has a certain range of tolerable power, which is usually marked on the outer casing of the coil. For example, 1.6Ω, 8-15W, this mark represents the resistance value of the finished coil is 1.6Ω, and the official recommended power is 8W-15W. Vapors can find their favorite taste in this power range to use. If the output power set by the vapor is too high, the high temperature generated by the coil will excessively evaporate the e-juice, and the surrounding cotton will not be able to replenish the e-juice, which will burn the cotton, produce a paste, affect the taste and mouth-feeling.
B. E-juice
The biggest effect of e-juice on the life of the coil is carbon deposition. The e-juice (
nkd 100 salt brain freeze
I use as a test)is transferred to the coil through the cotton, and the mist is heated by the coil, and the black material is formed on the coil due to the high temperature, which is also known as carbon deposition. Although the basic components of e-juice are the same, each brand of e-juice raw materials and additives are different, it will cause the carbon deposition to produce different speeds. For example, Malay e-juice is recognized as a "high carbon deposition" e-juice because of the various characteristics of the flavor and the high sugar content in the e-juice. The carbon deposit affects the heating efficiency of the coil and the taste of the evaporated smoke, which reduces the taste and performance of the atomizer. However, this carbon deposition phenomenon cannot be completely avoided by the limitation of the heating method, so the carbon deposition has a great influence on the life of the coil.
C. Incorrect use
When using the new coil, both the finished product and the RBA self-made, it is necessary to master the correct way of use, especially the finished atomizing core should pay more attention to the preparation before use. Most of the finished atomizers have been equipped with a coil before delivery. After receiving, it is best to remove the coil first, and drip a small amount of e-juice into the cotton around the hole and the coil to soak the cotton. This step is called "wetting the coil". The purpose of this is to soak the cotton in advance so that the e-juice can be absorbed more smoothly.
D. High VG content e-juice
If MTL RTA uses high VG e-juice, it will easily cause the coil to burn due to the poor fluidity of the e-juice. Generally speaking, the higher the VG, the greater the amount of smoke, the softer the inlet, the thicker the e-juice and the worse the fluidity. Therefore, high VG content e-juice is often used with large smoke atomizers, such as RDA. Here I recommend you guys some high quality but still affordable coils, such as
SMOK TFV12 Replacement Coils
and
Vandy Vape Berserker MTL Coils
. Hope you will enjoy vaping. Related post about coils:
Best Single Coil RDAs in 2018