For American e-cigarette vapors, Vaptio is a very familiar brand. With the gradual hot-sale of pod system kits, Vaptio is slowly working in the field of pod systems. So today we will review the latest vape device launched by Vaptio:
Vaptio Solo Flat Mini Pod System Kit
. The design of the mod focuses on an easy-to-use experience and an increase in visual effects, while the increase in power and performance is not the goal of Solo Flat mini. Solo Flat Mini adopts the innovative ceramic cotton-free technology – Honeycomb Ceramic Atomization System (HCAS), which greatly enhances the mouth-feeling and taste. What attracted me at the beginning is its appearance but not the ceramic coil mentioned in the promotion. There is an LED battery power indicator on the front (green light in working state and green light when charging), and a Vaptio gray lettering on the bottom of the back. An air intake and USB charging port on one side, and the other side just has another air intake.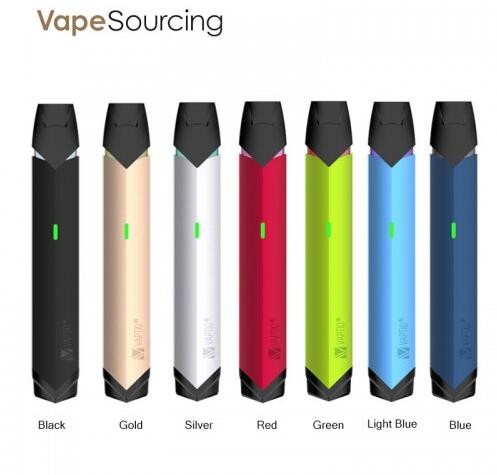 The overall painting is smooth, feels comfortable, and the design looks good. The air inlet is at the position of the cartridge. Take a close look at the
pod cartridge
. There is a bump in the middle of the mod, which is connected to the air inlet of the cartridge. The two raised metal pieces are the positive and negative poles of the mod. There is a recess in the middle of the bottom of the cartridge to connect the bump of the mod, and the buckle is fastened by pressing. The top of the cartridge is a cylindrical raised air outlet with a silicone rubber ring. There is also a refilling hole next to it, also with a silicone plug. Here I want to praise this refilling port. When filling e-juice, it can discharge the air pressure inside the cartridge, which is very easy. There are grooves on both sides of the cartridge, which are used for air intake. The inside is a pre-installed coil, which has three circular e-juice guiding holes. The following parts are about its performance. Inject 1ml of
NKD 100 Salt Hawaiian Pog
e-juice into the pod cartridge, its suction resistance is quite big, suck it with the habit of the DL method, almost kill me. After adding the e-juice, first try the MTL vaping, the amount of smoke is much larger than the cigarette, and the smell of e-juice is rich and has an addictive feeling. The overall performance is ok. Related pod system kits recommended:
SMOK NOVO Pod System Kit
SMOK FIT Pod System Kit
Another review about pod system kit:
The Advantage of Aspire Breeze 2 Kit Than Before