Brand: Coolplay
Unit: set
Type: Vaporizer

Net Weight: 38(g)
The combined shipping cost will be calculated automatically by the system after you choose the shipping destination in the checkout step.
INTRODUCTION
Coolplay Q3 Kit is a Heat Not Burn device of your dreams. The new Q3 model is very similar to IQOS Multi. Coolplay Q3 is 9.4 cm long and weighs 38 grams. It is made of quality fireproof PEEK material and top platinum coating, which is very light and strong. Coolplay Q3 heating device features ergonomics arc, adopts 4D cutting technology, provides delicate and comfortable holding. Unique matt and shine on 1 metal body, elegant wherever you are. Provide four composite colors, trendy & simple. The built-in 900mAh high power battery will provide the kit with energy for a whole day. Equipped with a fast-charging function, the Coolplay Q3 device can be fully charged within 1 hour. Good for 15 tobacco sticks by 1 single charge, powerful never be so small. Fully charged can be used 15 times. Compatible with IQOS tobacco sticks. You can smoke 14 puffs per cigarette.
With Heat-not-Burn technology, Coolplay Q3 can enjoy nicotine to the greatest extent without producing other harmful substances such as tar and carbon monoxide. No open fire tar-free. No secondhand smoke. In addition, the Coolplay Q3 also features an AI chipset inside, precise temperature control to ensure perfect taste and volume for every puff. To turn on the device, you need to press the only fire button on the side five times, which is located in the middle of the battery pack. When the device is powered on, a brief vibration signal will be emitted. Long press for 3 seconds - heating/stopping. Coolplay Q3's intelligent temperature control chip and ceramic heating element enable you to enjoy low-temperature baking electronic cigarettes. Get the Coolplay Q3 kit to enjoy high tech health smoking.
Features
• Perfect Heat Not Burn device for tobacco stick
• Slim and compact, only a lighter size
• Unique matt and shine on the metal body
• 900mAh high power battery
• Top platinum coating heater
• Military industry quality ceramic heating
• Good for 15 tobacco sticks by 1 single charge
• AI chipset inside for precise temp control
• The taste of traditional cigarettes
SPECIFICATION
Size:
93.9mm x 21.7mm x 16.6mm
Charging current:
5V/0.8A
Tobacco stick:
IQOS compatible
Number of cigarettes:
14~15cigarettes
Colors:
Black, Blue, Green, Tarnish
PACKAGE LIST
1 x Coolplay Q3 HNB Device
1 x Warranty card
1 x Manual
1 x Storage bag
1 x Cable
1 x Brush
5 x Cotton swab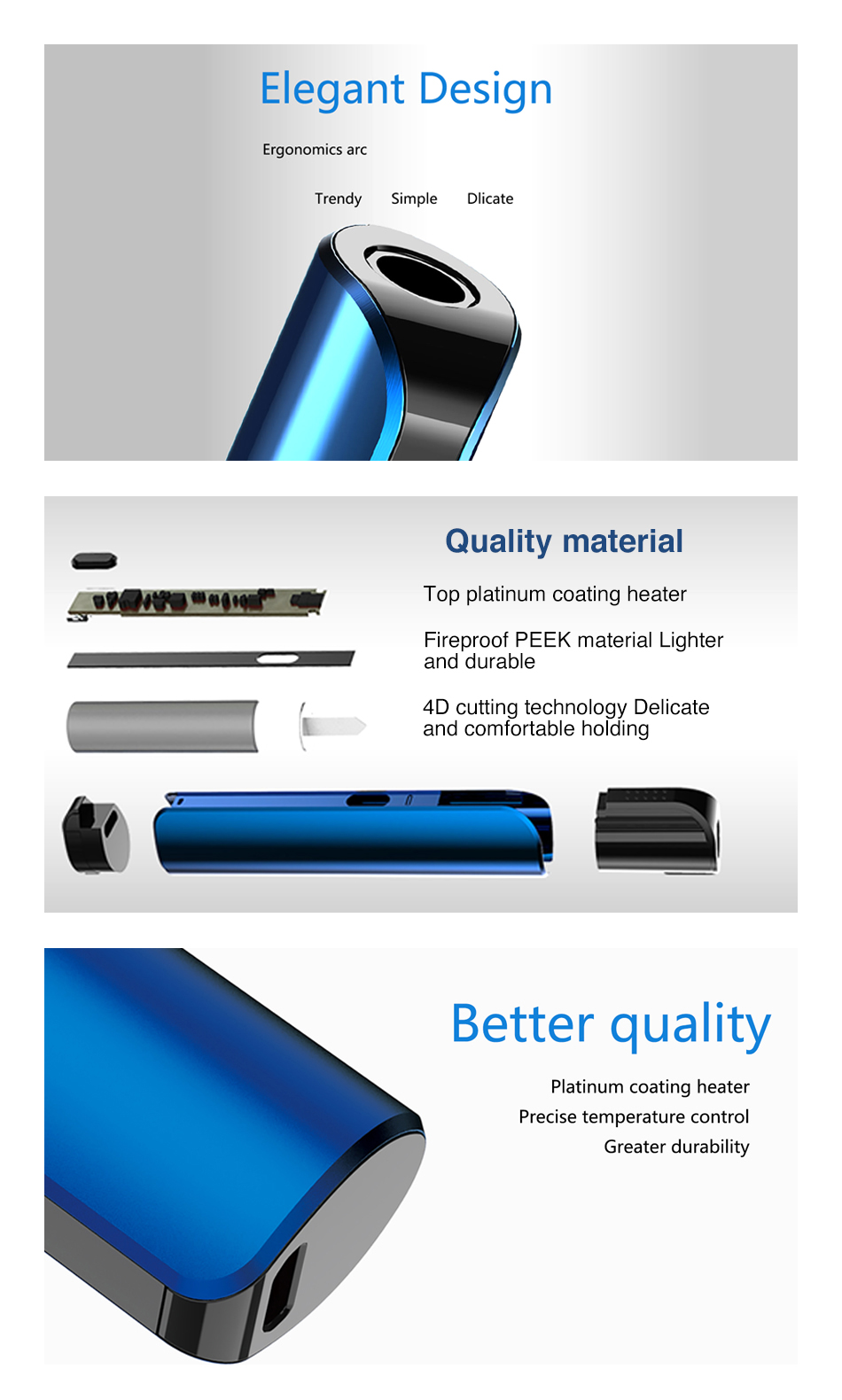 ORDERING TIPS
Attention: As the manufacturer needs the serial number to provide a replacement, we highly recommend you keep the original packing box or take picture of the code before discarding it. Thank you!