The combined shipping cost will be calculated automatically by the system after you choose the shipping destination in the checkout step.
INTRODUCTION
DDVAPOR DDZE Disposable is an AIO box mod style disposable vape kit. Unique appearance, abandoning the slender shape of the traditional disposable vape device. Sporting a 1500mAh battery and direct draw system, the DDZE Disposable has enough power to deliver excellent flavor without any charging or complicated settings. The DDZE disposable device sports an 11ml capacity, which offers you 3000 puffs in one device. You could find this feature in some sub-ohms and advanced mods but to find it in the disposable pod? That's innovative. It's taking most of the features you admire in the bigger vape devices and recreating it in a lightweight, easy-to-use disposable that you could discard after use. There's no refilling or messing your device with spilled eJuice. No expertise required, just open, pull, and discard when exhausted. DDZE Disposable's pre-installed e-liquid is formulated with 5% nicotine. Every pull delivers a smooth intense hit. A 1.7ohm cotton coil is built into the device. It heats up your eJuice at the right temperature and enhances your flavor. The disposable pod produces sufficient vapor, which is a necessary criterion for a good vape experience. If you are a transitioning vaper, this is a great way to stay off cigarettes for good. The bottom of the DDZE Disposable device also adopts an LED light design, which can emit colorful light.
Features
• Unique box mod style design
• Best premium flavors
• Colorful glow at the bottom
• 3000 puffs per device
• 11ml of e-Liquid per device
• 5% Nicotine strength
• Smooth airflow
• Rich taste
• 8 flavors option
SPECIFICATION
Size:
96.5mm x 40mm x 20mm
Battery Capacity:
1500mAh
Flavors: Mixed Berry
Pineapple Orange Guava
Mango Ice
Strawberry Ice Cream
Watermelon Ice
Grapes
Banana Ice
Litchi Raspberry
PACKAGE LIST
1* DDVAPOR DDZE Disposable Vape Kit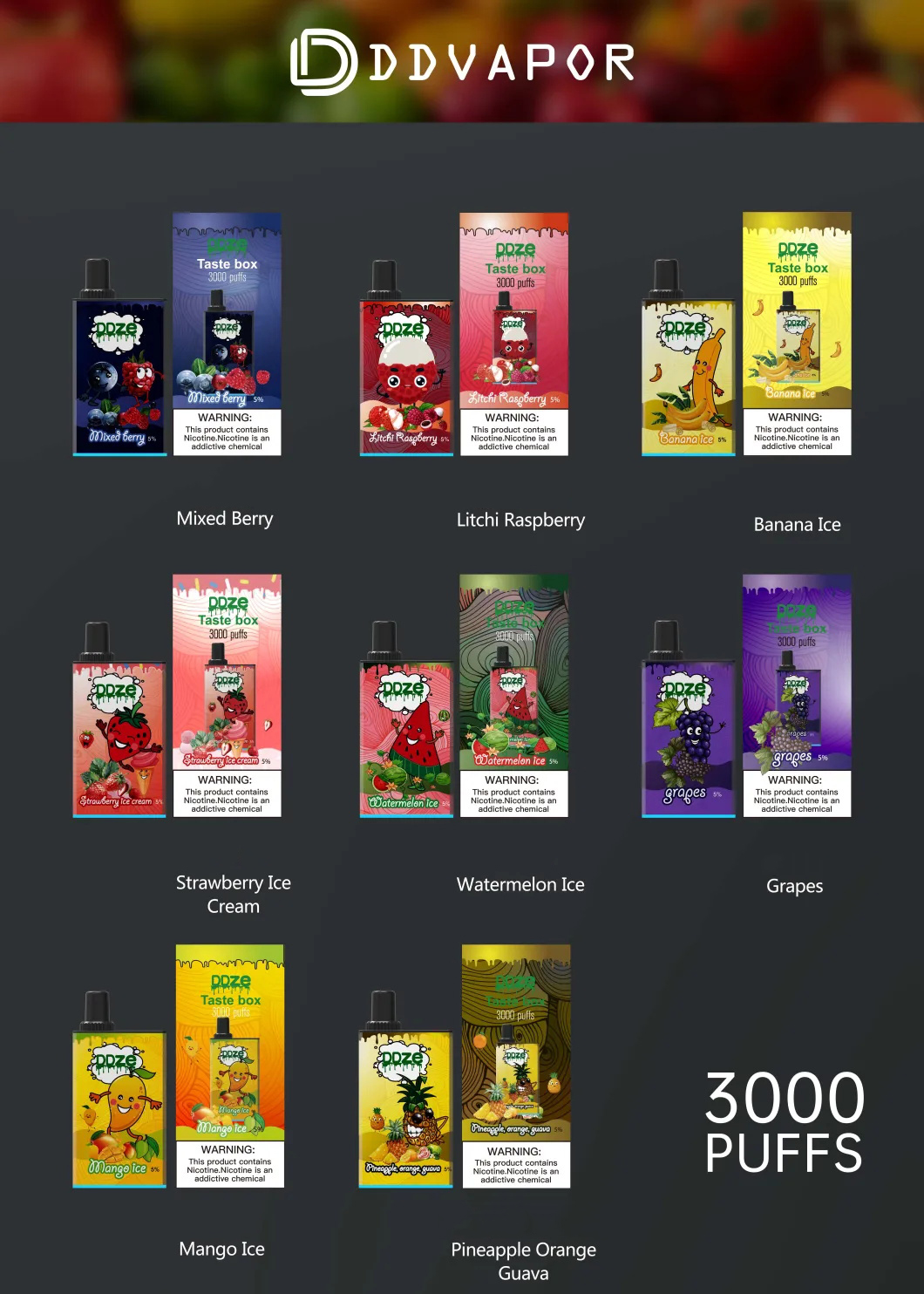 ORDERING TIPS
Attention: As the manufacturer needs the serial number to provide a replacement, we highly recommend you keep the original packing box or take picture of the code before discarding it. Thank you!