The combined shipping cost will be calculated automatically by the system after you choose the shipping destination in the checkout step.
INTRODUCTION
Flum Float kit is compact and easy to use, featuring a 300mAh battery and a pre-filled 1.6ml e-juice cartridge. The battery is powerful enough to provide a satisfying vaping experience, while the pods ensure users can enjoy their favourite flavours without having to worry about refilling or changing coils. The device is puff-activated, meaning users simply inhale to activate the battery and start vaping. Flum Float disposable vaping kits are available in a variety of delicious flavours including Mango Ice, Grape Ice, Lush Ice, Blue Razz, Strawberry and more. Each flavour is made with premium ingredients for a premium vaping experience. Flum Float Disposable Vape Kit is perfect for vapers who want a hassle-free and portable experience. Its compact size makes it easy to carry, while its pre-filled pod system ensures users enjoy their favourite flavours without mess or fuss.
Features
• Unique mini bottle design
• 5.0% (50MG) Nicotine by Volume
• 8ml E-Liquid Per Device
• Approximately 3000 Puffs Per Device
• Buttonless - Activates upon draw
• Made with salt nicotine
• Pre-filled, Pre-charged
• Strong power, Big Energy
• Smooth airflow, Consistent taste
• 10 flavors to choose from
Flavors
Aloe Grape
Cool Mint
Mixed Berries
Strawberry Banana
Lush Ice
Red Bang
Pina Polo
Strawberry Mango
Breeze
Strawberry Ice Cream
PACKAGE LIST
1 X Flum Float Disposable E-Cigarette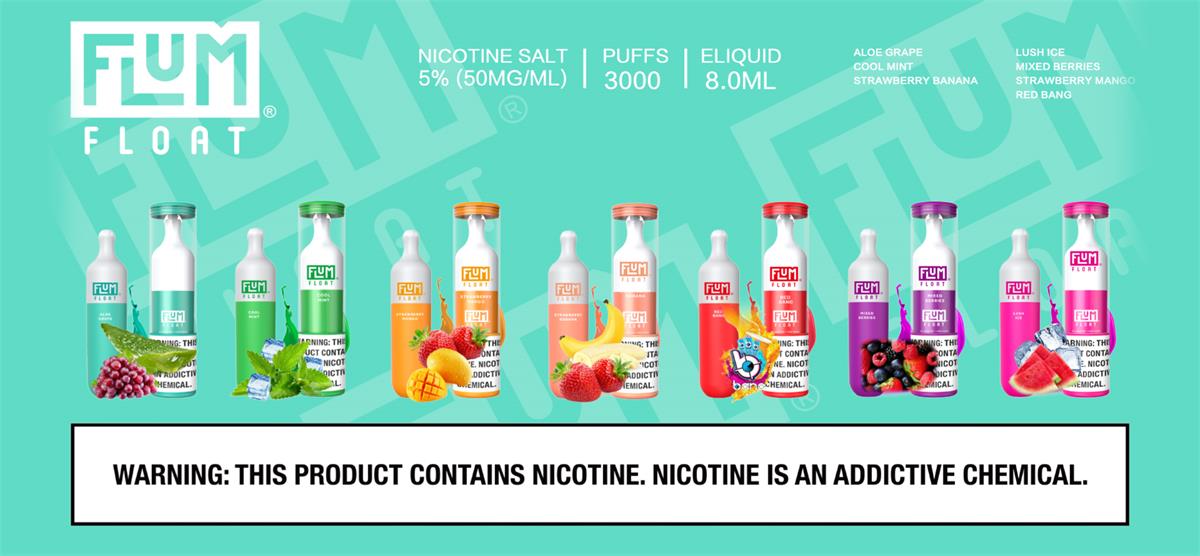 ORDERING TIPS
Attention: As the manufacturer needs the serial number to provide a replacement, we highly recommend you keep the original packing box or take picture of the code before discarding it. Thank you!