The combined shipping cost will be calculated automatically by the system after you choose the shipping destination in the checkout step.
INTRODUCTION
Freemax Maxus 50W Kit is a proper box mod and sub-ohm tank collocation which is composed of Fireluke 22 Tank Resin Edition and Maxus 50W VW mod. It inherits the classic design of the Maxus Kit series. Resin and metal fit perfectly with the fashionable Fireluke 22 Tank. Small, colorful, sturdy, and durable. The Maxus 50W Kit discards the layout of external replacement batteries and is equipped with a 2000mAh built-in battery to powered for all day. You can use a modern USB Type-C connection to fast charge the battery with an upgraded 2A charging current. The charging time is up to 80 minutes to fully charge the device. The built-in proprietary FM Chip-Maxus 1.0 chipset supports multiple safety protection measures, provides up to 50 watts of output power and has ultra-fast firing speed. Maxus 50W Kit provides multiple output mode switching, including Power, VPC (Variable Power Control), Bypass, TC-TI (Temperature Control Titanium), TC-NI (Temperature Control Nickel), TC-SS (Temperature Control Stainless Steel), and TCR (Temperature Coefficient of Resistance). The operation interface of the classic three-button system is very easy to use and the large, easy-to-read display shows vaping data clearly and comprehensively.
Fireluke 22 Tank Resin Edition is made of high-quality stainless steel with a prominent resin pattern, can hold up to 3.5mL e-liquid, and has an upgraded top filling method. Simply lift and slide the top cover to fill, super easy and convenient. This design eliminates the risk of children contacting e-liquid. Fireluke 22 Tank also has a leak-proof mechanism, even when the tank is filled with e-liquid, it also supports the replacement of the coil. When the coil is drawn out, the e-liquid feed hole will automatically close. Fireluke 22 Tank Resin Edition also uses the upgraded FM CoilTech 4.0 technology, compatible with 0.25 and 0.5ohm DTL mesh coils (included) and 1.0ohm and 1.5ohm MTL mesh coils (sold separately). Whether you are using the DL version or the MTL version, whether you want to use an ordinary freebase or salt nicotine, everything can work normally and ensure a satisfactory vaping experience. The double-slot adjustable airflow valve at the bottom of the tank allows you to fine-tune the airflow to achieve the ideal throat impact.
Features
• Classic and Clash Design
• 2000mAh Built-in Battery
• Type-C Charge Port
• 2A Fast Charging
• Multiple Output Modes
• Protections of FM CHIP
• FM COILTECH4.0
• DTL & RDL & MTL
• SS904L Mesh Tea Fiber Cotton Formula
• Freebase & Nic Salt
• Leak-proof Mechanism
• Child Resistant Top Fill Design
SPECIFICATION
Kit Size:
126mm(Height) x 38.6mm(Width) x 21.7mm(Thickness)
Battery Capacity:
2000mAh
Output Wattage:
5-50W/100--315℃/200--600℉
Output Mode:
Power/VPC/TC-TI/TC-SS/TC-NI/TCR
Resistance Range:
0.1-3ohm
Charger Specification:
5V/2A
Protections:
Short Circuit/Overtime/Over Charge/Over-Discharge/High Temperature/Low Power Protection
Tank Size:
L51.41*D23.0mm (Resin Edition) / L51.41mm*D22.0mm (Standard Edition)
Capacity:
3.5ml/2ml (TPD)
Material:
SS904L/Tea Fiber Cotton/Resin
Working Wattage:
8-30W (Standard Edition)/15-50W (Resin Edition)
Compatible Coils: 0.25ohm Mesh Coil for DTL - 30-50W, best 40W (in the kit), Recommended e-liquid: Freebase
0.5ohm Mesh Coil for DTL/RDL - 15-30W, best 25W (in the kit), Recommended e-liquid: Freebase
1.0ohm Mesh Coil for MTL - 8-12W, best 10W (sell separately), Recommended e-liquid: Freebase & Nic Salt (20-50mg)
1.5ohm Mesh Coil for MTL - 10-15W, best 12.5W (sell separately), Recommended e-liquid: Freebase (12-18mg) & Nic Salt (20-50mg)
Colors:
Green Black, Orange Yellow, Yellow Green, Black Blue, Red Orange, Blue Red
PACKAGE LIST
Standard Edition/ US Edition
1pc* Freemax Maxus 50W VW Mod
1pc* Freemax Fireluke 22 Tank Resin Edition (Freemax DTL Mesh Coil 0.25ohm Pre-installed)
1pc* Extra Freemax DTL Msh Coil 0.5ohm
1pc* Extra Pyrex Tube 3.5ml
1set* Extra O-rings
1pc* Type-C USB Cable
1pc* Warning Card
1pc* Warranty Card
1pc* User manual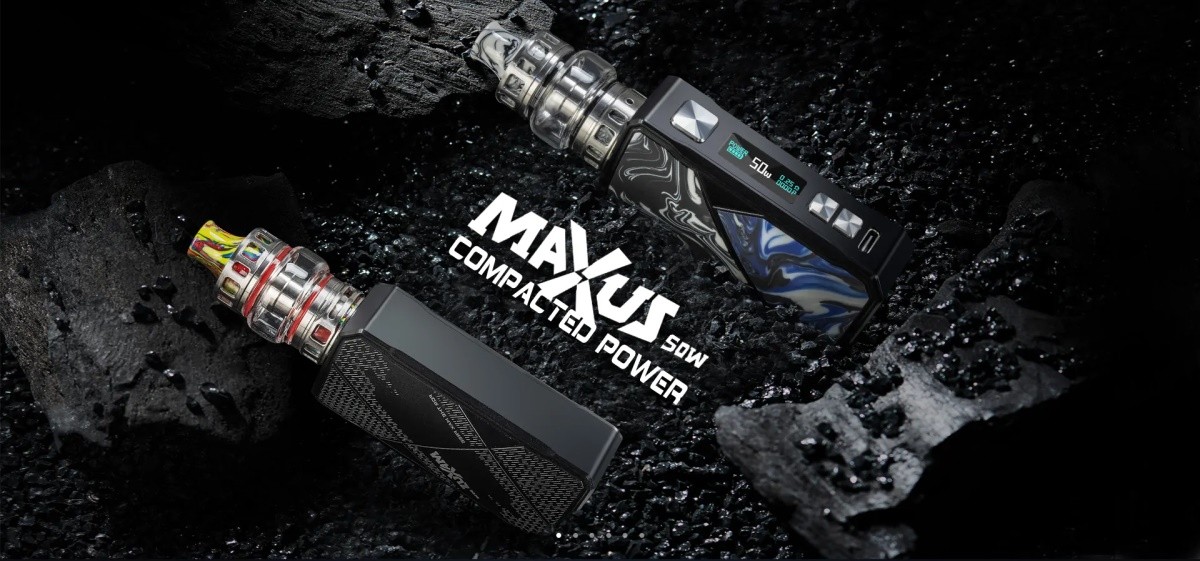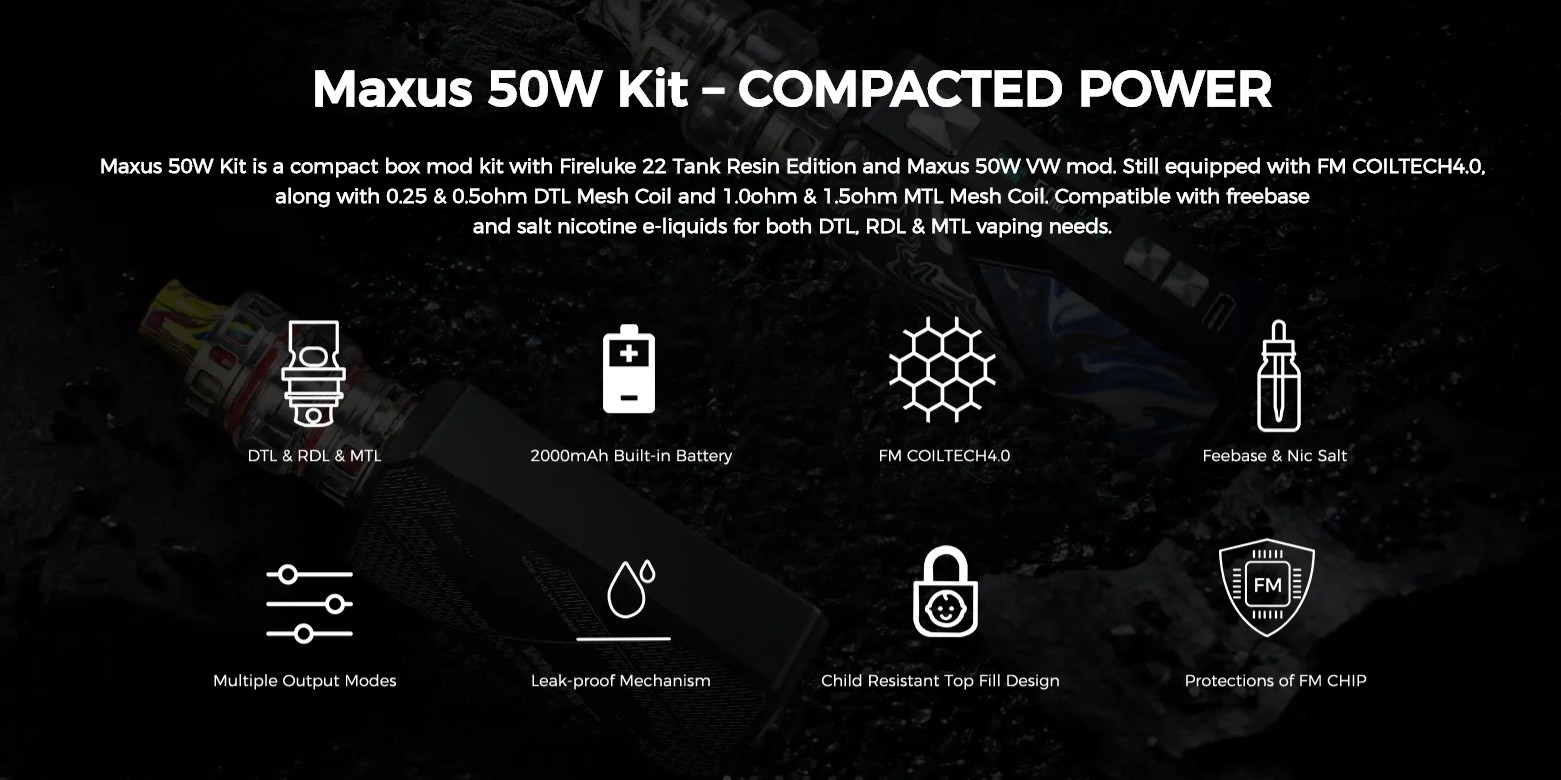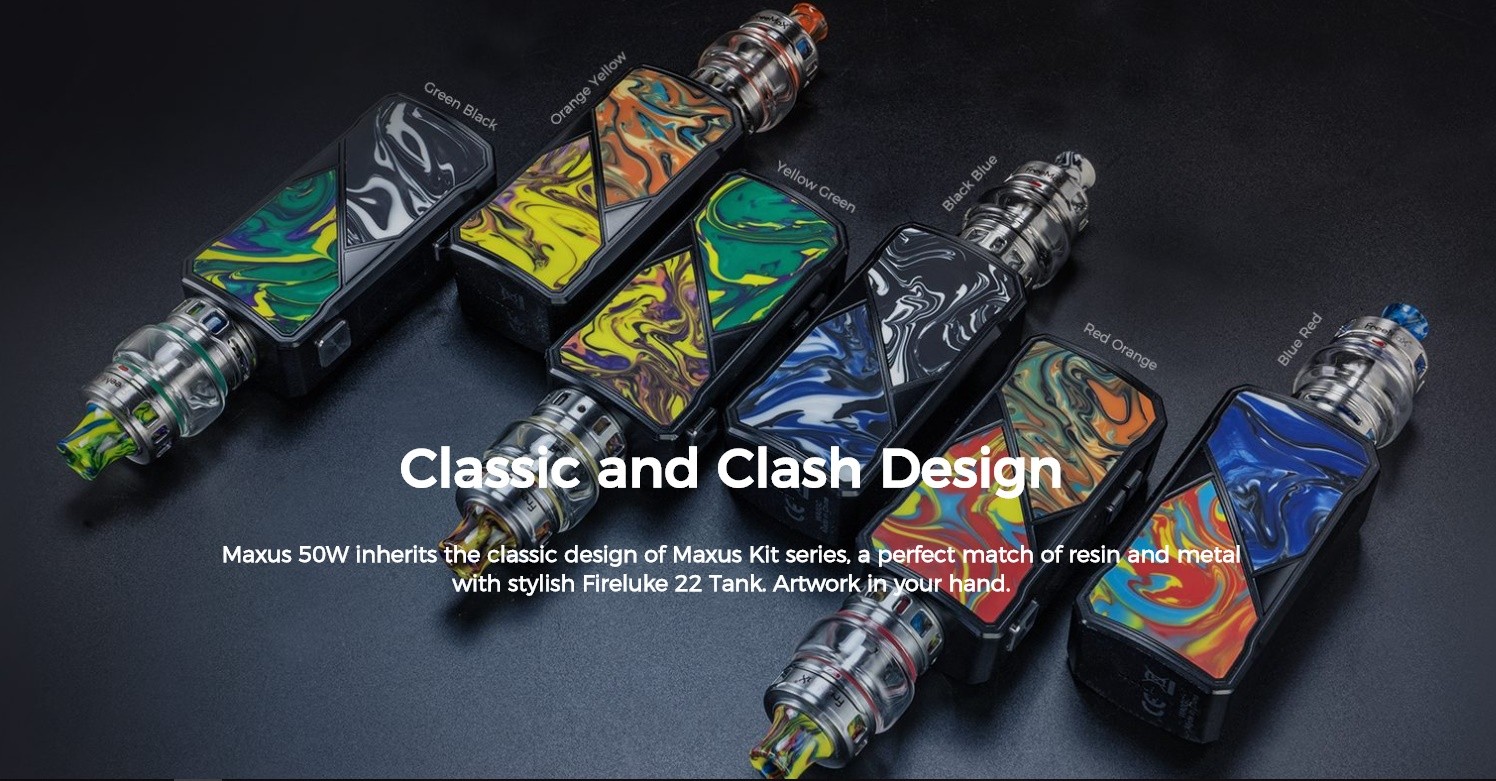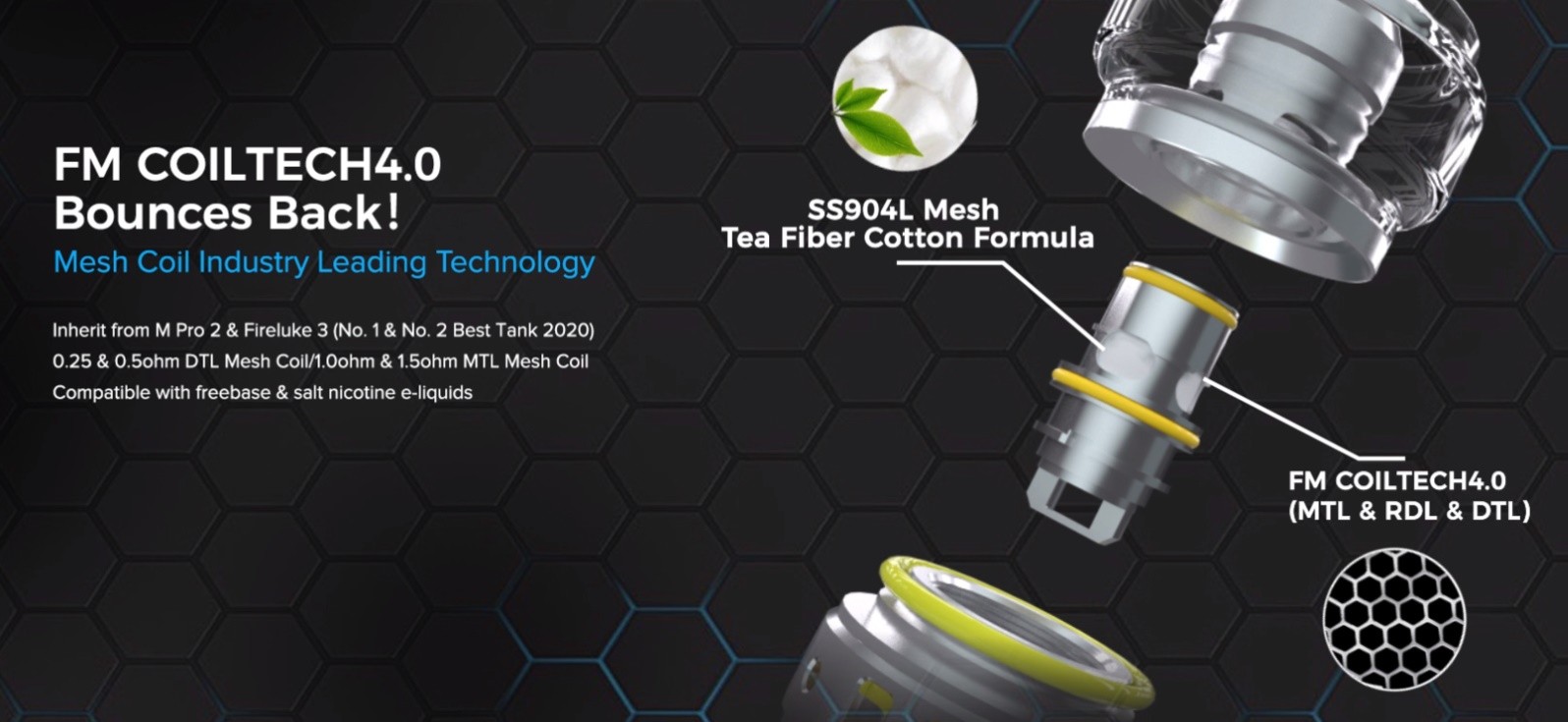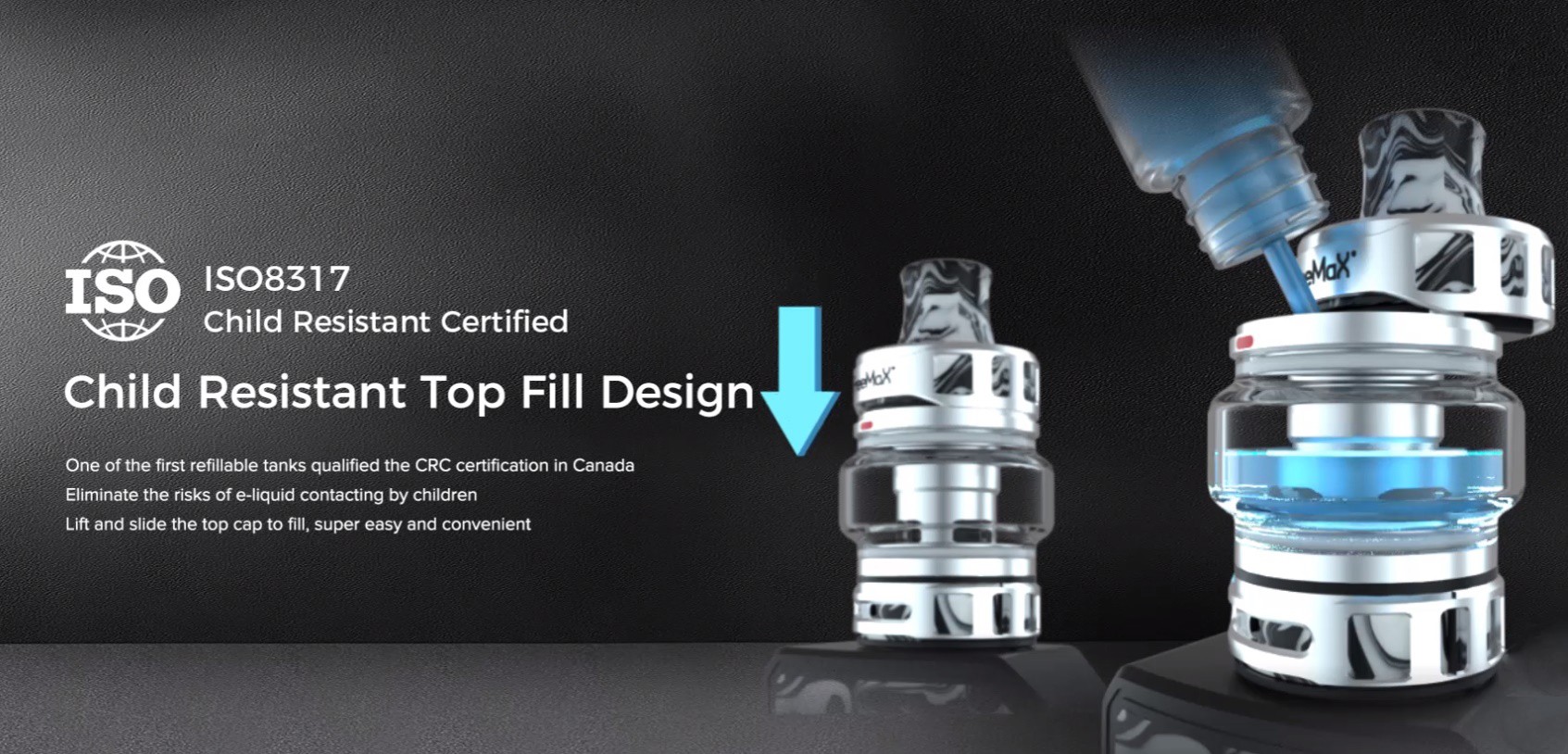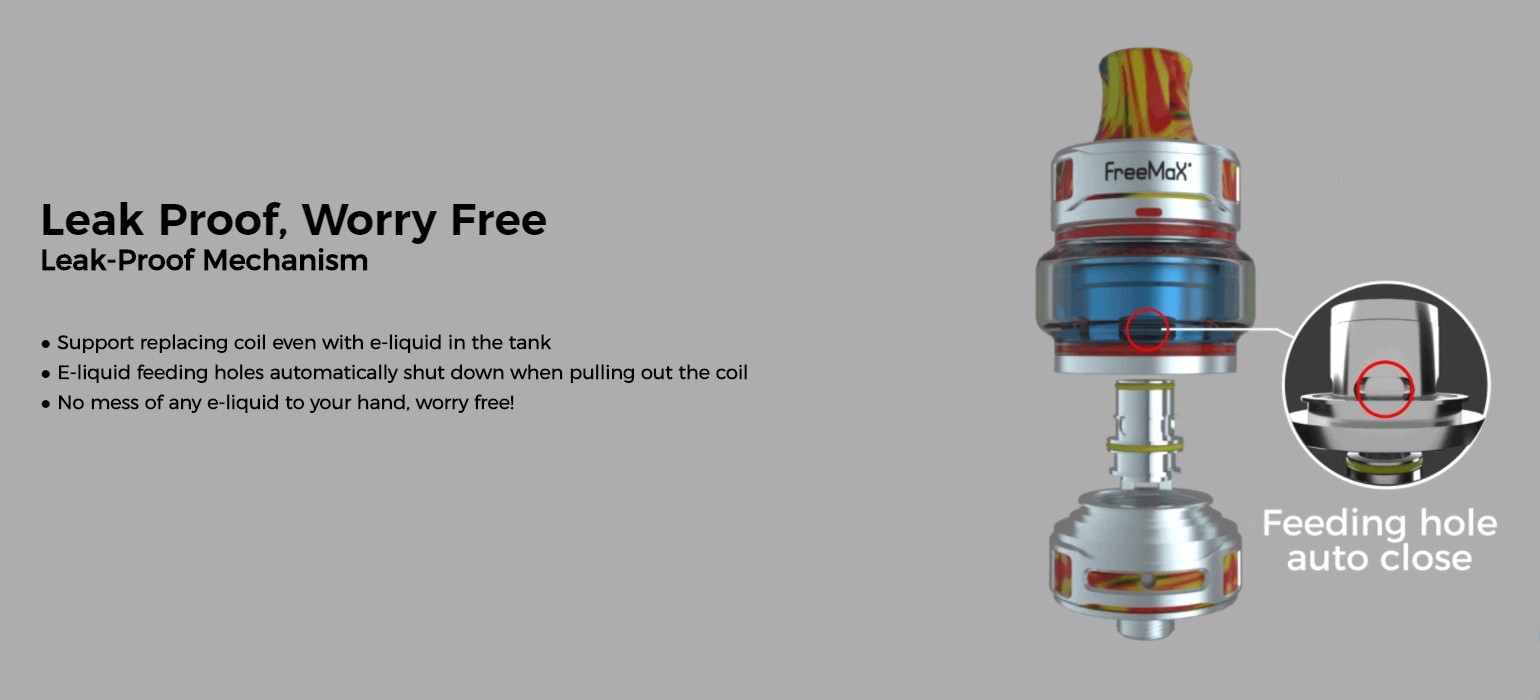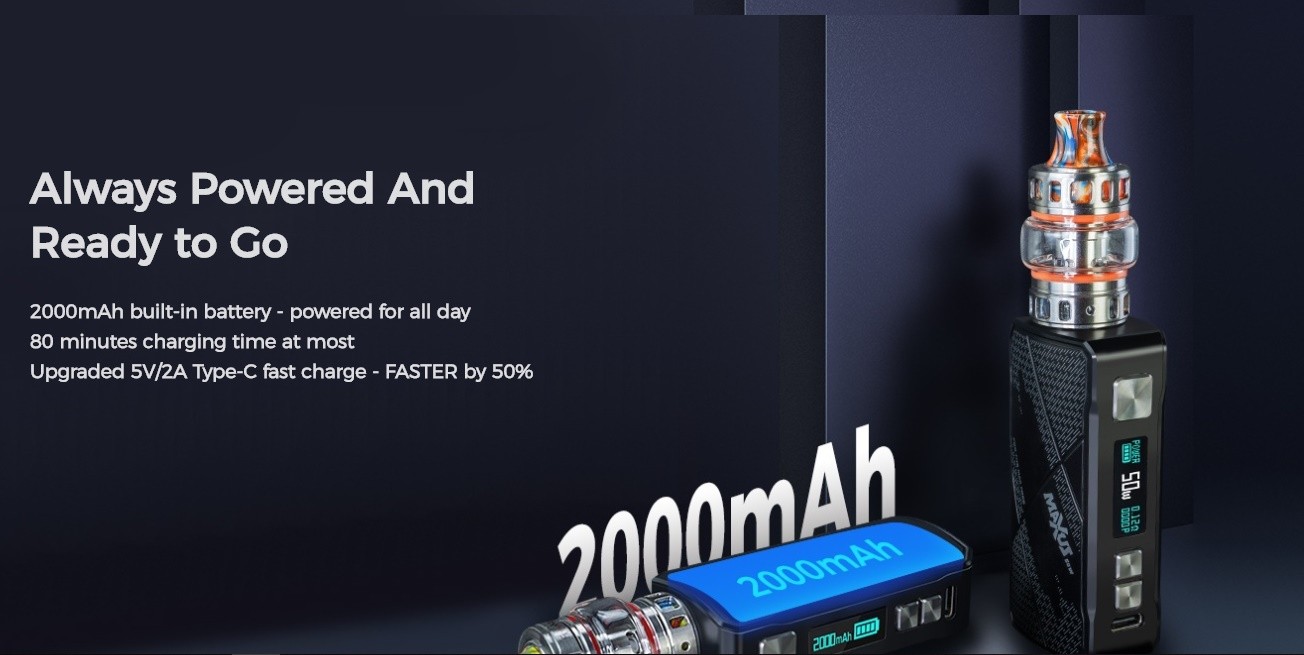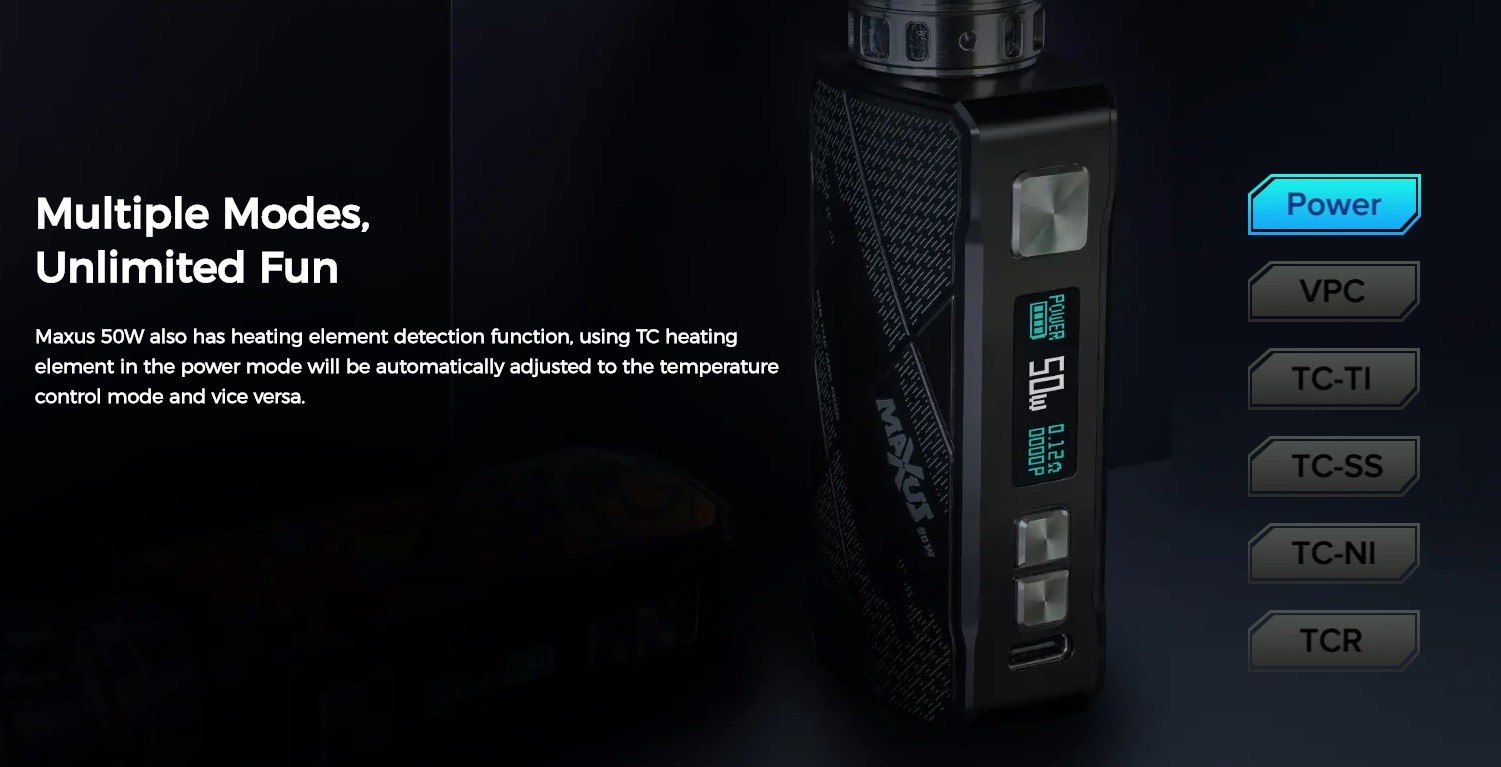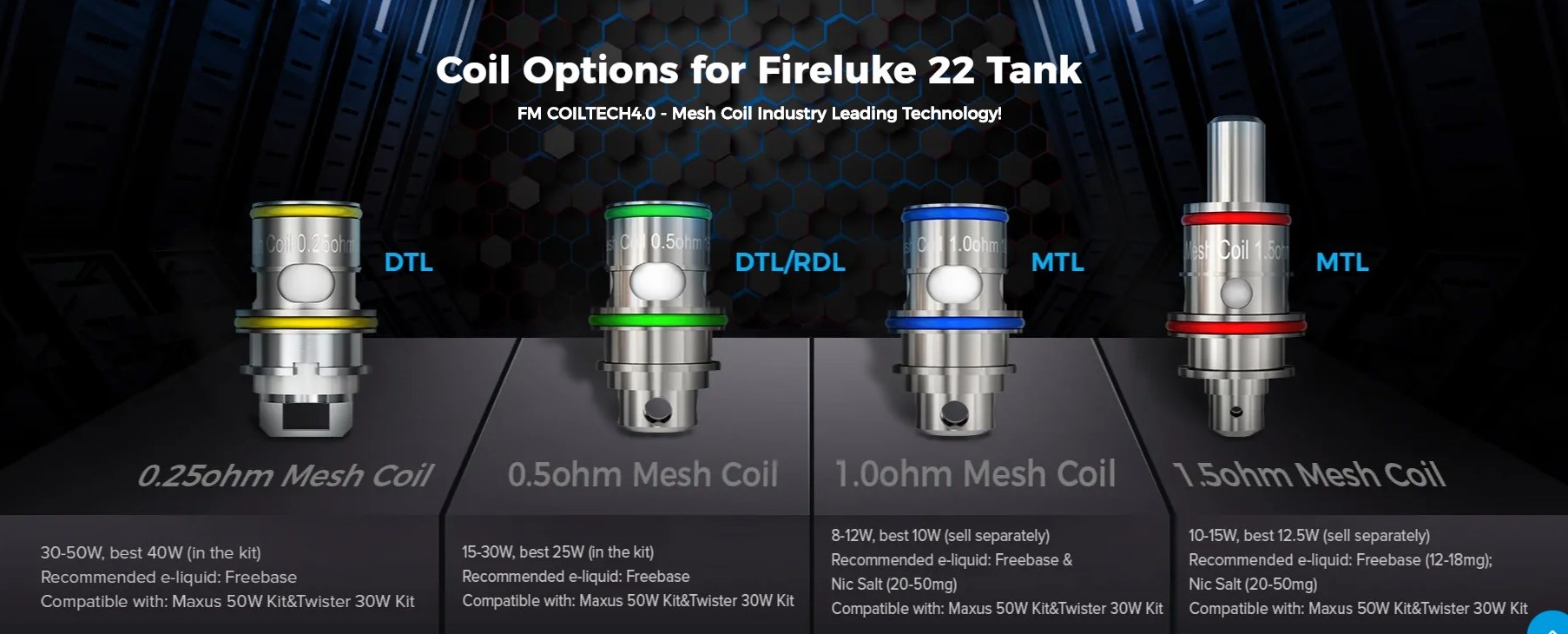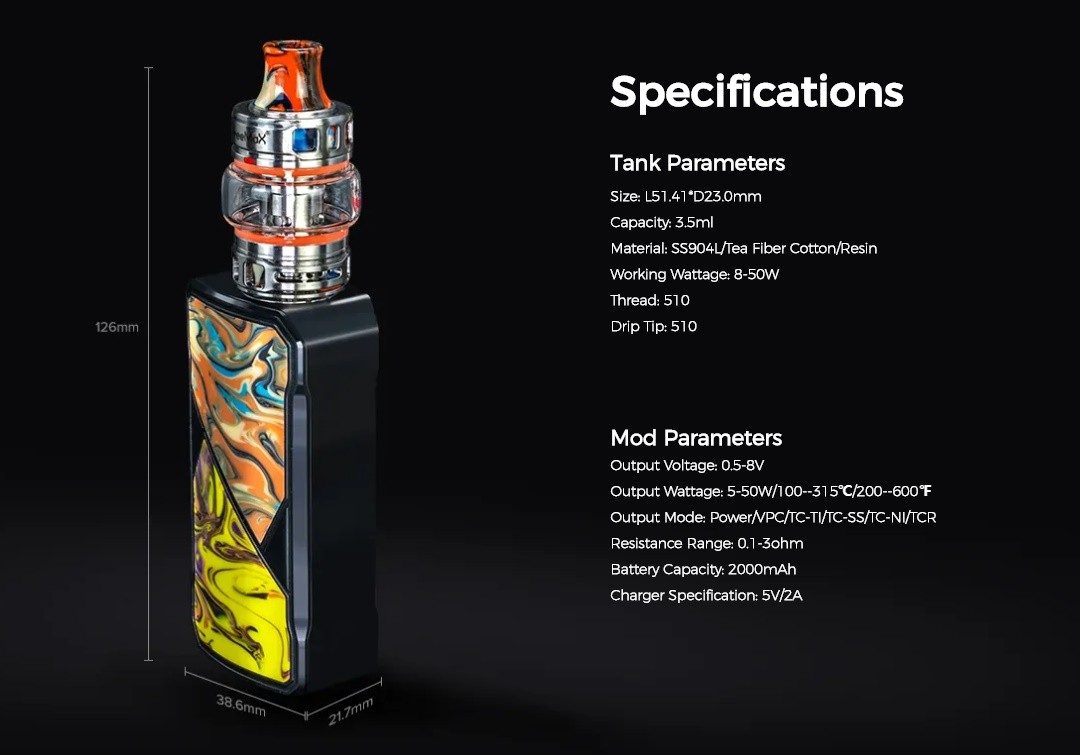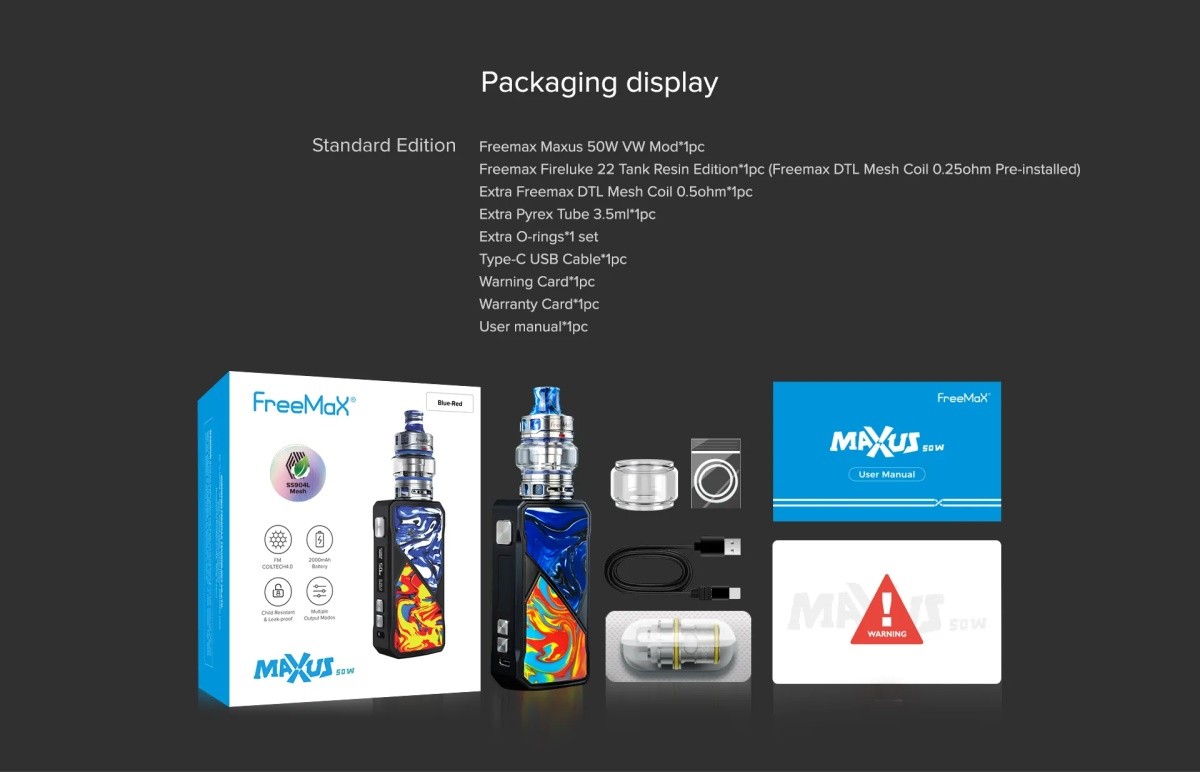 ORDERING TIPS
Attention: As the manufacturer needs the serial number to provide a replacement, we highly recommend you keep the original packing box or take picture of the code before discarding it. Thank you!