Joyetech eGrip VT Kit
Brand: Joyetech

Unit: set

Net Weight: 350(g)
Register and sign in your account to get bulk discounts!

Product introduction
eGrip VT, applies with the Variable Temperature Control system, supporting VT-Ti (Titanium)/ VT-Ni (Nickel-200)/ VW mode with an OLED screen. Italso boasts a 360-degree regulation ring to adjust output wattage or temperature. The compact size with multiple colors catering to your preference makes it always comfortable to hold.
Parameters
Size: 46.4mmX20.4mmX99.5mm (including mouthpiece)
Battery Capacity: 1500mAh
Output mode: VT-Ni/ VT-Ti/ VW Mode
E-juice Capacity: 3.6ml
Resistance Range:0.2-1.0ohm for VT mode
0.4-3.5ohm for VW mode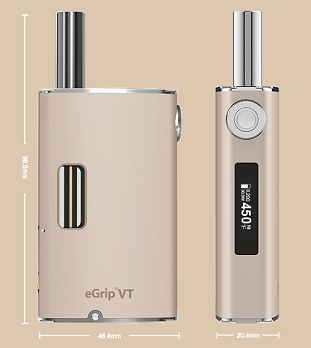 Joyetech eGrip VT Kit comes with
1×

eGrip Mouthpiece

1× eGo ONE CL 1.0ohm head

1×

eGo ONE CL-Ni head

1×

eGo ONE CL-Ti head

1×

eGrip CL Base

1×

1A Wall Adaptor

1×

USB Cable

1× Manual & warrantly Card
Simple packing. Customary Packing from the factory, the packing is subject to change without notice.

Attractive colors
Carrying six attractive colors, eGrip VT presents you with a compact design based on the previous eGrip series,
which is convenient to hold and easy to vape.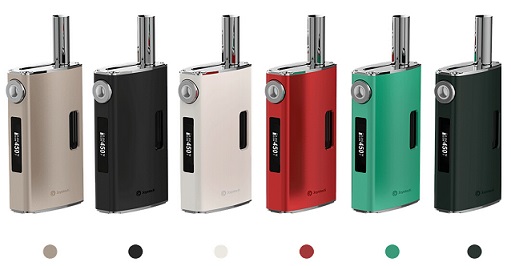 The eGrip VT OLED screen shows you everything you need: the mode,ohm,temperature, watts, and battery life.

Demountable Structure
The vent pipe of eGrip VT can be detached from the body. Take off the mouthpiece then use the tiny tool in the box (or a coin)
to unscrew the vent pipe from the top so as to clean it individually. Remember to screw all the spare parts tightly before use.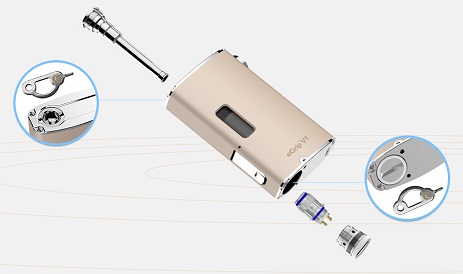 Variable Temperature Control
Being simple in operate and wonderful in vaping, eGrip VT applies with three modes: Ni, Ti and VW Modes.
Press the fire button for three times to shift between VT-Ni/VT-Ti/VW Modes when the battery is on.
Under VW mode, you can adjust output wattage between 5W-30W.
Under VT mode, you can adjust temperature between 100-315℃/200-600℉.
Multi Types of Atomizer Heads for Option
With the eGrip CL base, it controls Nickel 200(Ni), Titanium (Ti) Heating Wire as well as eGo ONE CL 1.0ohm coil.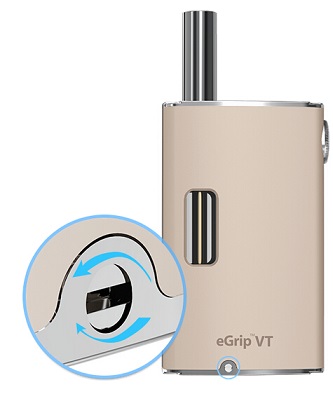 Regulation of Air Inlet
Spin the adjustable screw on the side of the bottom.Contrarotate the screw will loosen the screw.The looser the screw is, the bigger the air inlet is.
Liquid Filling
Push up the lid on the side of eGrip VT body, then slowly refill the liquids into the hole.
And do remember to lock the cap after finishing filling.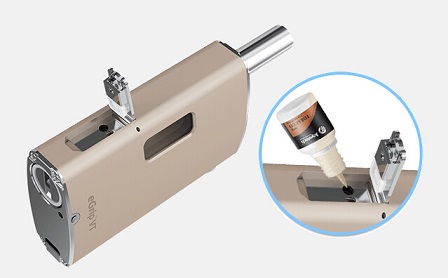 Charger
It takes 2.5 hours to fully charge the battery via 1A wall adapter.The battery level indicator on the OLED screen will keep flashing during charging.When fully charged, the indicator will stop flashing and go out.


Package
Simple paper box. Customary Packing from the factory, the packing is subject to change without notice.
Guarantee
3 Months for Battery/ Mod. Atomizer & Accessories are DOA(Dead On Arrival), please contact us within 72 hours of delivery.