Joyetech eRoll-C PCC -1000mAh
Brand: Joyetech
Unit: set
Net Weight: 90(g)
Combined shipping cost will be calculated automatically by the system after you choose shipping destination in the checkout step. Register and sign in your account to get bulk discounts!
Product introduction
Joyetech eRoll-C PCC - 1000mAh also can work as a Portable Charging Case. As you can see, it is thin and portable to be brought anywhere like handy phone.. Its design concept emphasizes simplicity, fashion and convenience.
The eRoll-C PCC has 1000mAh large capacity. In addition, it features power indicator, and the dump energy can be read clearly at a glance
Parameters
Colors: black, gold, silver
Size (length * width) : 108mm *48mm
Thickness: 11.5mm
Capacity: 1000mAh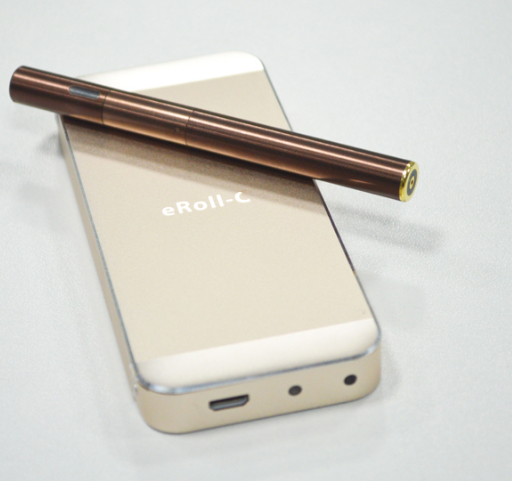 Joyetech eRoll-C PCC comes with
1× eGrip OLED MOD
1×Joyetech eRoll-C PCC - 1000mAh
1× User Manual
1× Warranty Card
Simple packing. Customary Packing from the factory, the packing is subject to change without notice.
Features
1. New Appearance: pure metals, brand-new surface treatment, more slimmer and sleeker.
2. Power Indication Light
PCC Charging
plug the dedicated USB cable into the charging port at the bottom of the PCC, then connect it to a wall adapter or a computer. The LED light is red when it is charging and will go out when it finishes charging. It takes about 3-3.5 hours to fully charge the eRoll-C PCC.
Air inlet regulation
Spin the adjustable screw on the side of the bottom. Contrarotate the screw will loosen the screw. The looser the screw is, the bigger the air inlet is.
When the voltage of the internal battery is less than 3.0V, the indicator light will be red, indicating the eRoll-C PCC needs to be charged. At this time, the eRoll-C PCC will stop charging the battery automatically
Power indication
If the remaining PCC power is 60% or above, the mode light will stay on. The less the PCC power remains, the faster the light flashes. When the battery power is within 30%-59%, the light flashes in slow frequency; within 10%-29%, the light flashes in normal frequency; within 0%-9%, the light flashes in high frequency.
Guarantee including :Joyetech eRoll-C PCC
Guarantee period :3 months
Package
1. It doesn't come with USB cable.
2.There is CE mark on the battery.
3.The external charging interface is a standard MICRO USB port, WHICH CAN ONLY USE WITH eRoll USB cable.