The combined shipping cost will be calculated automatically by the system after you choose the shipping destination in the checkout step.
INTRODUCTION
Moti Mega is the first DTL disposable pod kit in the world, small size but big cloud. Moti Mega has an elegant and modern appearance, with a gradient color design. Color is a power which directly influences the soul. Colorful Moti Mega can color your day with happiness. And it's small and easy to carry around, so you can enjoy an active lifestyle wherever you go. Moti Mega is equipped with a 650mAh built-in battery, support 10.2 watts of maximum power, providing thick clouds and strong taste than any other disposable vapers products. Coupled with device integrated pod pre-filled 3.5ml e-liquid, the Moti Mega makes the vaping experience more enduring than other disposable vape devices, keeping even the most avid vaper satisfied all day. Moti Mega is pre-installed with 3% Freebase Nicotine, not nicotine salt. Compared with nicotine salt, freebase nicotine is more effective when heated and is absorbed faster in the lungs and brain. Enjoy a more satisfying and smooth experience. In addition, Moti Mega improved the shape of the mouthpiece to be discrete so that it is more suitable for DTL vaping style. Feel free to hit that fog directly into your lungs! Are you looking for a portable disposable vape for massive clouds? Moti Mega, this DTL (Direct-to-Lung) disposable kit will be your best choice.
Features
• The first disposable vape with DTL(Direct-To-Lung) vaping style
• Longer lasting vaping enjoyment
• 650mAh battery provide 800+ puffs
• Modern appearance and portable size
• Colors with a gradient light up your world
• Freebase nicotine for deeper satisfaction
• Discrete mouthpiece suits DTL style
SPECIFICATION
Dimension:
17.5mm(Diameter)*106mm(Height)
Freebase Nicotine:
3mg/ml
Number of Puffs:
800+ Puffs
Flavors:
Orange Soda, Pineapple, Kiwi, Strawberry Kiwi, Grape, Mixed Berries, Blueberry
PACKAGE LIST
1 × Moti Mega Disposable Vape Device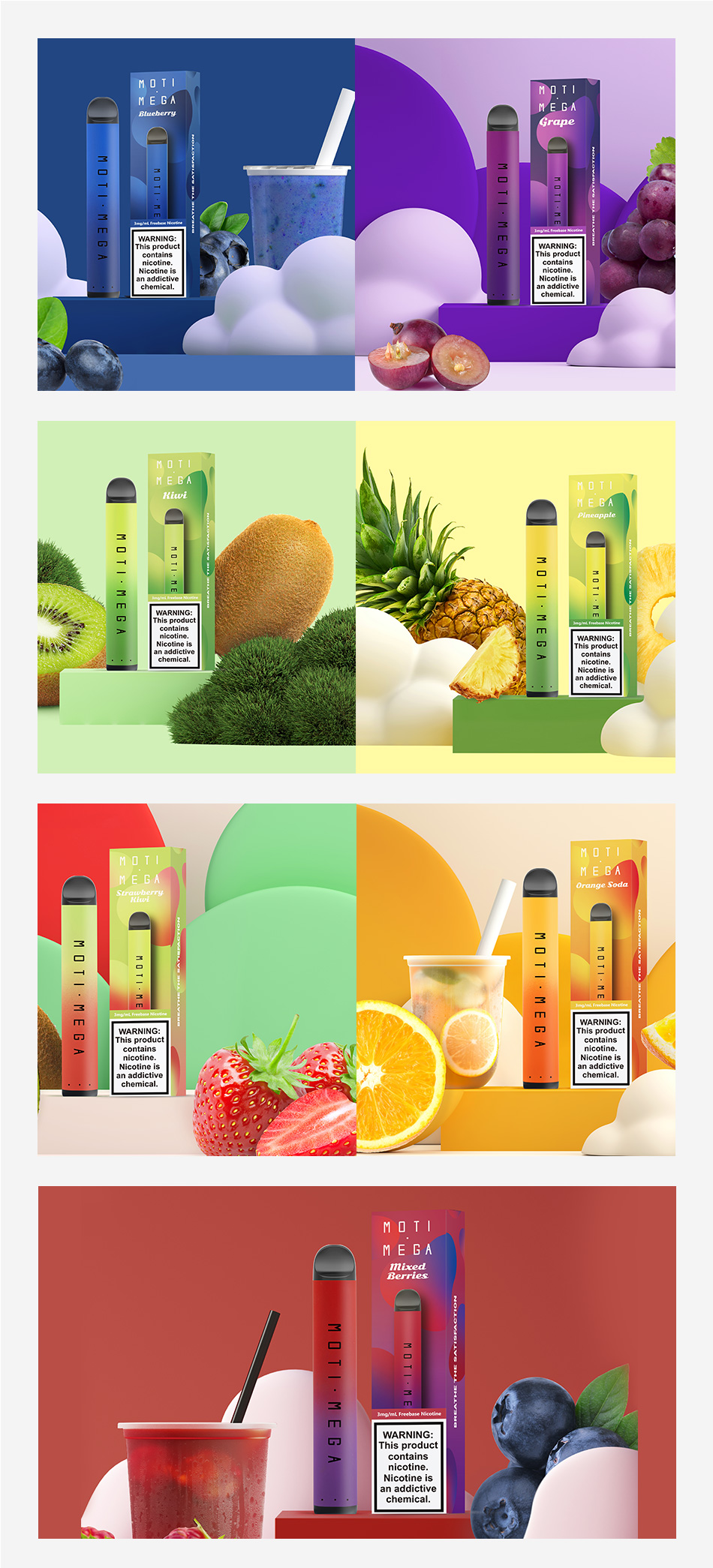 ORDERING TIPS
Attention: As the manufacturer needs the serial number to provide a replacement, we highly recommend you keep the original packing box or take picture of the code before discarding it. Thank you!