The combined shipping cost will be calculated automatically by the system after you choose the shipping destination in the checkout step.
Packspod Live Resin HHC Disposable Vape INTRODUCTION
Packspod Live Resin HHC Disposable Vape features an impressive 2 full grams of HHC, a draw-activated firing system, a high concentration of Delta-8 THC, and no fillers. The 3rd party lab testing ensures quality and safety, while the <0.3% Delta-9 THC content ensures compliance with regulations. The live resin concentrate further enhances the potency and flavor profile, providing an elevated experience for cannabis enthusiasts.
Features
• Capacity: 2g (2000mg)
• Battery Capacity: Integrated Rechargeable
• Cannabinoid: Delta-8 THC
• Concentrate: Live Resin
• Heating Element: Ceramic Coil
• Firing: Draw-Activated
• LED Battery Life Indicator Light
• Chassis Construction: Polycarbonate
• < 0.3% Delta-9 THC
• No Fillers
• 3rd Party Lab Tested
• Charging: Type-C Port
• USA Hemp Derived Cannabinoids
Flavor:
Gelato Freeze (Hybrid)
Guava Bubblegum (Hybrid)
Jelly Dulce (Indica)
Snicker Bocker (Sativa)
Sour Gusher
Packspod Live Resin HHC Disposable Vape PACKAGE LIST
1 x Packspod Live Resin HHC Disposable Vape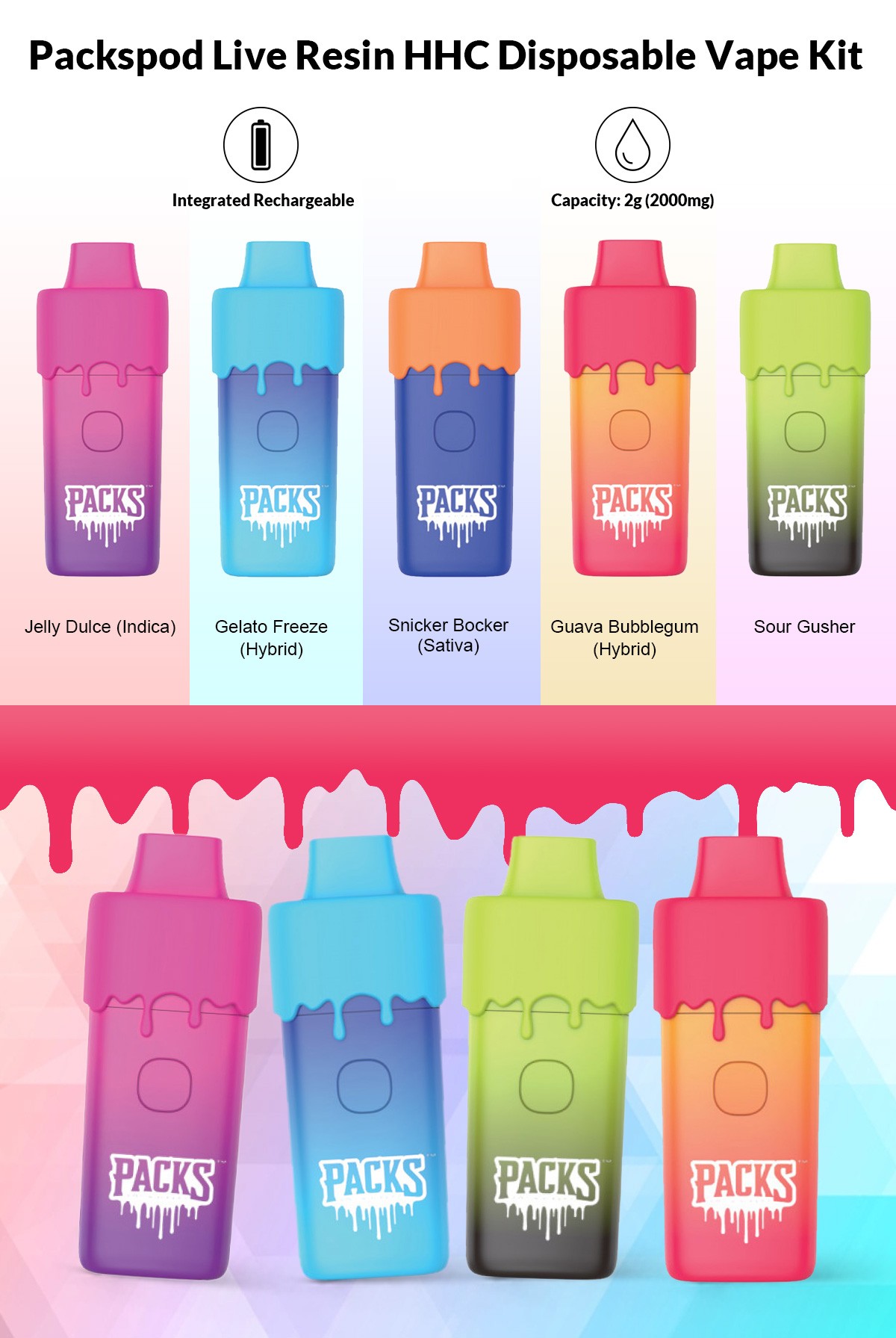 ORDERING TIPS
Attention: As the manufacturer needs the serial number to provide a replacement, we highly recommend you keep the original packing box or take picture of the code before discarding it. Thank you!