The combined shipping cost will be calculated automatically by the system after you choose the shipping destination in the checkout step.
R and M Tornado 10000 Plus Disposable Vape INTRODUCTION
R and M Tornado 10000 Plus Disposable Vape boasts a large 20ml pre-filled vape juice capacity, containing 5% (50mg) nicotine salt and equipped with a mesh coil, allowing for a smooth and consistent vaping experience. The kit is powered by a rechargeable 850mAh battery and has an impressive approximate lifespan of 10000 puffs. With a draw-activated system and airflow control for a personalized vaping experience, The device also incorporates 6 colors of RGB lights to add a touch of flair to your vaping experience.
Features
• 20ml Pre-Filled Vape Juice
• 850mAh Battery
• Type-C Cable
• 5%(50mg) Nic Salt
• Approximately 10000 Puffs
• Mesh coil
• Draw-Activated
• 6 Colors RGB Light
• Non Refillable
Flavors
Cool Mint
Lush Ice
Gummy Bear
Blueberry On Ice
Grape Ice
Pink Lemonade
Mixed Berries
Strawberry Watermelon
Red Apple Lemon
Strawberry Kiwi
Blueberry Bubblegum
Blue Sour Raspberry
Dr. Blue
Peach MangoLush Ice
R and M Tornado 10000 Plus Disposable Vape PACKAGE LIST
1 * Disposable Vape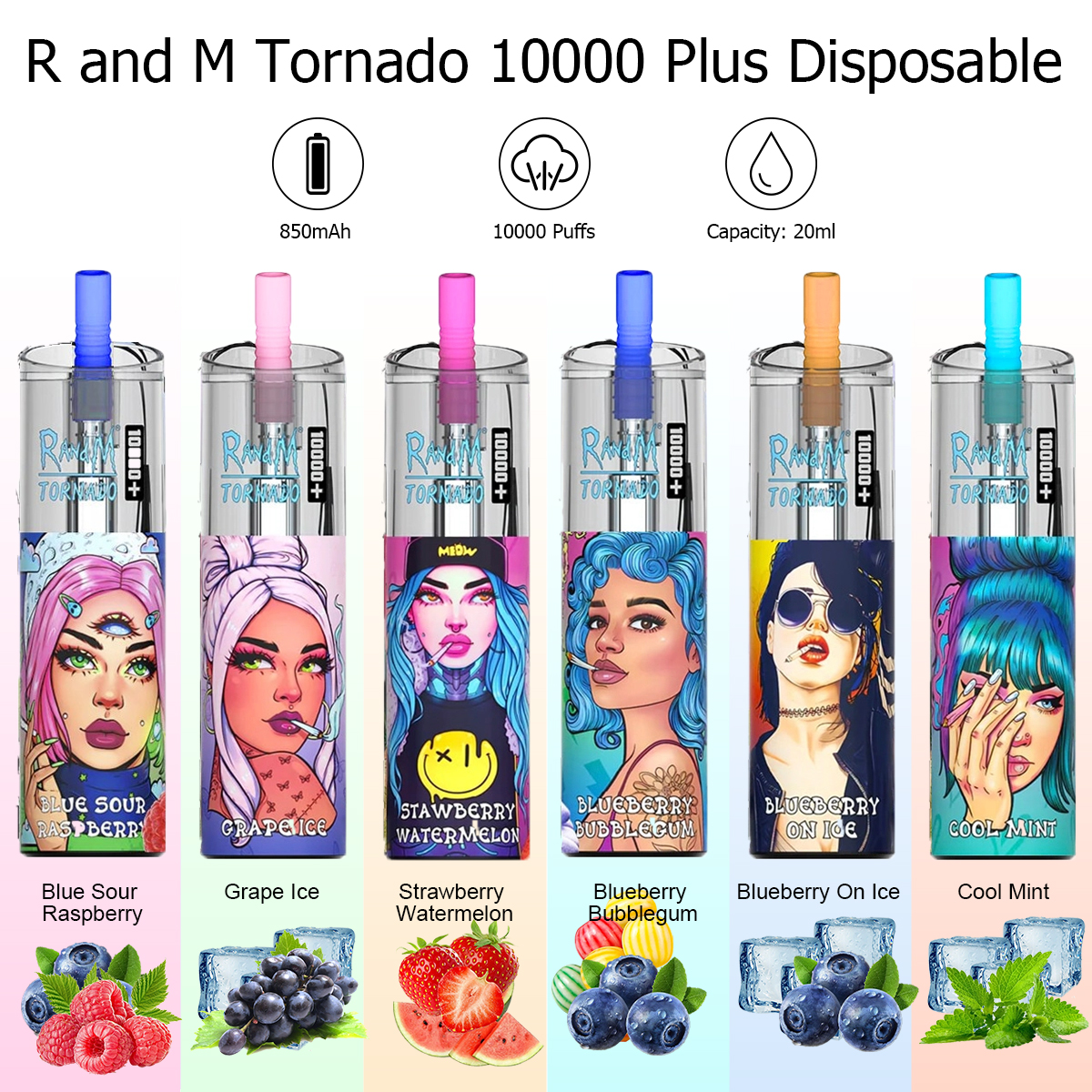 ORDERING TIPS
Attention: As the manufacturer needs the serial number to provide a replacement, we highly recommend you keep the original packing box or take picture of the code before discarding it. Thank you!