Brand: Steam Crave
Unit: set
Net Weight: 150(g)
The combined shipping cost will be calculated automatically by the system after you choose the shipping destination in the checkout step.
Product introduction
Steam Crave Glaz Mini MTL RTA, with 23mm diameter, is the newest rebuildable tank atomizer that features with standard 2.0ml e-juice capacity and 5.0ml extension option, with which you can change the 2ml glass tube to 5ml glass tube. The Steam Crave Glaz Mini RTA features a glass chamber for enhanced flavor. And the Steam Crave Glaz Mini RTA also features an innovative single coil platform and top complement design that is easy to install and operate. In addition, the Glaz Mini RTA features an adjustable bottom airflow system with four different airholes. The Steam Crave Glaz Mini RTA will bring you a new MTL vaping experience.
Parameters
Diameter: 23mm
Capacity: 5ml(Extension) / 2ml(Standard)
Type: Single Coil RTA
Drip tip: 510 drip tip
Thread: 510
Refill: Top-filling
Airflow: Buttom airflow
Four air holes: 0.8mm, 1mm, 1.2mm, 1.6mm
Steam Crave Glaz Mini MTL RTA 23mm comes with
1 x Glaz Mini 2ml whole unit
1 x 5ml extension part
1 x Spare glass heating chamber
1 x Spare 2ml glass
1 x Allen Key
1 x Spare o-rings and screws
1 x User manual
1 x Steamcrave sticker
Features
• Unique single coil deck for easy coil construction and wicking
• Adopts the glass chamber which will enhance the flavor taste
• Standard 2ml e-juice capacity and 5.0ml extension
• Easy refilling with 4 big top-filling slots
• Adjustable bottom airflow with 4 different size holes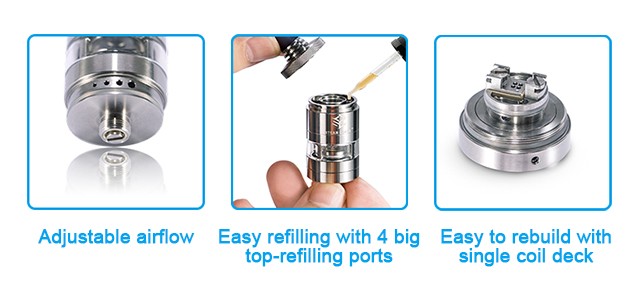 Package
Simple paper box. Customary Packing from the factory, the packing is subject to change without notice.