The combined shipping cost will be calculated automatically by the system after you choose the shipping destination in the checkout step.
INTRODUCTION
Suorin Air Bar is a portable disposable device pre-filled with nicotine salt juice, allowing the user to enjoy a delicious vape with zero upkeep. Recommended for vapers of all experience levels-especially new vapers. The Suorin Air Bar can be used straight out of the box and requires no charging or filling, offering easy vaping. Thanks to inhaling activation you can inhale on the Suorin Air Bar's mouthpiece to activate it, delivering a more natural vaping style. The device produces a discreet amount of vapor to support MTL (Mouth To Lung), which allows you to use this device like a cigarette, making the transition to vaping that little bit easier. Powered by a built-in 380mAh battery, it can be used straight out of the box and when empty it can be disposed of and replaced. The Air Bar Disposable accommodates 1.8ml of Salt Nicotine E-liquid with a nicotine level of 50mg, salt nic is far smoother on the throat and can also be absorbed faster. Each Air Bar Disposable Device features an estimated 500 puffs.
Features
• Ultra Lightweight and Compact Design
• Anti Leak Design
• Integrated 380mAh Battery
• 1.8ml Salt Nic E-liquid per Bar
• Disposable Device - 500 Puffs Approx.
• 50mg (5%) Salt Nicotine Strength
• Draw-Activated Firing Mechanism
SPECIFICATION
Dimensions:
108mm by 22mm by 11.5mm
Built-in Battery Capacity:
380mAh
Nicotine Level:
50mg (5%)
Flavors:
Blueberry Ice, Strawberry Watermelon, Banana Pineapple, Grape Ice, Pineapple Ice, Strawberry Lemon, P.O.P (Pineapple Orange Peach), Cherry Cola, Mango Strawberry, Watermelon Candy, Peach Lemon, Watermelon Ice, Strawberry Kiwi, Pink Lemonade, Cool Mint, Cucumber, Banana Ice, Peach, O.M.G (Orange Mango Guava), Sour Apple, Mango, Lychee Ice, Hami Melon Ice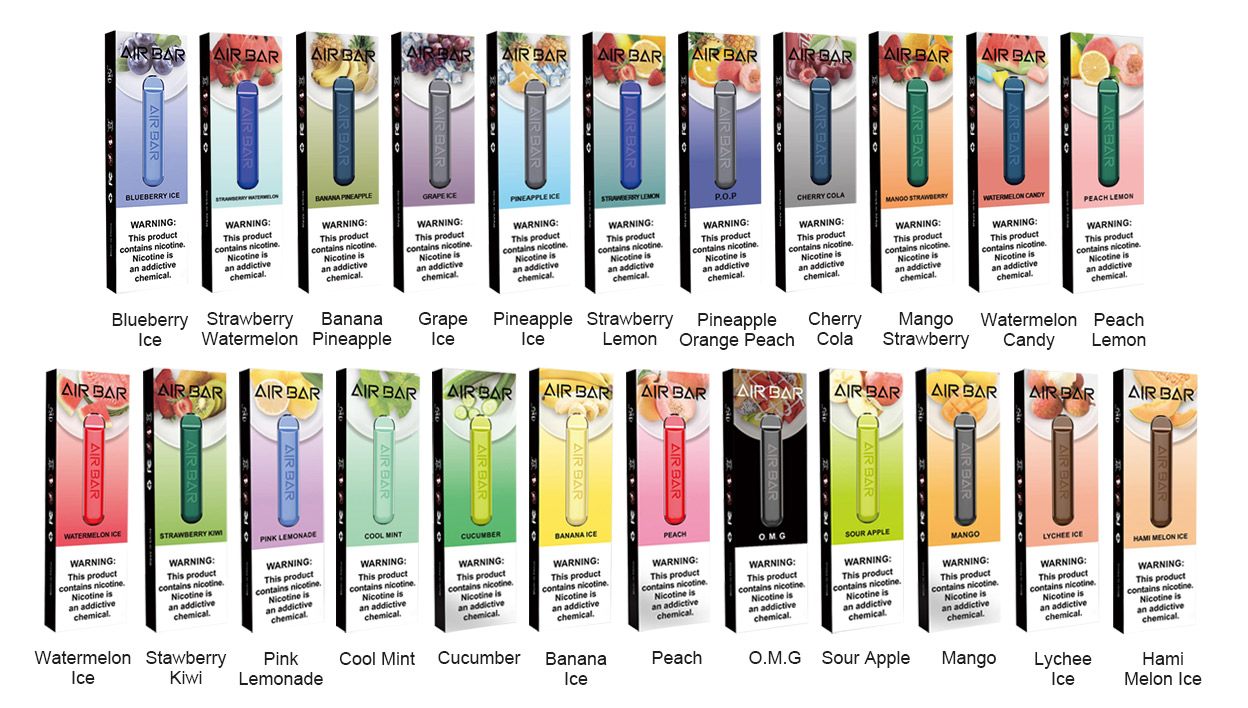 PACKAGE LIST
1 x Suorin Air Bar Disposable Vape Device
ORDERING TIPS
Attention: As the manufacturer needs the serial number to provide a replacement, we highly recommend you keep the original packing box or take picture of the code before discarding it. Thank you!