Wismec Reuleaux Rx Machina Kit
Brand: Wismec
Unit: set
Net Weight: 400(g)
Combined shipping cost will be calculated automatically by the system after you choose shipping destination in the checkout step.
Product introduction
Wismec Reuleaux Series new product - Wismec Reuleaux RX Machina Kit features in resin tube & press structure fire button, the user can replace the battery more conveniently. Interchangeable tubes make your setup always unique. Differing from the conventional button configuration, RX Machina moves all the functional button parts up into the 510 section and has the smallest possible profile for a 20700/18650 mod. RX Machina is not only a stunning device which captures the innovation and advancement in Mech technology, but is is also presented in a beautiful way making this product very special.
Parameters
Height: 111.4mm
Diameter: 28mm
Cell type: 20700 cell/18650 cell with adapter
Wismec Reuleaux Rx Machina Kit comes with
1x Reuleaux RX Machina Mod(no cells)
1x Guillotine RDA
1x Battery Sleeve
1x Clapton Coil
1x Cotton
1x User Manual
1x Warning Card
Spare Parts
Features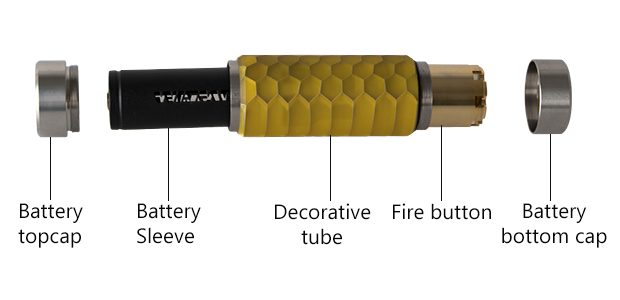 Simple Mechanical Mod, Multiple Functions
RX Machina adopts new button design, fully utilizing all functional space inside the tube and providing you with the smallest 20700 mech mod on the market. You can also enjoy the use of 18650 cells with the help pf our adaptive battery sleeve.
Interchangeable Exterior Sleeves in Attractive Materials and Patterns
By unscrewing the 510 top cap of the mod, you can easily replace the decorative tube with other options,
or you can simply use the mod without decorative sleeve.
Slick yet powerful
Compact sizer, much convenient to hold and carry
Detachable Structure for Easy Cleaning
All the components of Guillotine RDA can be easily disassembled for deep cleaning and maintenance purposes. The fire button
housing (bottom ring) is intentionally difficult to remove as it is designed to only be removed when cleaning the fire button.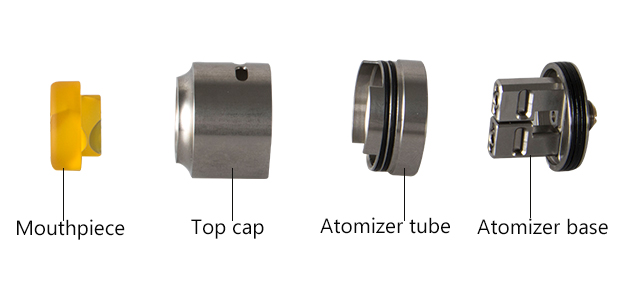 Newly Introduced Clapton Coil
The Clapton Coils included in the kit have been optimized for performance with a 20700 battery, 4 ply Flat Ribbon Wire core wrapped with 38g,
Single Coil Configuration has 0.28ohm resistance.
Easy Rebuildable Deck
The Guillotine RDA has a removable lower sleeve which completely exposes the build space, making the installing of coils and
cotton extremely easy. When the lower sleeve is re-installed it acts as the juice well and also sets the airflow direction.
No Thread Connection
Instead of the traditional thread design, the application of no thread connection makes the assembly much easier.
3 Months for Battery/ Mod. Atomizer & Accessories are DOA (Dead On Arrival), please contact us within 72 hours of delivery.
Package
Simple paper box. Customary Packing from the factory, the packing is subject to change without notice.