The combined shipping cost will be calculated automatically by the system after you choose the shipping destination in the checkout step.
INTRODUCTION
Yocan Falcon Vaporizer is a device designed to cover all aspects of vaping, is the most advanced 6-in-1 evaporator on the market today. Yocan Falcon compatible with both wax concentrates and select dry herb so you have a wide variety of ways to use it regardless of your preference in materials and in how you want to consume them. The Falcon is powered by a long-lasting 1000mAh battery that utilizes a convenient Type-C charging method. It will provide much longer, extended vape sessions between each charge. Yocan Falcon uses variable voltage batteries to help you customize your session. Yocan Falcon has Yocan's classic preset temperature settings (a total of three levels). The lowest is 3.2 volts, the medium voltage is 3.7volts, and the highest temperature level is 4.2volts. Each temperature setting is in 0.5volt increments to provide you with a stable temperature rise and fall. To adjust the voltage level after switching on the device, press the power button 3 times rapidly. Falcon also has a 10-second preheating function to prepare materials before use. Quickly clicking the power button twice will put the device into the warm-up mode. To deactivate, just press the power button once.
Yocan Falcon Vaporizer can be used in 6 different ways: 1. XTAL Tip with Glass Attachment. The Yocan Falcon can be used as a nectar collector using the XTAL Tip. This way you can dab straight from the jar. Lets you vaping right away from your jar. Glass attachments can also help eliminate vapor through water filtration and moisture regulation. 2. XTAL Tip without Glass Attachment. this time without the glass attachment. It ensures you get a portable version of the Yocan Falcon Vaporizer and also eliminates the need for extra tools and messy loading. 3. Quartz Tri Coil with Glass Attachment. The Falcon features a QTC Coil (Quartz Tri Coil), made for giant clouds and hits. 4. Quartz Tri Coil without Glass Attachment. Like a traditional dab pen, the Yocan Falcon Vaporizer when paired with the quartz tri coil offers a traditional experience. 5. Pancake Coil with Glass Attachment. Falcon also packed with a Pancake Coil for dry, allows for better heating and stronger vapor production. Provides you the best dry vaping experience. 6. Pancake Coil without Glass Attachment. The Yocan Falcon Vaporizer can vaporize select dry herb strains using its pancake coils.
Features
• Incredible 6 in 1 vaporizer
• Compatible with Concentrates and Dry Herbs
• 3 Types Of Coil Available
• XTAL Tip (For Concentrate)
• QTC Coil (For Concentrate)
• Pancake Coil (For Dry)
• 10 Sec Preheat Function (1.8V)
• Featured 3 Voltage Levels
• 1000mAh Battery Capacity
• USB Type-C Fast Charging
• Lock or Unlock in 5 Clicks
• Glass Bubbler/Metal Mouthpiece
• Metal Holder & Storage
• Customized Dabber Tool
• Compact and Portable
SPECIFICATION
Dimensions:
55mm(Diameter) x 198mm(Height)
Battery Capacity:
1000mAh
Battery Charge Type:
Type-C
Variable Voltage:
3.2V-3.7V-4.2V
Change Voltage Level:
Click Button 3 Times Quickly
Coils: Pancake Coil for dry;
QTC Coil (Quartz Tri Coil) for giant clouds and hits
Vaporizer Compatibility:
Wax, Concentrates, and Herbs
Colors:
Black, Silver, Red, Blue, Purple
PACKAGE LIST
1 x Falcon Device (with glass attachment & QTC coil)
1 x Metal Mouthpiece
1 x XTAL Tip
1 x Pancake Coil
1 x Pick Tool
1 x Cleaning Brush
1 x Mini Cleaning Brush
1 x Type-C Cable
1 x Multifunctional Holder
1 x Instructions Manual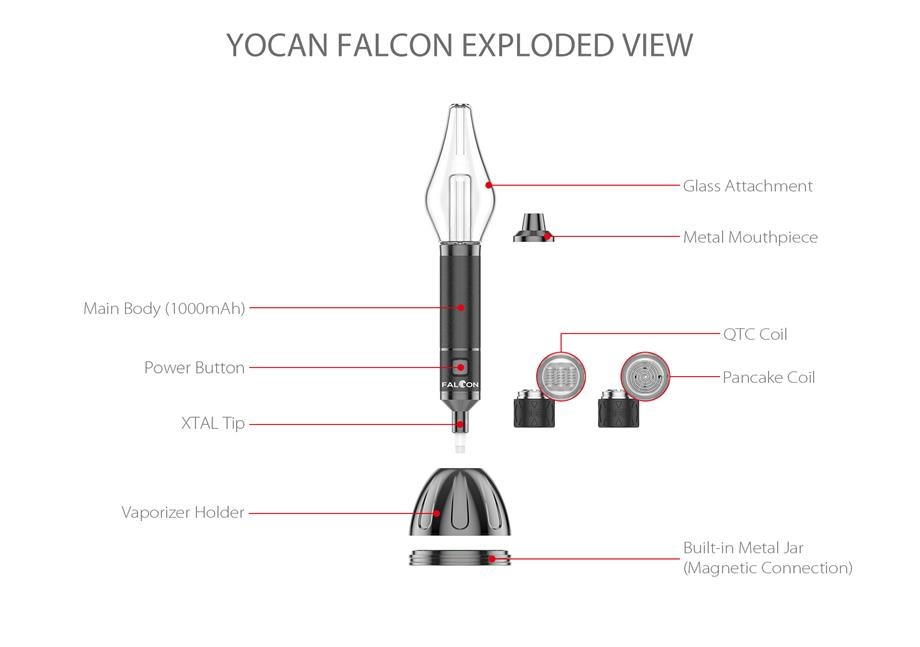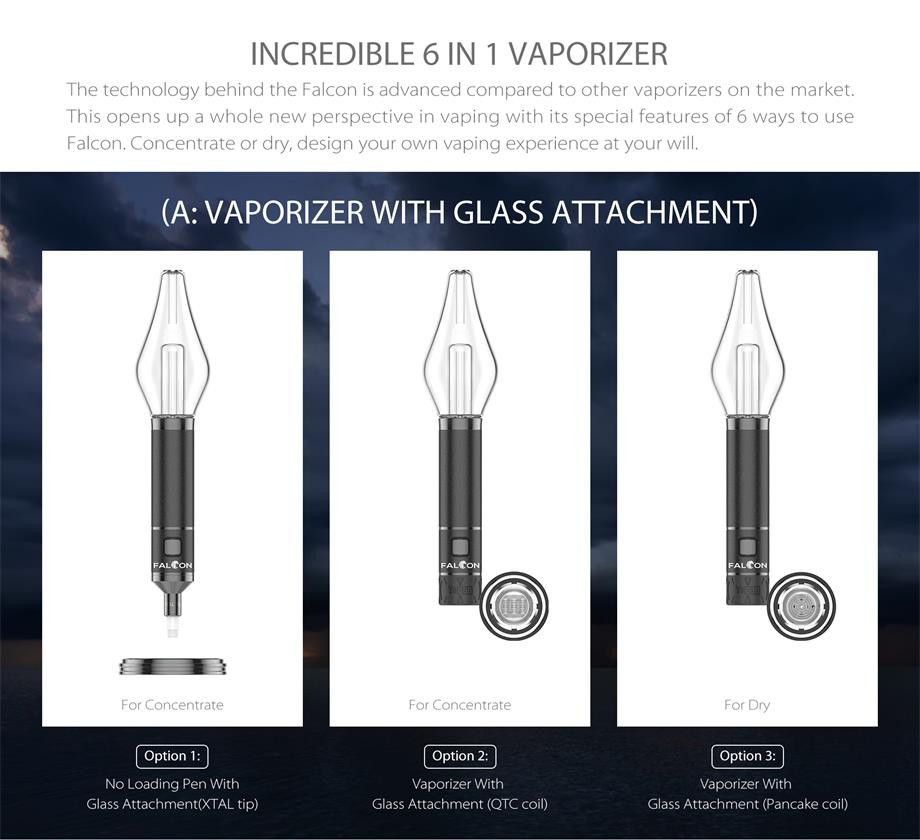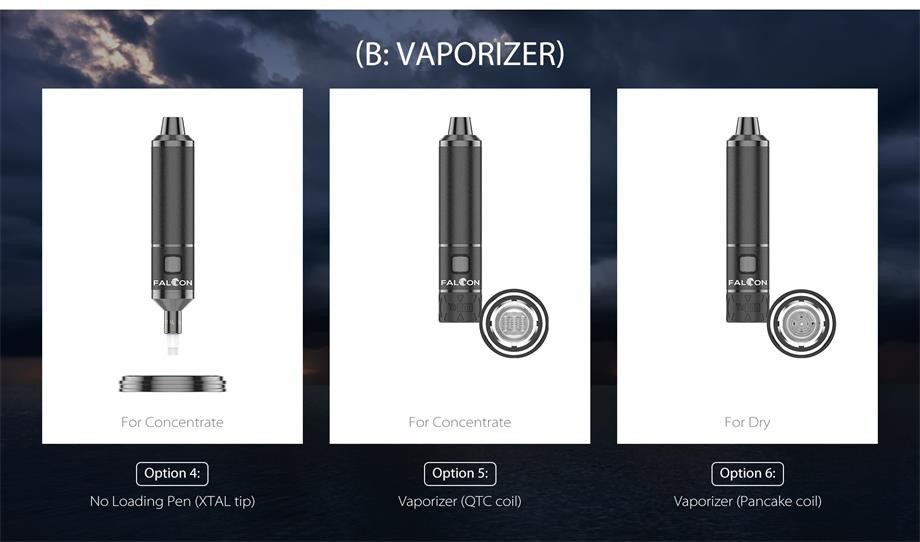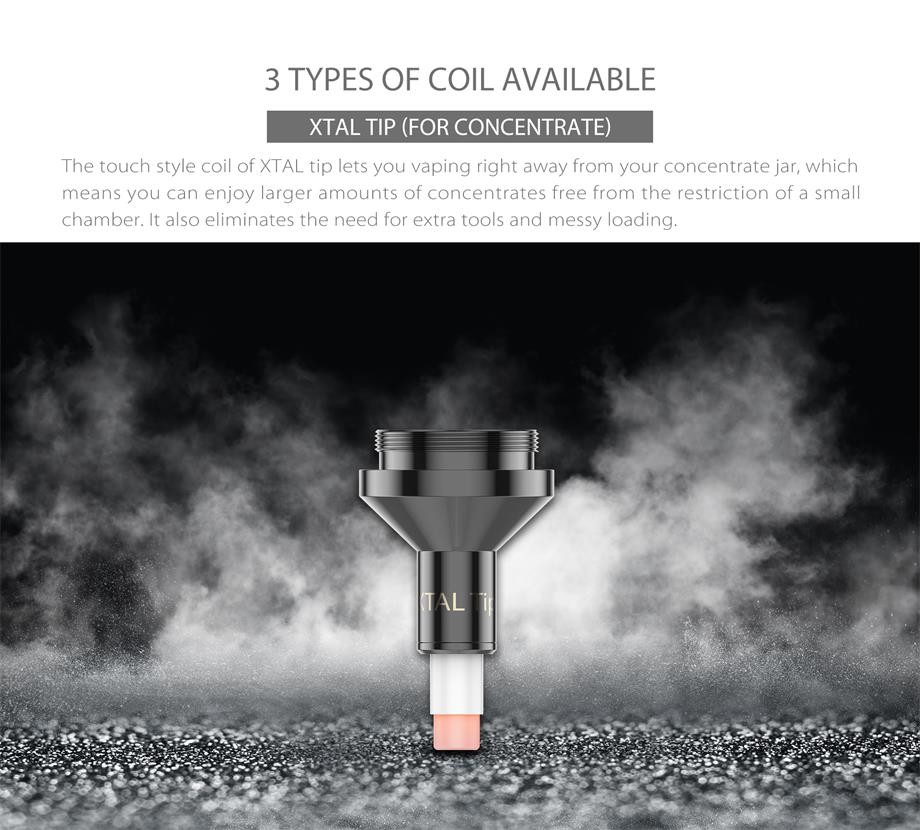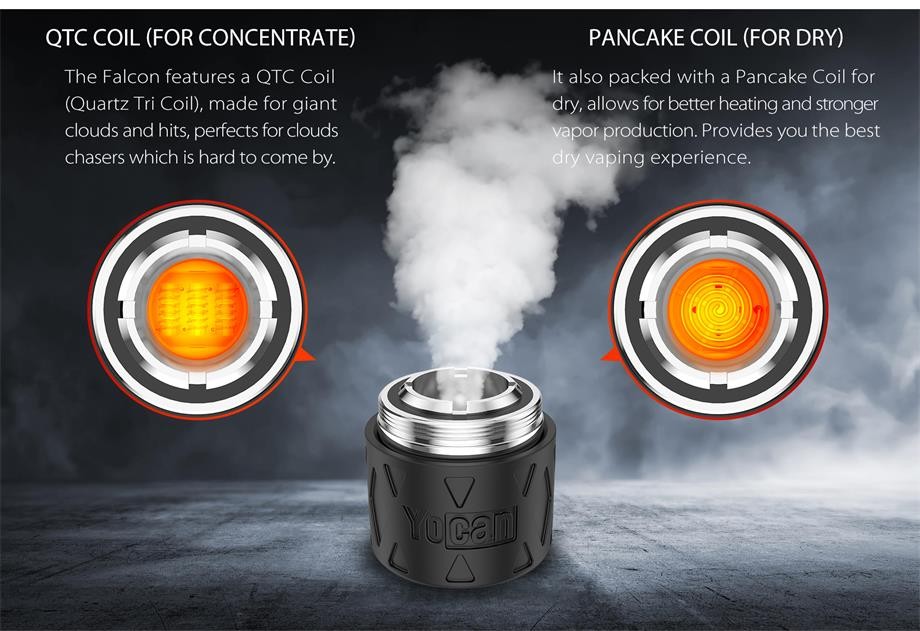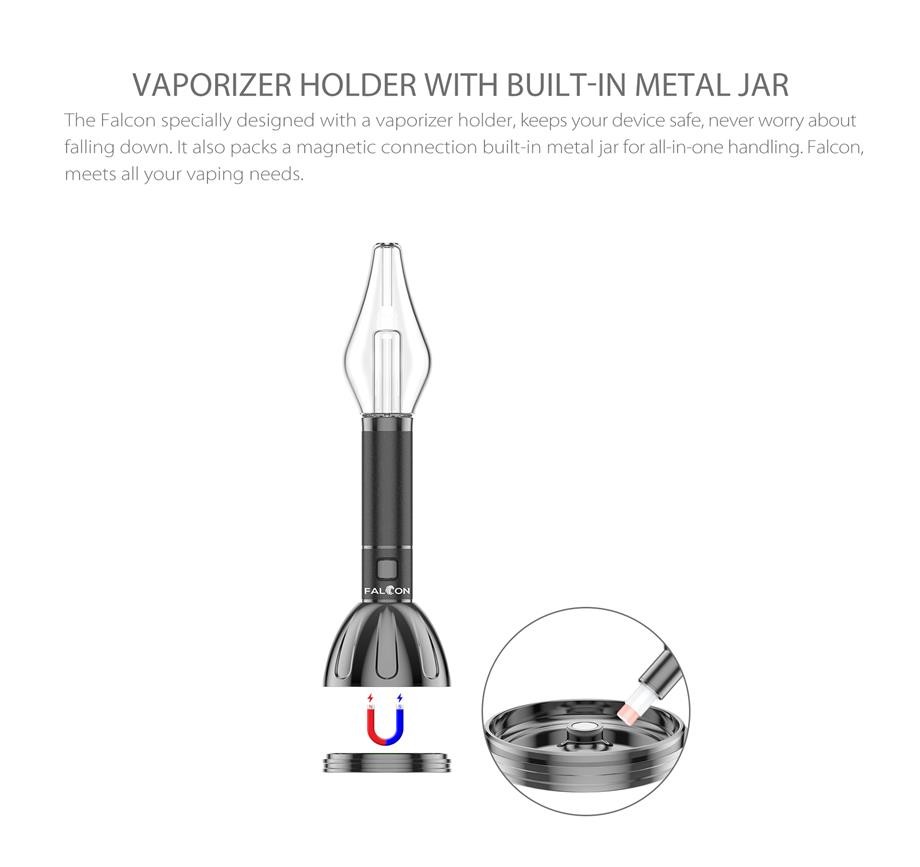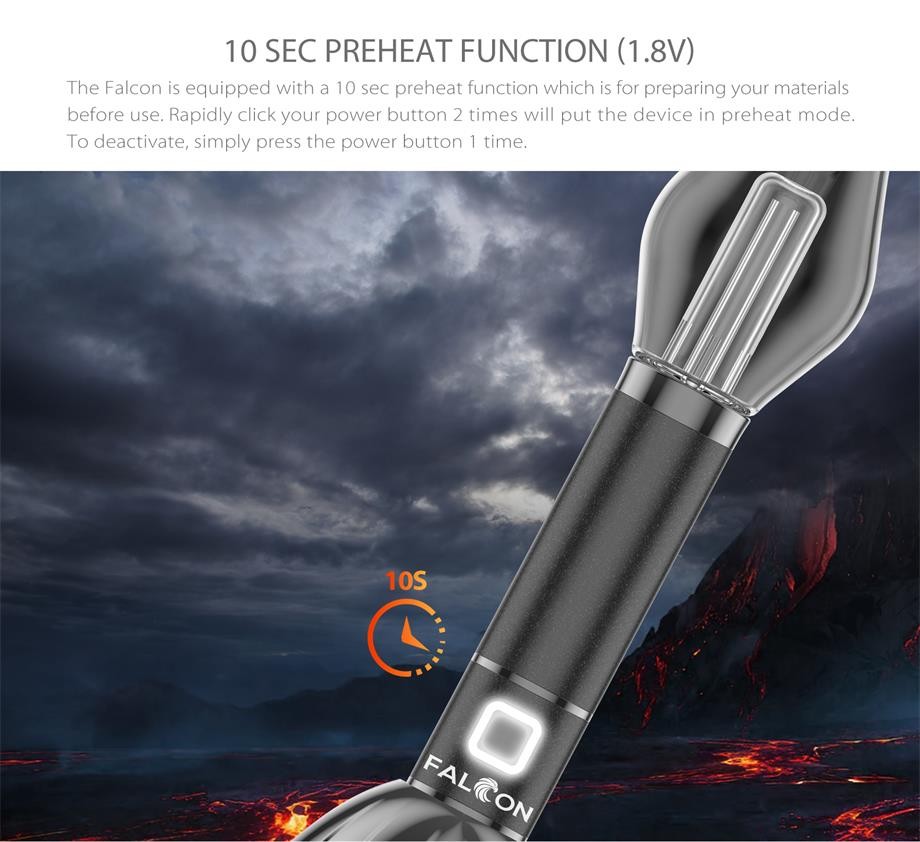 ORDERING TIPS
Attention: As the manufacturer needs the serial number to provide a replacement, we highly recommend you keep the original packing box or take picture of the code before discarding it. Thank you!