Vandy Vape Kylin M RTA
is the latest version of Vandy Vape Kylin RTAs. It comes with a variety of mesh coil options to produce exquisite flavors, with top honeycomb adjustable airflow and easy-to-build features, top filling system, and 4.5ml juice capacity. We know that the Kylin V2 RTA is a classic RTA of Vandy Vape, today let's take a look at what's the unique thing of the new Kylin M RTA? Kylin M is available in the following colors: matte black, rainbow, frosted grey, gold, gunmetal, blue and stainless steel.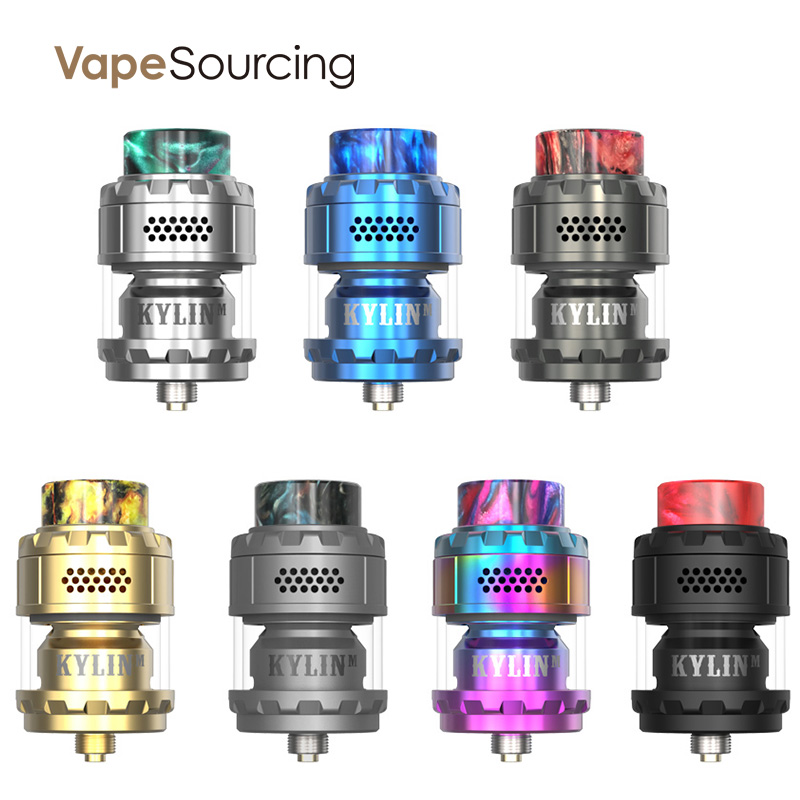 Vandy Vape Kylin V2 RTA
also has seven colors options: matte black, stainless steel, gold, rainbow, blue, frosted gray, gunmetal
Kylin M is a reconfigurable canister atomizer and uses replaceable mesh coils that provide different resistance to ensure you can experience your favorite flavor production. Mesh coils are durable, so you don't have to replace them often. With Kylin M, you can install the coil in just two steps, making it easier to build than ever before. Moreover, the deck is made of ceramic shrapnel material, and the cotton's adaptive compression prevents burning. Kylin M has a 4.5ml e-juice reservoir for easy refilling and is designed with a full circular slot with internal diversion channels. To add juice, simply unscrew the top and spray the e-liquid from any angle, as the filling tank wraps around the entire RTA. The entire
RTA vape
can be removed for easy cleaning. Vandy Vape Kylin V2 RTA has a diameter of 24mm and can accommodate 3ml using a straight glass tube, or 5ml using a 26mm extension container. It has almost as many glass extensions as the V1 while keeping the design low-key. It also brings your coil closer to your mouthpiece, another advantage. The Kylin V2 is well machined with very smooth threads and uses the same post-less "halfpipe-style" deck as the V1, but with an updated airflow design. It also features a new top-fill system that can be opened to display a large fill port. The
Vandy Vape
Kylin RTAs is well known for its great flavor, so if you're looking for a new RTA, Vandy Vape Kylin M is a great choice!