The combined shipping cost will be calculated automatically by the system after you choose the shipping destination in the checkout step.
Puffmi Meshbox Disposable Vape INTRODUCTION
Puffmi Meshbox Disposable Vape features a 13ml prefilled e-liquid, rechargeable 650mAh internal battery, 5%(50mg) nicotine strength, and an integrated mesh coil for up to 5500 puffs. Decorated with a two-tone design, the curved profile and the box shape give a fancy appearance. The mesh coil is a perfect match for the battery and makes the heating efficient and consistent. Come with its draw-activated firing mechanism, Meshbox eliminates the need for any buttons.
Features
• 13ml Pre-Filled Vape Juice
• Rechargeable 650mAh Battery
• Type-C Cable
• 5%(50mg) Nic Salt
• Approximately 5500 Puffs
• Mesh coil
• Draw-Activated
Puffmi Meshbox Disposable Vape SPECIFICATION
Puffs: 5500
E-liquid Capacity: 13ml
Battery: Rechargeable 650mAh
Charging: USB Type-C
Nicotine Strength: 5%(50mg)
Nicotine Type: Nic Salt
Heating Element: Mesh Coil
Draw-Activated Firing Mechanism
Puffmi Meshbox Disposable Vape PACKAGE LIST
1 * Puffmi Meshbox Disposable Vape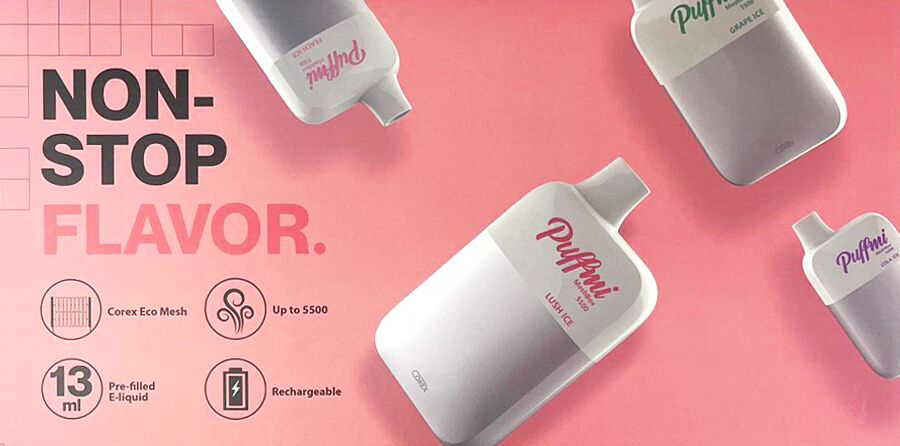 ORDERING TIPS
Attention: As the manufacturer needs the serial number to provide a replacement, we highly recommend you keep the original packing box or take picture of the code before discarding it. Thank you!