We are very happy to see that the SMOK returning back with their SMOK RPM40. The new SMOK PRM40 uses the design of the box mod, but actually, he is a vape pod kit. The SMOK PRM40 is larger than the traditional pod system kits because it has a display and the ability to adjust power. Let us take a look at what other features he has?
TFT Color Display
Unlike similar devices in the vape market, the RPM40 is built on a 0.96-inch display to present vape data in a clear manner. On the screen, you can see current wattage, nebulizer resistance, voltage, screen color options, suction statistics, and integrated battery charge levels.\

Coil Characteristics
In addition to the coils mentioned earlier, this
smok rpm coil
can also be used with the Smok Nord coil. In fact, you will receive the purchase of the Smok RPM Nord Pod, which can store up to 4.5mL of electronic liquid and comes pre-loaded with a Nord DC 0.6 ohm head. The coils in the aforementioned pods are replaceable. In addition to the RPM 0.4ohm and Nord DC 0.6 ohm coil, there is an additional sub-ohmic head: the RPM triple coil with a resistance of 0.6 ohms. Moreover, for nicotine salt fanatics, an RPM Quartz 1.2 ohm coil or an RPM SC 1.0 ohm coil can be selected.\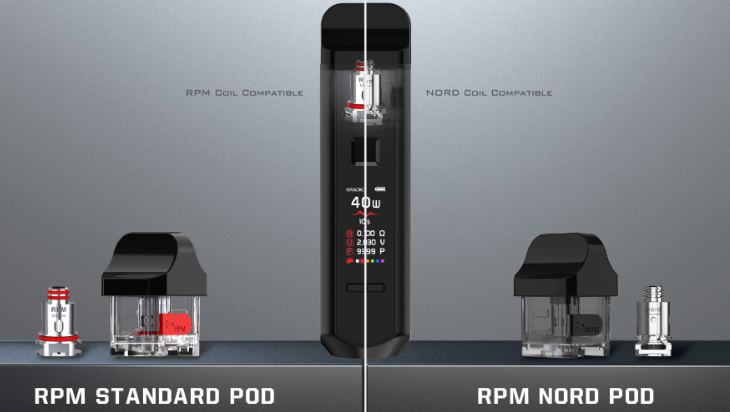 Large Capacity 1500mAh Internal Battery
With a 1500mAh integrated battery, the device has a larger capacity than competing vape settings. Due to the capacity of this battery, coupled with high-capacity tape, the RPM40 promises the longest possible start-up time, even with a maximum power of 40 watts.
4.3ml Refillable Mesh Pod
The new Smoktech device has its own refillable
smok rpm pod
with a capacity of 4.3mL. By purchasing, you will receive this RPM standard pod with a 0.4-ohm coil with a mesh heating element for maximum steam and flavor. Reticulated webs are well known throughout the vape industry because of their fast and uniform heating properties, resulting in stunning aromas and a large number of vape clouds.
Also recommend you the SMOK Trinity Alpha, another pod box kit from SMOK.
The SMOK
Trinity Alpha
has a square box shape with a built-in 1000mAh battery and two Nord Mesh coils, as well as many other new features that offer a variety of vaping fun. The built-in 1000mAh rechargeable battery can be used throughout the day, in conjunction with a variable output mode chipset - SOFT / NORM / HARD.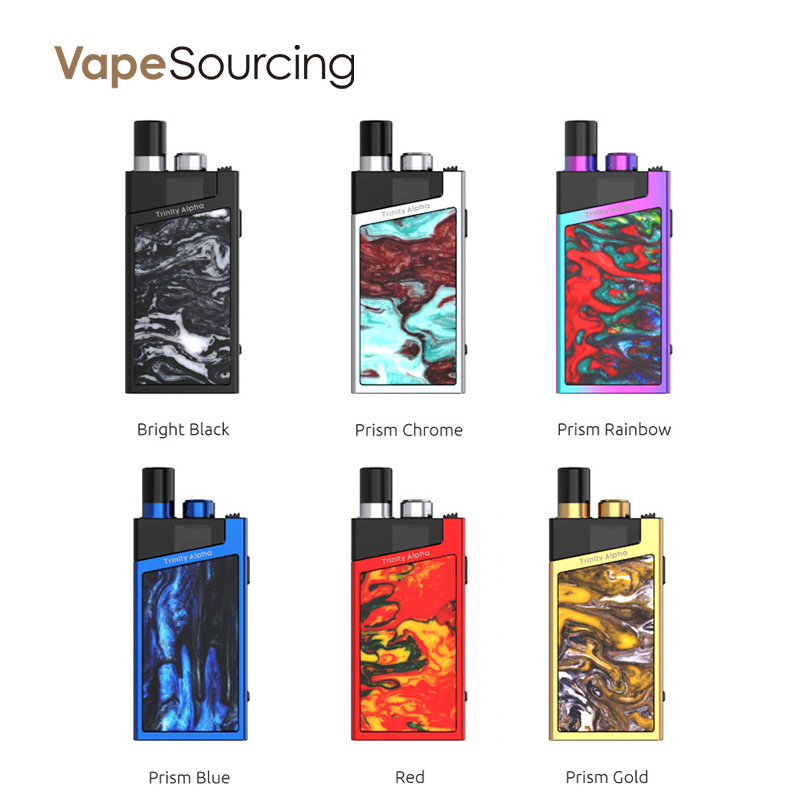 Made entirely of advanced technology,
Smoktech
Trinity Alpha features a high-quality alloy casing and a beautiful and unique resin panel for a luxurious all-in-one or AIO pod system. The colorful flowing resin stripes on both sides add a touch of brilliance and nuance to the device, combining vape with art. As for its pods, it uses a clever prone design on its filling lid to ensure long-lasting evaporation per day with a maximum liquid capacity of 2.8ml.